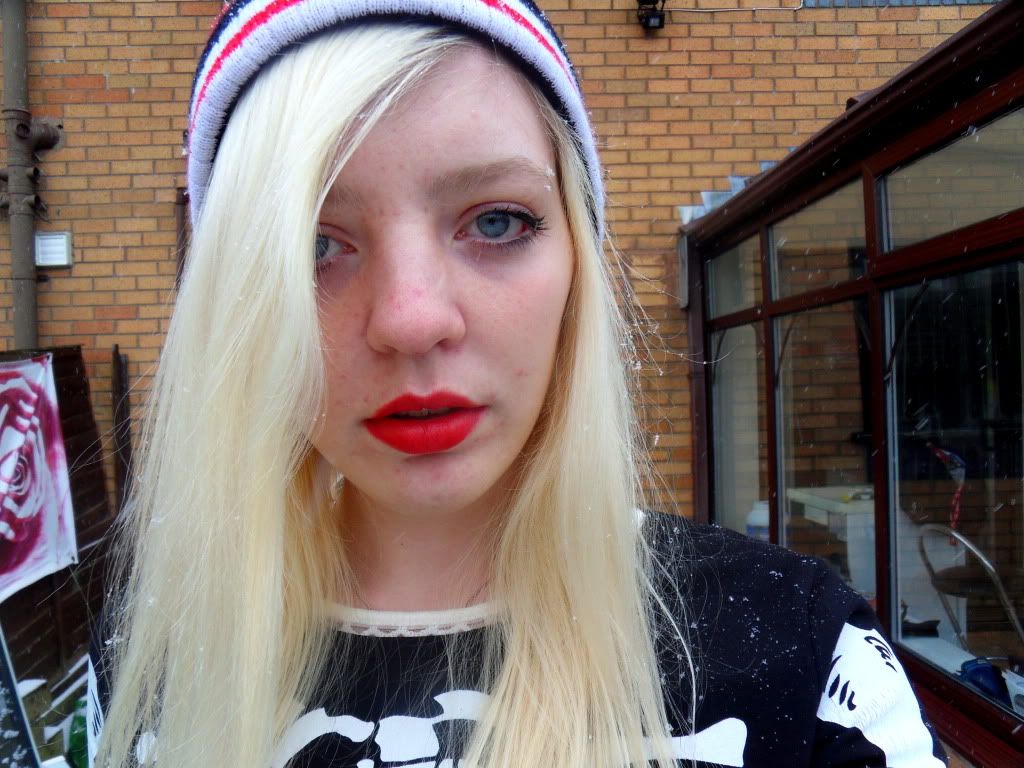 Skeleton top: TOPSHOP | Red 'New York' beanie hat: RIVER ISLAND | White fishnet top: FOREVER 21 | Skinny high-waisted jeans: MISSGUIDED | Shoes: CONVERSE
I was kind of experimenting with this outfit but I like it a lot more than I thought I would. Do you ever do that? Put an outfit on, look in the mirror and think 'Daaamn why didn't I try this before?', but hey, now I know I can wear it every bloody day. Y'know, if I wanted to...
This skeleton ribs top is something I'd been looking for for a while before I finally found one, however it isn't the easiest thing to style. Well, maybe if you're a goff, but I'm not. Therefore when I wear it I try to balance it out and maybe team it with items which contrast with it. Hence my decision to wear it with some jeans, less gothic, more casual. This is the first time wearing the top and the jeans together and I think they go really well together with the top tucked in. I'm not sure what my intention was when adding the fishnet top but actually it was a bloody good idea. The beanie hat again contributed to the casual feel as well as giving it an edgy factor.
So there's what I wear on Valentine's Day: a skeleton top. How very romantic of me. I still have some sexy underwear on though. Is anyone gonna see it? NAH, but why the hell not?! Makes you feel good, so...
Hope you've all had a lovely day/going to have a lovely night (
cough cough
) anyway. This is my first one being single for, what, the past four years? I'm not bitter though and I ain't a V Day hater, I love seeing a good old loved up couple! And it's not like I haven't had loads of offers, I have, in fact it's getting a bit overwhelming now. I mean, give a girl a
break!

Yeeeeaaaaaaahhhhh....