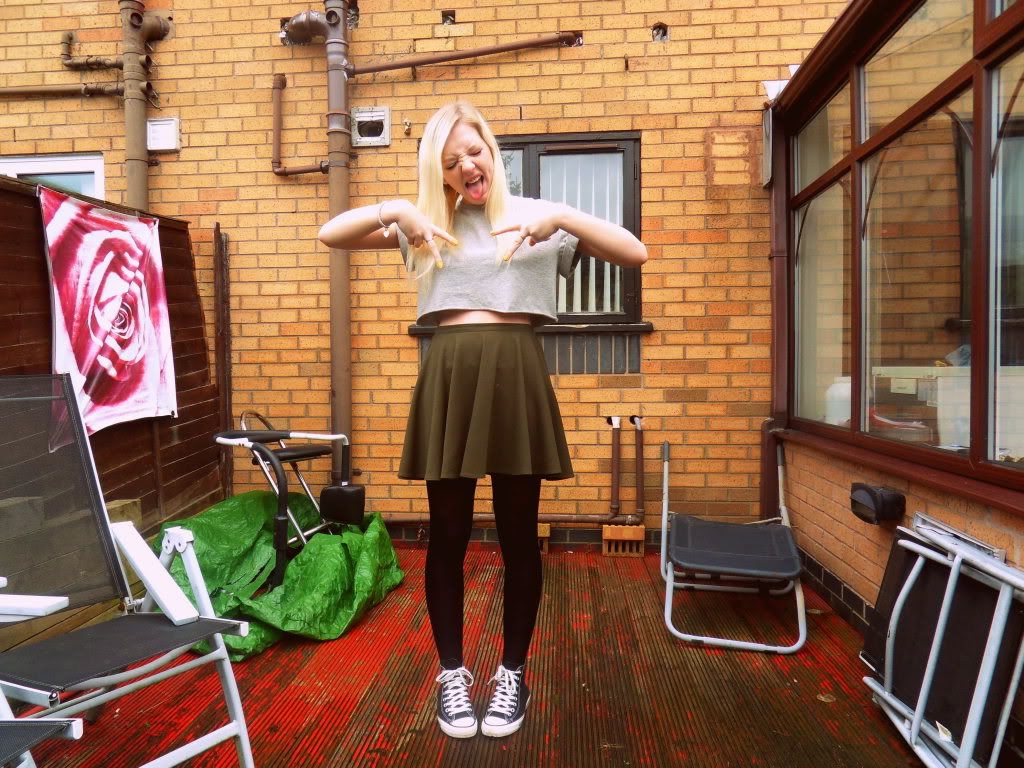 Gold quilted bomber jacket, grey crop top & khaki green skater skirt (similar): TOPSHOP | Shoes: CONVERSE
I am really liking crop tops at the moment. I don't have many and it's getting to the point where I'm looking at my other t-shirts and thinking 'Should I cut the bottom half off...?'. Topshop are doing a wide variety of them at the moment though and it's kinda' hard not to buy one. I decided on this one as it's a simple style and the colour and the t-shirt shape mean it's easy to dress up. The grey marl colour lets me wear it with pretty much everything in my wardrobe, so that's exactly what I'm currently trying to do... I've already worn it with my high-waisted jeans - which are what actually made me want a crop top in the first place - and next on the list is this skirt.
Saying that, I didn't really plan to wear these together. This khaki green skater skirt has been a member of my wardrobe for a good few months although it's definitely not one of my most-worn pieces. Thinking about it, I'm pretty sure I've worn it less than five times... But when I spotted it hanging there, all forgotten about, I decided to play Cupid and matched it with this top, and I have to say, they make a pretty good couple. Throw in the gold jacket and it's a threesome made in Heaven.
I feel like the colours go really well with each other, and looking at them now I can't believe I haven't worn the gold with the khaki green sooner. It's kind of like military chic without being too obvious, you know? I'll definitely be wearing this outfit again in the summer without tights, maybe with an oversized denim jacket instead.
Today has been good, considering I woke up at two... (I went to sleep at five, ok?!) I spent an hour or so at two o' clock this morning giving my blog a pretty big makeover, what do you think? My blog is like a hairstyle as in I get bored of it after however long. I liked my last one and I think that was the longest I've kept a layout the same, but its life has come to an end. I'm pleased with the new look, anyway.
Today I went for lunch with mummy bear and then filmed a Youtube haul video which will be up just before eight, if anyone's interested. Tomorrow I am off to get my back tattoos re-coloured. I quite like the grey, faded look but I think my tattooist would tell me off if I told him that.
I won't be surprised if I come out with a new one as well y'know...