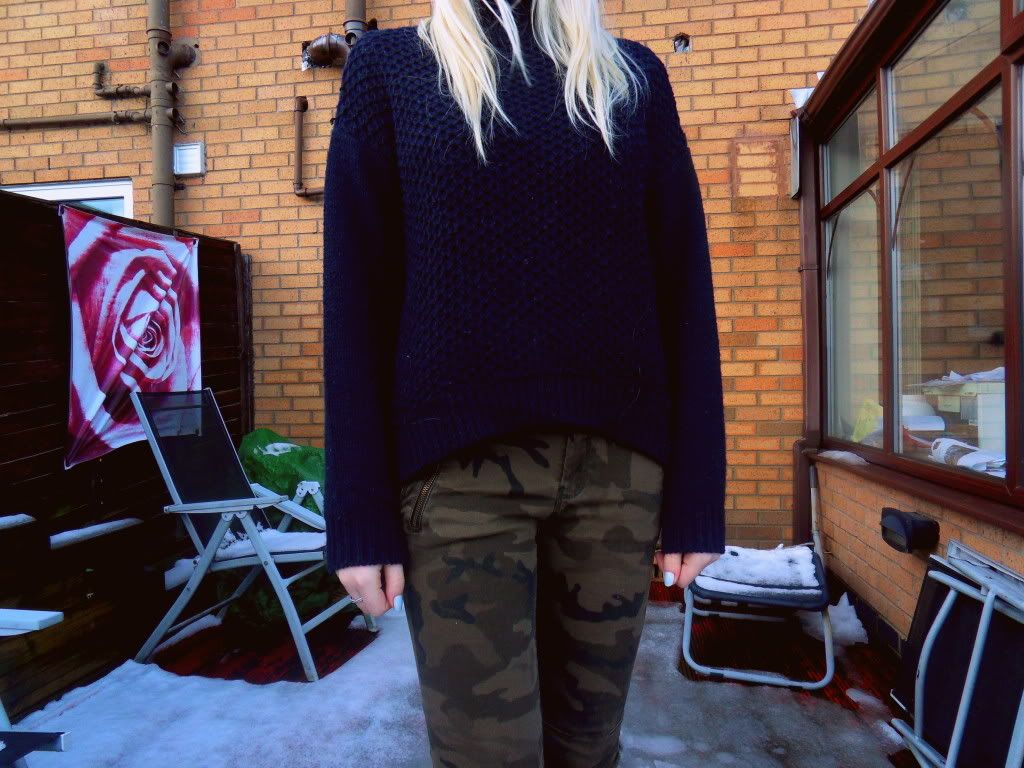 Blue polo neck jumper: TOPSHOP | Camo print trousers: ZARA | Shoes: CONVERSE
Bladdy hell it's not showing many signs of getting warmer here in sunny old England is it? This calls for the coverage of all skin where possible, which I'm not a huge fan of but you gotta' do what you gotta' do. I thought I'd bring out my camo pants to play as they go perfectly with a plain top/jumper thanks to the print, so you don't have to put much thought into the outfit, which is a good thing when you're picking what to wear simply depending on how warm it'll make you.
This jumper is a sale purchase which I managed to grab for a whole twenty pounds, so that's about 50% off the original price. I really like jumpers and they make you feel so snug and comfortable, I have them in a variety of styles and colours, from this navy blue to a bright yellow one, which I can't get enough of. I thought the blue looked good with the greens in the trousers, add some red lipstick and it's actually a combination of colours which I really like.
Today and tomorrow my mum is on a course so I've missed her company, sobbbb. As a result I've spent my day waking up at half one, having a shower and getting a new tattoo done. Yep, I did it. Who was I kidding? Of course I did it. I've posted a picture of it on Instagram, it's only a simple one this time! I'll put a post up tomorrow probably.