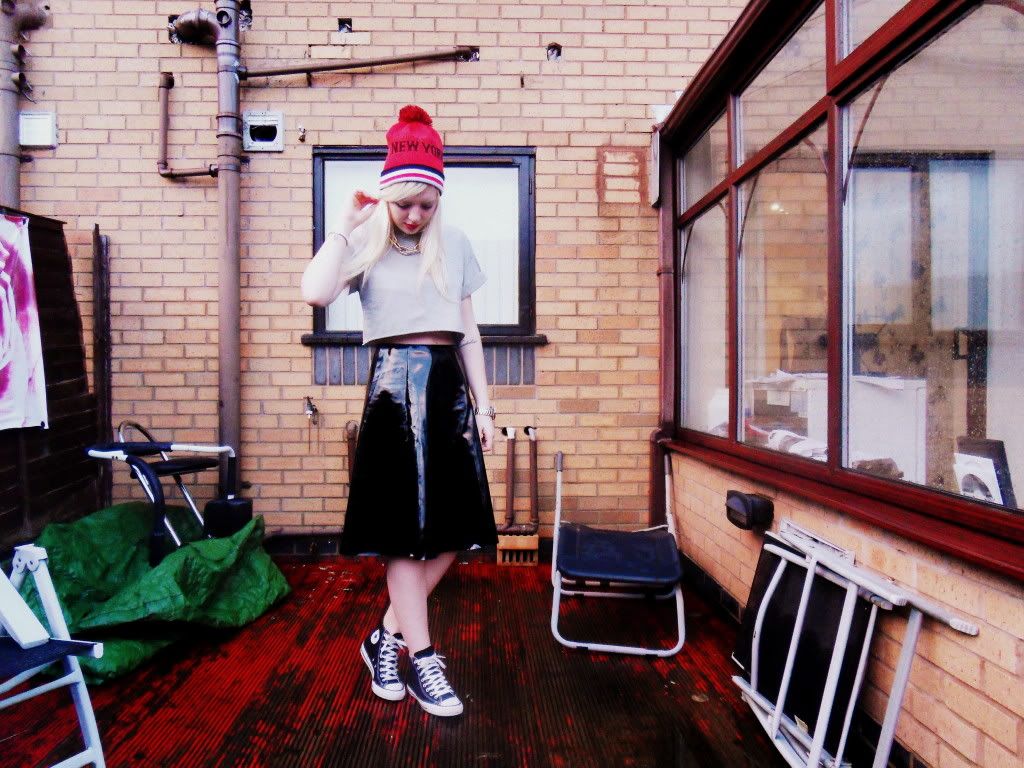 'New York' red beanie hat: RIVER ISLAND | Chunky chain necklace & high shine midi skater skirt: ASOS | Grey crop top: TOPSHOP | Shoes: CONVERSE
I'm a very adventurous person, in all aspects of my life, and I always like to try new things. That's most probably the reason why my style doesn't fall into one specific category, I'd just get bored of wearing certain type of outfits. Don't get me wrong, there's looks which I much prefer to others - you're much more likely to see me rocking a beanie hat than a fedora - and I'll never tire of my Converse, but every now and then I like to go out of my comfort zone and just say 'what the hell' about items of clothing rather than admire them from a distance. If I see, for example, a street style picture of a fashionista wearing something which I don't usually wear but it inspires me, then I'm definitely the type of person who will just try the look myself rather than saying "I love it! But it'd never suit me...". And I've got to say, I've never bought an 'out-there' item and ended up regretting it, I tend to just think 'Dayummm I've got to get me more of these'.
I'm going to Paris at the end of the month, I don't know much about what's happening except that it clashes with PFW (eeeeep!) and we will (hopefully) be going to a few events. I absolutely love fashion month - Paris is my favourite week, fancy that! - and for a few years now every time it comes round I thoroughly search the internet for street style pictures. Let's just say people don't get snapped when they're wearing any old outfit. I'm not trying to be another Anna Dello Russo or anything, but I thought I should at least make the
effort
for dear Paris and buy something pretty damn cool. Y'know what I'm sayin'?
That's where this skirt comes in. The high-shine material isn't something I've ever worn before, nor have I purchased a skater midi skirt, so I thought now would be a pretty perfect time. And y'know what? I like it, really really like it. I've worn it with my Converse to make it my own and I wanted to keep the rest of the look casual. I think it's the ideal Paris-worthy item which has that cool, street style look about it. Ah oui!
Hope you're all having a lovely Saturday! I've spent it with mum, we went out for a late breakfast, nipped into town so she could get some hair-dye, and now we're just chilling at home with an Indian on the way (food, not person) watching 'Come Dine With Me'. Not the kind of wild Saturday night that you will all be jealous of, but I'm digging it.