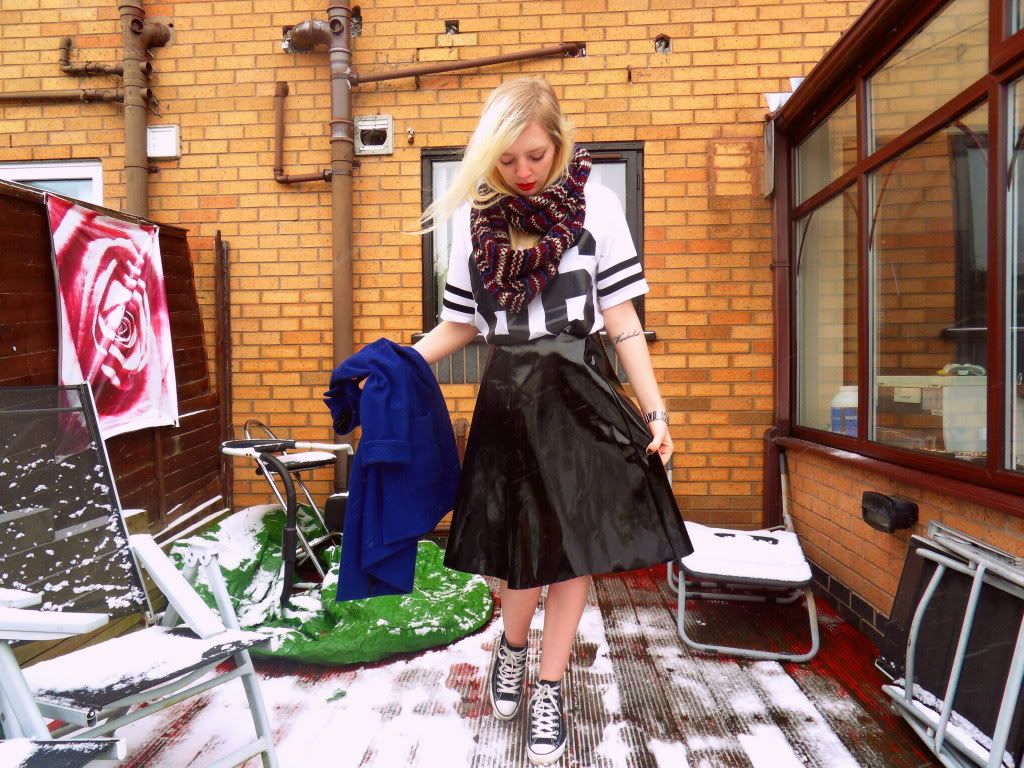 Blue blazer coat: RIVER ISLAND | Snood & t-shirt: TOPSHOP | Black midi skater skirt: ASOS | Shoes: CONVERSE
Kind of a contrasty outfit today. The top with the skirt. The coat with the top. The snood with the skirt. Hey, I'm very much down with it, the more contrast there is the better for me. Yes, I am wearing this skirt
again.
I bought it for £22.50 - in the sale - so I have to wear it at least twenty two times to get my money's worth. That's my excuse, anyway. Plus the fact that it's one of the most awesome (yet insane) items in my wardrobe. It's a very, urm, nosiy material so makes strange noises when I do simple things like walk up the stairs and sit down. Something I can live with, but I'll ust have to pretend people aren't thinking "Was that noise
really
your skirt though?"...
Minus the snood (and possibly with the addition of some sunglasses) I think this the outfit I'm going to be wearing to Paris during Paris Fashion Week. Well, this one day and my dunagrees and fishnet top another day. I think the top looks really great with the skirt and the skirt is definitely a statement piece so is perfect for my trip. Am excited. We're setting off at half five and don't get there until half eight the next morning, daaaaamn. I'm not great with flying (read: I'm HORRIBLE with flying) but I've never been on a ferry before so I'm hoping I'll be okay. I'll have to take some tablets with me just in case...
On the morning I arrive it will be my birthday, yay! I'm not sure if I'll be knackered or not but who cares, IT'S PARIS. There's an opportunity to take part in one of Paris' biggest student nights - a Parsien bar crawl - however I'm not interested in this so I'm hoping I'll be able to find the Eiffel Tower. Not like it'll be hard to find, I suppose I just walk towads the really big thing pointing into the sky... I also really want to see the Musée du Louvre but I have no idea how far away I'll be from things. I'll have to do some research later! Have you ever been to Paris? I go on Thursday!