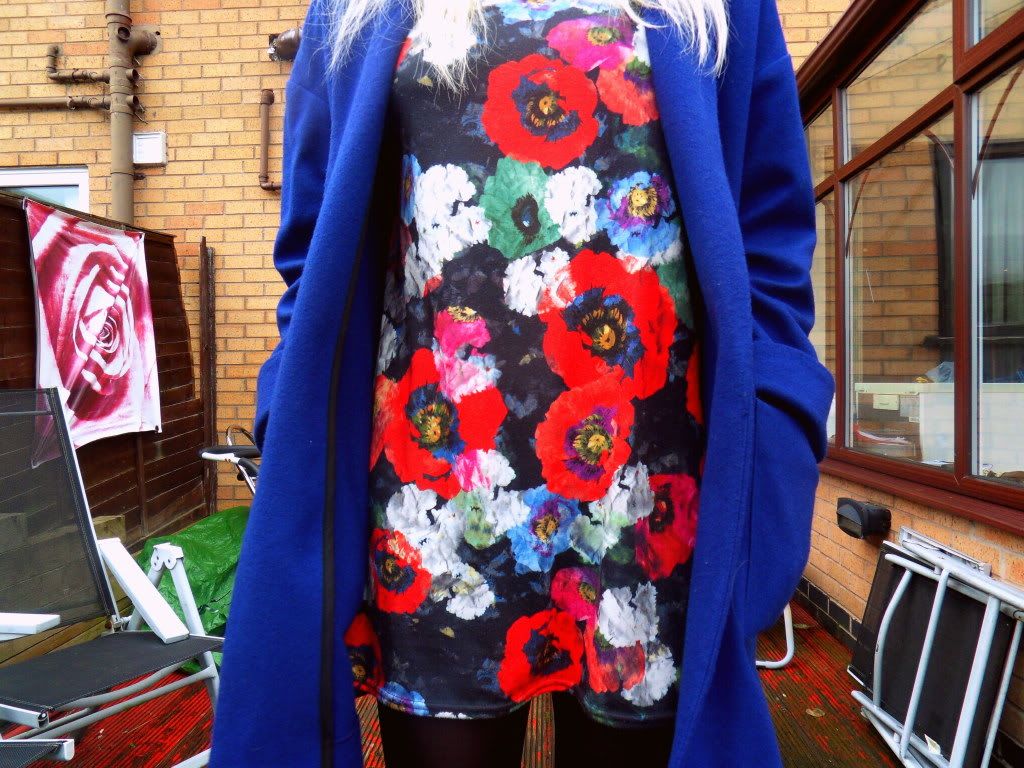 Oversized floral poppy print t-shirt dress: TOPSHOP | Gold chunky necklace & white round sunglasses: ASOS | Blue boyfriend blazer coat: RIVER ISLAND | Shoes: CONVERSE
Today brings a relaxed, slouchy yet stylish outfit. I haven't worn this dress in a while but my mum inspired me to wear it again after she said how she wore it with this blue coat, and I said 'Oh I bet they looked good together' and made a note to myself to try them together myself, and here we are. This dress would have looked nowhere near as good with my bulky black coat as it does with this one, so I'm pretty sure splashing out on it has been justified now. I'm glad we're all in agreement on that.
I bought the dress ages ago, I'm sure you would have seen it at some point as I've seen a few pictures of others wearing it. As you can see I'm not one to shy away from bright, bold colours. It was a mere £25, which is pretty damn cheap... Well, for Topshop. It's like that alphabet top from Primark and everyone who has bought it is complaining about how expensive it is - it's £12.
I'll let you in on a little secret: this dress is actually an oversized t-shirt. And they obviously really meant it when they described it as 'oversized' as here I am wearing it as a dress. A short dress, but a dress all the same. I bought it knowing this is how I would wear it, though, so it's not something which I'm complaining about. Throw on some tights and a statement necklace and you're ready to go. I'm looking forward to wearing this in the summer on its own, or maybe with a large denim jacket.
I got my back tattoos touched up today, hurt like a bitch, what you gonna do. Good job I take pain like Batman, i.e. very well. I didn't get another tattoo but I will be very soon, so I can't say I did well in resisting the temptation... I've already visited the place four times in the last month, whoopsies.