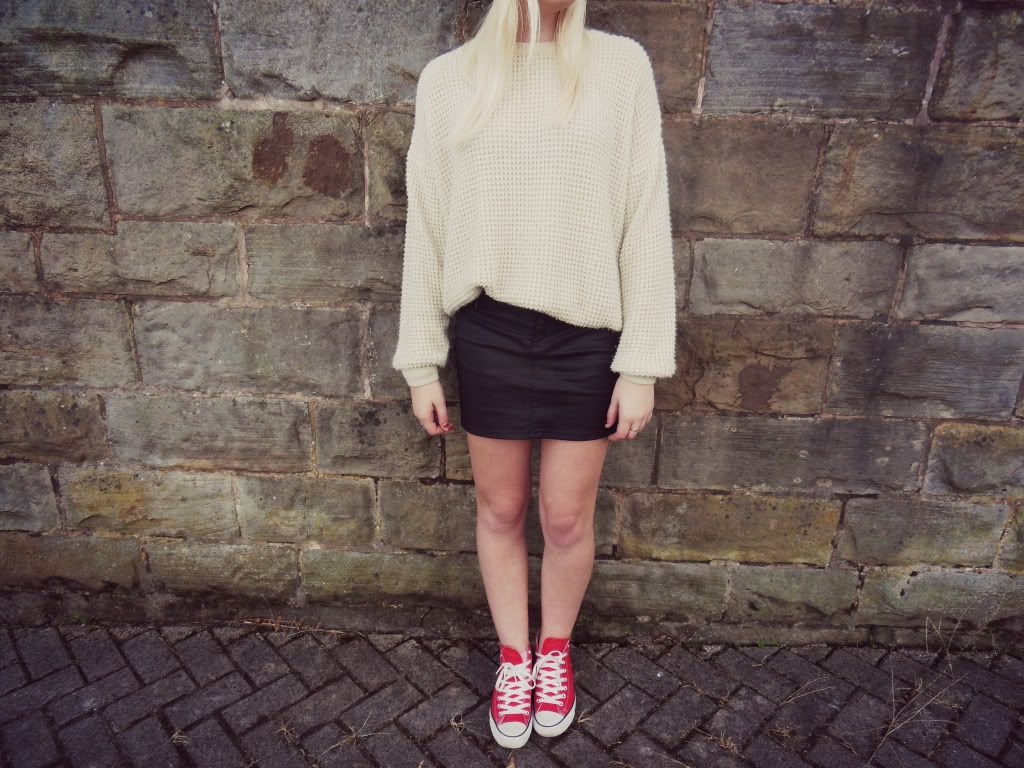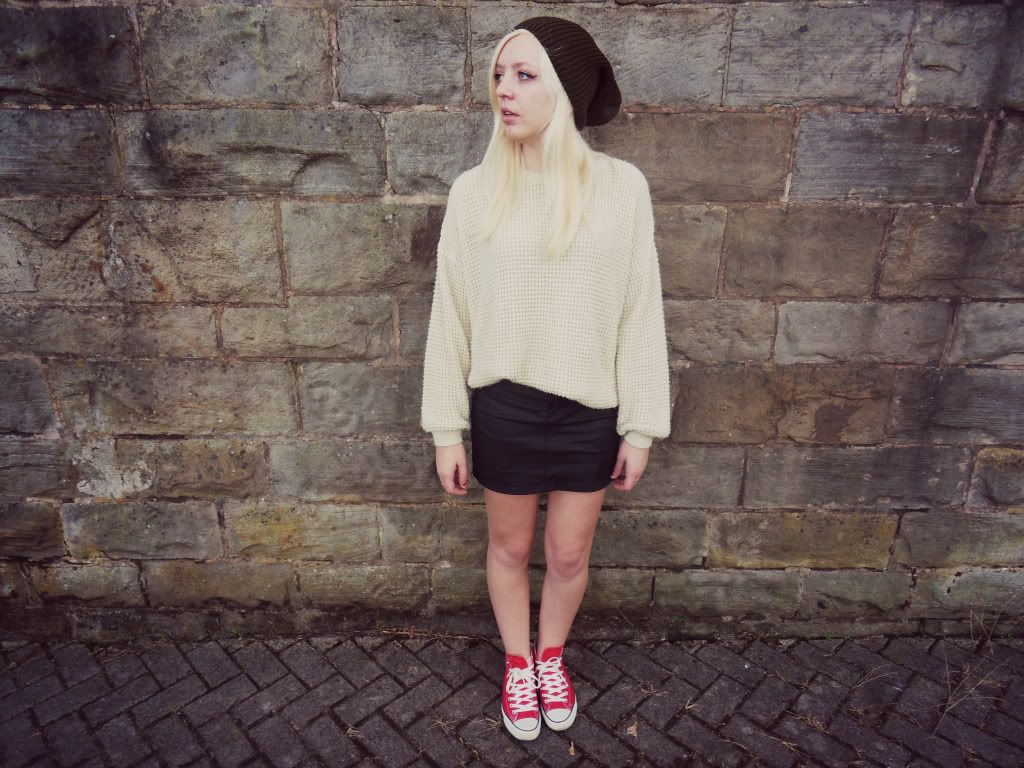 Cream knit jumper: TOPSHOP | Black coated mini skirt: ZARA | Green beanie hat: ASOS | Shoes: CONVERSE
I call this outfit 'slouchy grunge'. I was orginally just going to wear a t-shirt but I thought that would be flashing a little too much flesh when the weather could turn horrible at any moment, so my biggest, comfiest jumper was the safest option. To stop the outfit being too boring and 'meh', I added my new beanie hat and injected a bit of colour with my red Converse.
The skirt is one of my new purchases from my recent online shopping spree. It's a really great transitional item which is exactly why I just had to get it. Well, that and the fact that it was only nine pounds, but I added to my wishlist when it was full price, so yeah... I think it looks just as awesome in leg-baring outfits like this one, as it would with a pair of tights and a big coat in the winter. When I do shopping I almost always don't buy something unless I know I could wear it for each season, rather than just a fraction of the year, which actually works out pretty damn good. I love the coated effect of the skirt which makes it a little different than your average black one, and it would also add a little edge to a blazer and a pair of loafers when I want to prep it up a bit. I think this will definitely be one of my go-to items for the next season. And to say I bought it for under a tenner in the sale, it is definitely an investment piece.
I was also pushed the boat out a bit today and missed the top pair of loops out when tying my Chucks. I've seen a few people do it before, and I suppose I should wear them in a slightly different way since I have a pair of Converse on almost every frikkin' day (cool kid). I think it makes it look like you've been wearing them for years, which is exactly how I like them to look.
Like I said yesterday, I am off to see 'Step Up 4' tonight, but other than that I am having a completely lazy Sunday and being a huge couch potato. I might as well make the most of it, though, as next month I could be going to university... I get my results on Thursday, scary!
Hope you're all having a nice,
relaxing
lazy day!