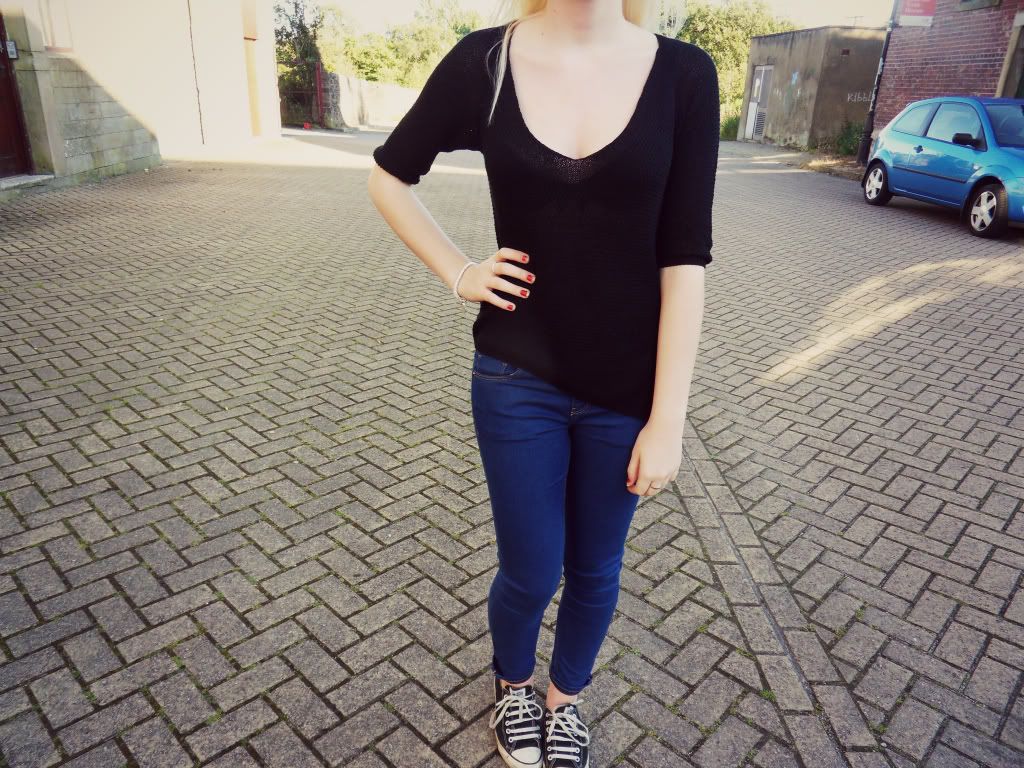 Thin knit jumper & skinny blue jeans: ZARA | White round sunglasses: ASOS | Shoes: CONVERSE
Oh sometimes the simplest outfits are just the best ones, aren't they? I'm usually a bit more of a 'have to make some sort of statement' kinda' girl, hence why I just couldn't leave my house without my new pair of silly sunnies, but for me, this is as simple as it gets. And yet this is one of the outfits which I feel best in. Zara is well known for its minimilistic approach to fashion. Walking into a Zara store and seeing something you like is almost inevitable, because there's pretty much something in there for everyone. Plus their prices are usually pretty unbelievable considering their clothes look like they're much more designer than high-street. I bought these jeans for £26, and coming from a girl who normally only buys her jeans from Topshop for £40, they are a bargainwith a capital 'B'.
I have never actually worn your average pair of skinny, blue jeans on my bloggy before. What is a staple item for most people is more like a rare occurrence for me. Don't get me wrong, jeans have been one of the best things alone to happen to the fashion world, ever. But after spending days after days in them a few years back, when I was going through my tom boy phase, I couldn't bear to see another pair after I'd discovered the wonderful world of dresses and skirts. Of course I've worn jeans since, but always a coloured or black pair - my bright pink ones are one of my wardrobe's BFFs - never a blue, dare-I-say-it 'normal' pair. But I'm slowly and quite happily getting back into them, and I've worn these two days out of the three I have had them. Who'da funk it? I will never shove my pretty dresses and stupidly-short skirts to the back of my wardrobe, but it's always nice to have a nice, casual pair of jeans for when you fancy a change for a day (or two, in my case).
You only have to look at Freja Beha to see my point, who is almost always seen in a pair of skinnies and a basic top, and yet I'm pretty sure she's one of the sexiest people on the planet.