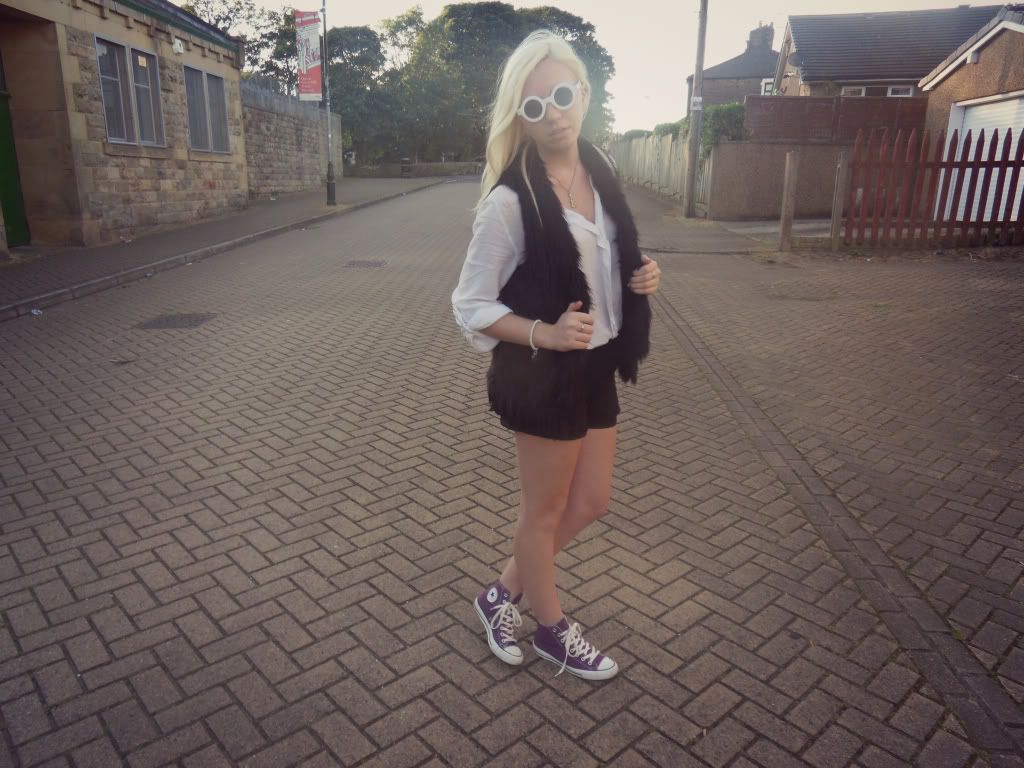 Black faux fur gilet, guitar necklace & white collarless shirt: TOPSHOP | Black lace shorts & white round sunglasses: ASOS | Shoes: CONVERSE
I told you you could wear a faux fur gilet as part of a summer outfit! And I bet you doubted me, pft... Actually it was a little more wintery this morning as I had some tights on, but the sun soon came out so they went off, hellooo legs. I bought this gilet a couple of weeks ago after trying to hunt one down for aaages, to I couldn't resist because I know I will wear it so much next season. A great layering piece, imagine it over a leather jacket. Yeah, totally made you want one now, right? I think it would be such an investment for your wardrobe, and hello? I have just shown you can wear it for any season, need I say more? I was afraid this outfit would look a little too workwear-ish, but I wore my purple converse and my new favourite sunnies to give the look a bit of a fun twist.
The shirt and the shorts are quite old purchases. I nearly decided to sell the shirt a few months ago but I am so glad I didn't, everyone needs a white shirt, right? I received the shorts for Christmas and I have worn them a silly amount of times since, I think shorts are the perfect alternative to a skirt and I definitely need to get me some more pairs.
Thanks if you left a comment on
yesterday's post
encouraging me about university, I have had nothing buy support and love from my family, but the extra comment never goes amiss! I am kind of excited as it means getting out of my crappy little town and hopefully means I will be able to find a part-time job, but at the same time it is without doubt the scariest thing I've ever done and I am going so far out of my comfort zone that I should be having a nervous breakdown, buuut there you go. The next month will consist of me trying to get organised for a whole new life, so if you have any tips on what I'll need to take etc, please share!
Hope you're all having a nice weekend!