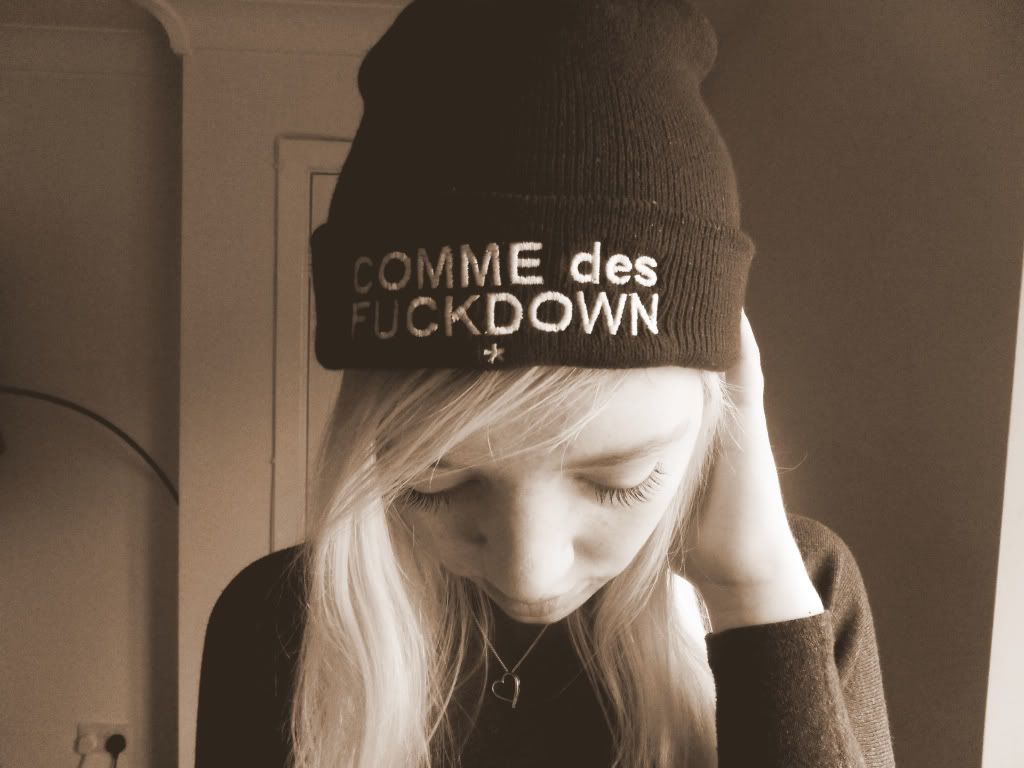 Red crop top & rose gold earrings: TOPSHOP | High waisted jeans: MISSGUIDED | 'Comme des Fuckdown' hat: EBAY | Shoes: CONVERSE
So I've been quite good over the past week as in I've found a few good things in the sales, but then I've been bad and still continued to buy items at full price. I'd act all guilty and sorry, buuuut I'm not. Hello, these jeans? Yeah. They may have been full price, but I got them for
twenty two pounds,
not including the student discount. Er, wow? Considering the famous AA Easy Jeans are going for a whopping sixty five squid, and Topshop have intoduced some for almost half that price, these are still the cheapest I've found.
And
the only acid-wash ones, which is an effect I happen to really like. I have had a couple of fashgasms over these babies, once when I saw the price of them online, and again when I tried them on. Dayum.
There is a little story behind them: first it wouldn't let me add them to my basket, so I nagged and nagged Missguided on Twitter (it was NYE and they were very busy, in their defense) asking them why this was, and after two days of nagging (for real, I wasn't letting them get away that easily!) they got back to me saying it meant they were out of stock, even though it said they were available. So I added them to my Favourites and checked back every day until - yay! - the 'add to bag' button had appeared! Then I had to decide which size. Y'know what shops are like these days - I'll be one size in Topshop and a different size in Zara, etc. So I kind of took a stab in the dark and went a size-up,
wrongggg,
too big. I tried to see past it and even put them through the wash on the first night in desperate hope that they'd be tighter the next morning. Wrong, again. So I told my mum last night and she said 'Well I'll have them ones because I like mine baggy and you get them in a 10', so I happily agreed and went to add the size 10 to my basket before they ran out of stock again.
Now I have to mention Missguided's delivery. Like I said, I purchased them last night, they got dispatched within an hour or so later and they arrived on my doorstep
this morning.
I paid something like £1.95 for the slowest delivery option they had, and I still received them in, what? Like fifteen hours? This is the quickest I've ever come across, I've seen quite a lot of shoppers give stick to them online, but I cannot fault them.
After all that I tried them on today and they fit amazingly, the length is perfect, the colour... Everything. I am so pleased. This is like the only crop top me (my mum, rather) owns, but I will definitely invest in some more now. I think the little part of skin they show off together is so flattering.
That was a lot of words to say I was only talking about a pair of jeans, but come on, DEY SO SEXY.
Oh! And this hat is new too, I've been after one of these for a while and finally bought one. I've only seen them in black and grey before so when I found this burgundy one I couldn't resist. I've asked everyone in my house "Do you get it? Do you get the play on words?" whilst pointing at my hat. None of them looked very impressed, plus I had to describe each time that there is a brand called 'Comme des Garcons'. You get it though, right...?
And does owning this mean I can be a full-time gangstah now?
Brap brap!