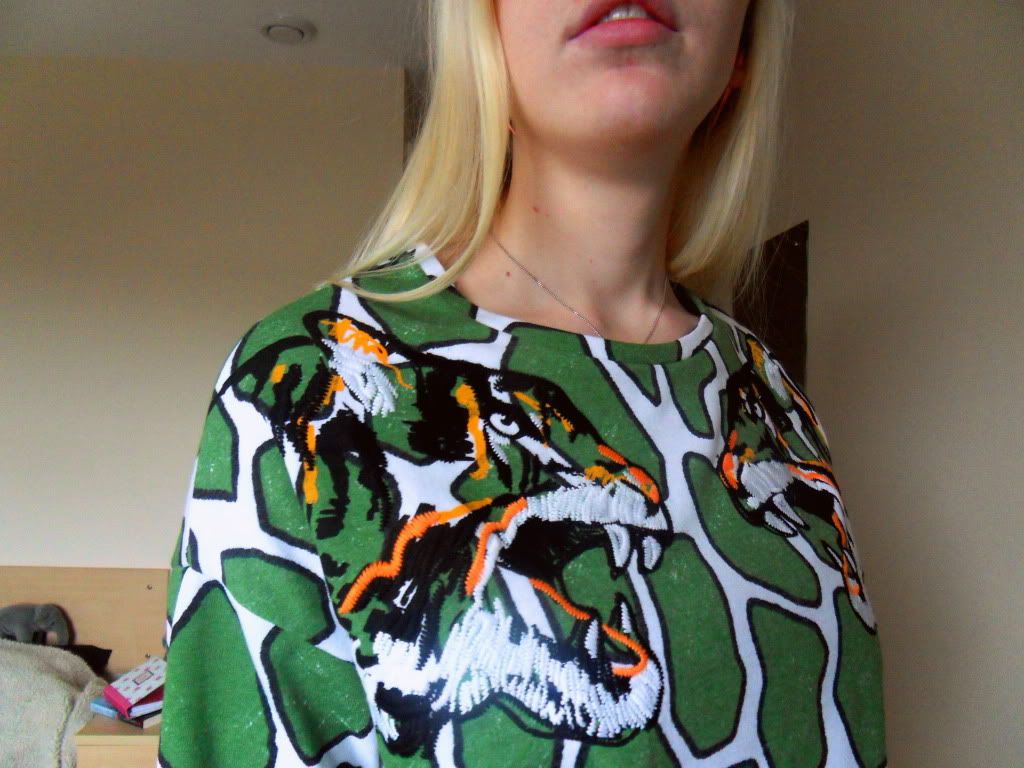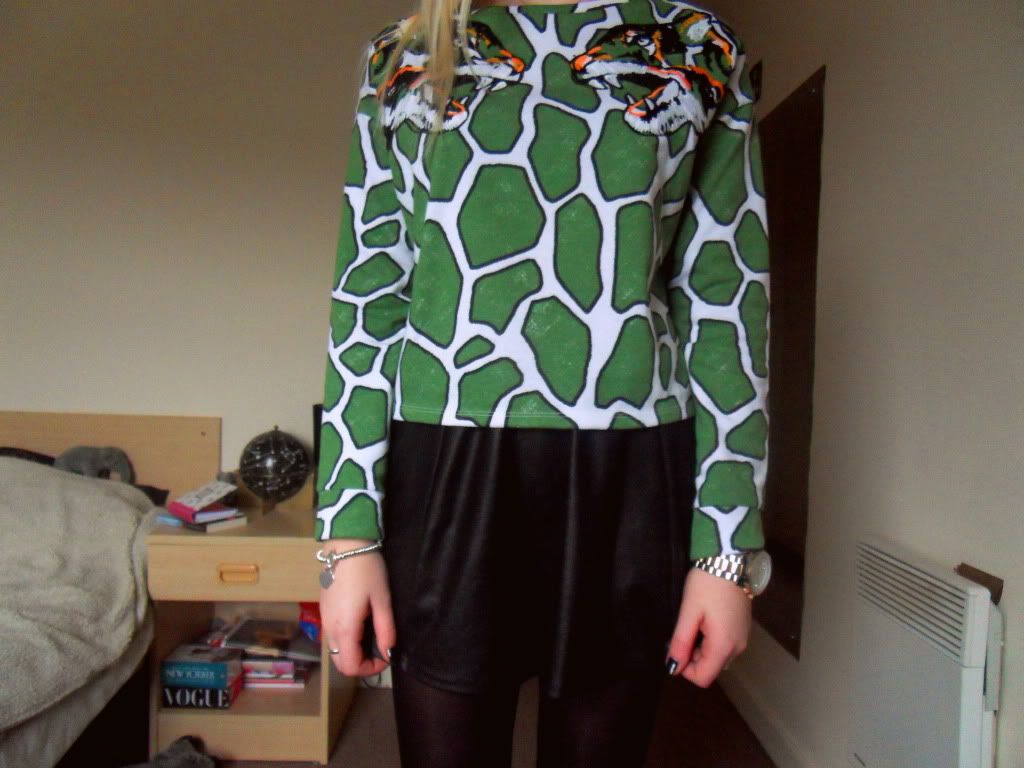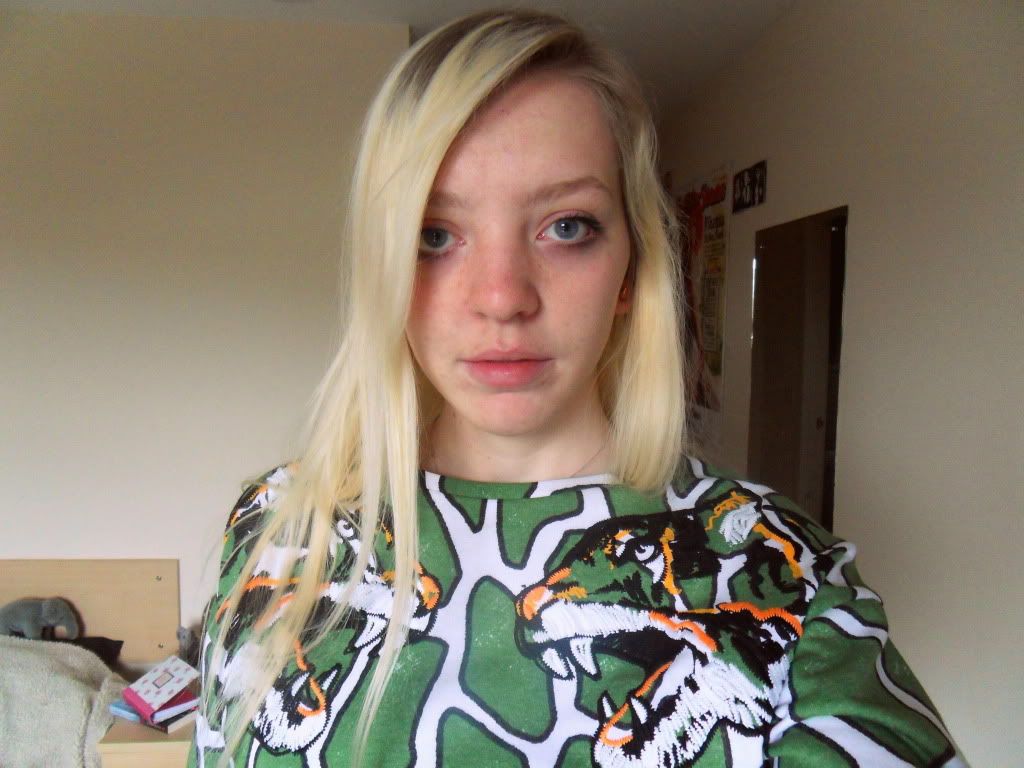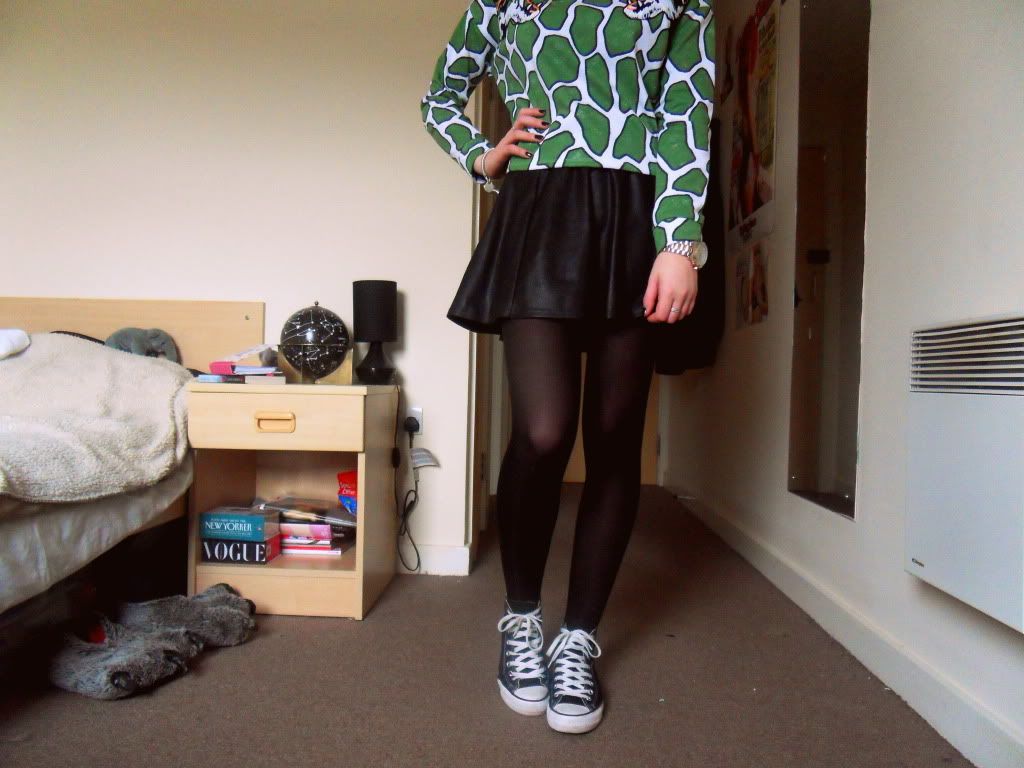 Tiger top: TOPSHOP | Black skater skirt & chunky boyfriend watch: RIVER ISLAND | Shoes: CONVERSE
So I went shopping yesterday. I do fell guilty, I do, I only went out for bloody print ink! I. Am. A nightmare. It's actually tradition now, to come back to Manchester on a Sunday afternoon and go shopping. That's what I've done every week since I've started the new term. It did result in one cool thing though (or three...) - this top! I'd never seen this in my life before yesterday - it's not online - and it was instant love. I've made it my mission to buy statement, 'out-there' pieces since the new year, and apart from the money side of things I've done damn well.
I mean, this top - green spot, scaley shapes? And the tigers, they're a bit random aren't they? But oh my gosh it is one of the most awesome things I have ever seen. It's like I have a whole new way of looking at clothes. Screw key investment pieces, that's not my style at all, I want the things which will make people think 'what on earth made her want to pick that?'. I guess an inspiration for me recently, without realising it, is Cara Delevingne. She just wears these things that are effing ridiculous sometimes and manages to come off as the coolest girl, er, ever. I mean, I'm hardly wearing a Bart Simpson print, but to me this top is cool as fudge.
I'm worn it with simple black items in order to make the top the focal point of the look, which wasn't too hard. The combination of green and orange isn't the easiest thing to wear any old thing with, either. I think the black did the job and that my black leather pants would have worked just as well as the skirt did.
I'm thinking I need to buy some orange Converse to wear with this top. But I'll take any excuse to buy them in another colour, so...
Topshop, you've got it bang on right now, I'm luvvin' your werk.
Hope you all had a nice weekend! Today was 'Blue Monday', the most depressing day of the year... Oh. Although it seems most people in the country have had a snow day (including my brother who went sledging! Waaaaah!), so they can't complain. I, however, woke up to no snow. I woke up late for uni. And to top it all off, I had slept on my neck so weirdly that I couldn't physically pick my head up. I was stuck to my bed. I'm not bad with pain, really, but it's never taken me ten minutes to get out of bed before because of a stiff neck. I'm gonna have to go bed looking presentable tonight in case it's even worse tomorrow morning and I have to shout for one of my flatmates to come in... I'm sure it would have been hilarious to anyone who could have watched it, though. Just imagine someone lying there, lifting their head up a cm and going 'Aaaaaah what's going onnnnnn?!', and then finally for them to shuffle all of their body off the bed
except
their head.
You ever seen that episode of 'Sex and the City' when Miranda gets stuck on her bathroom rug and can't move? Kinda' like that...