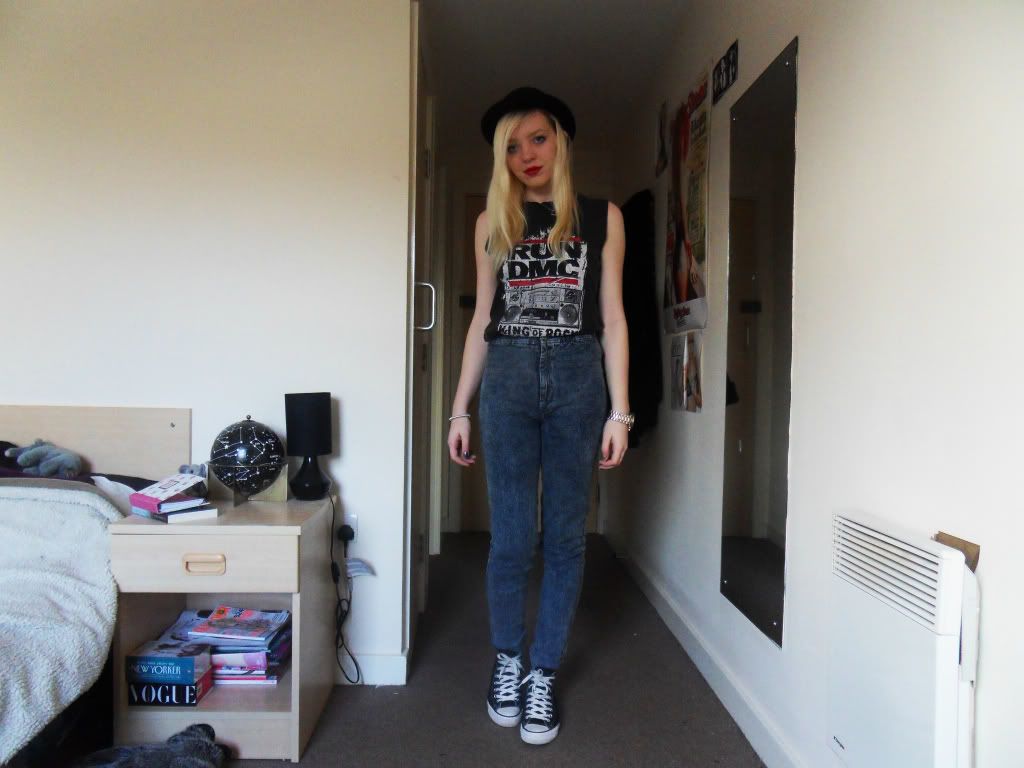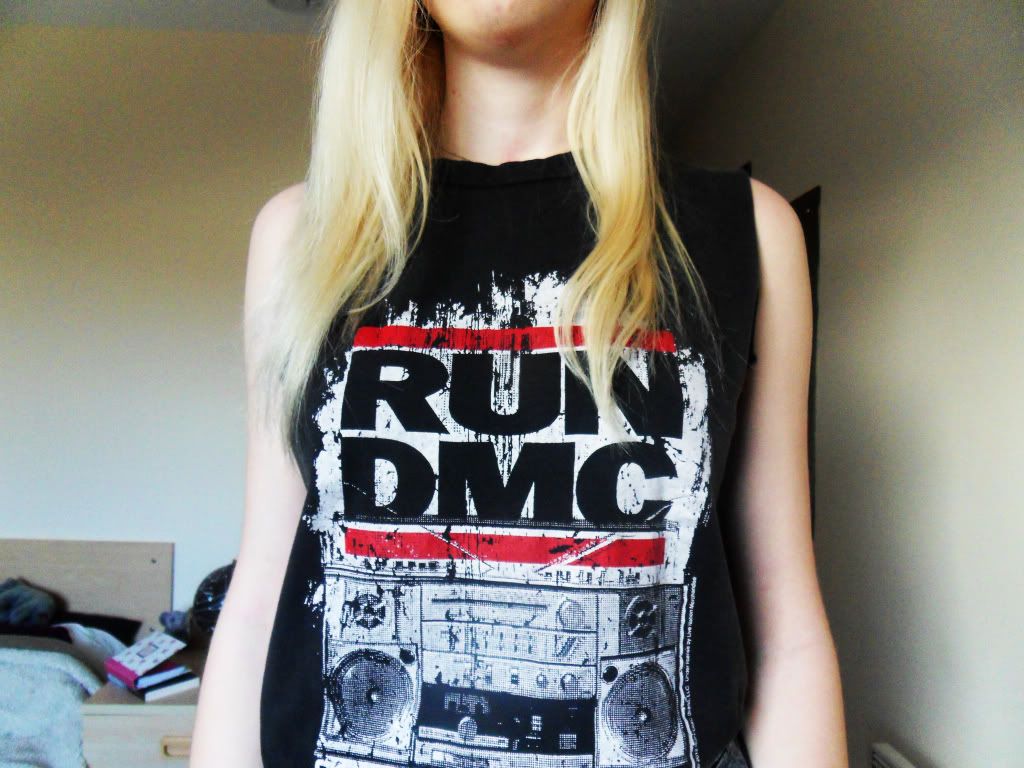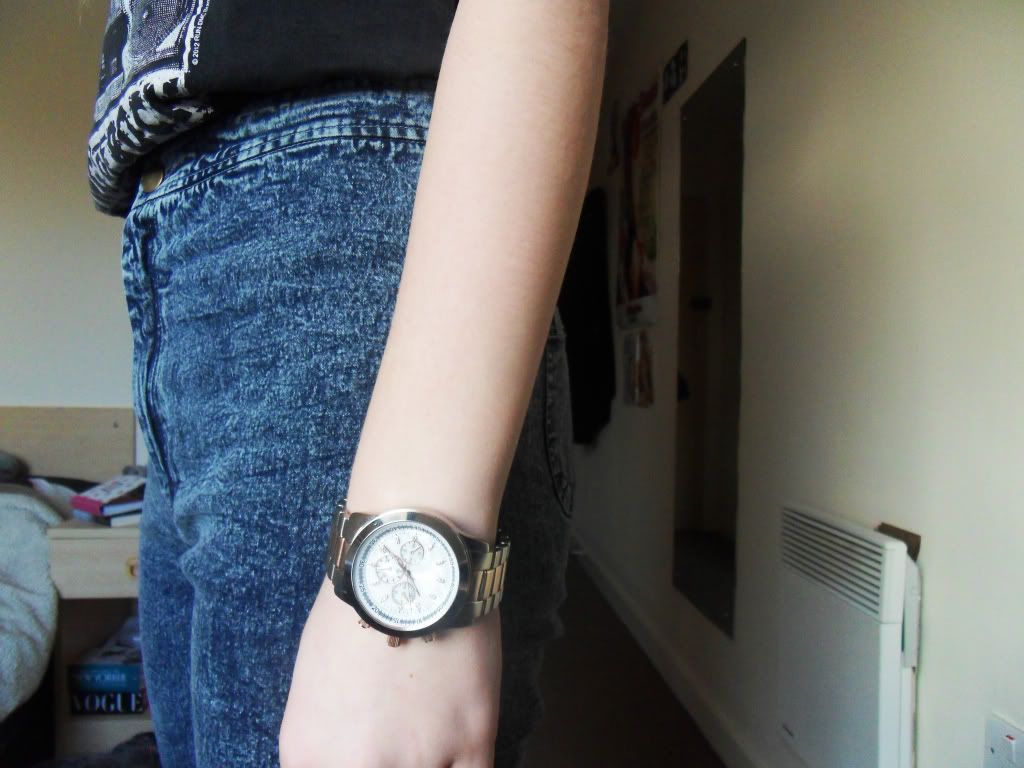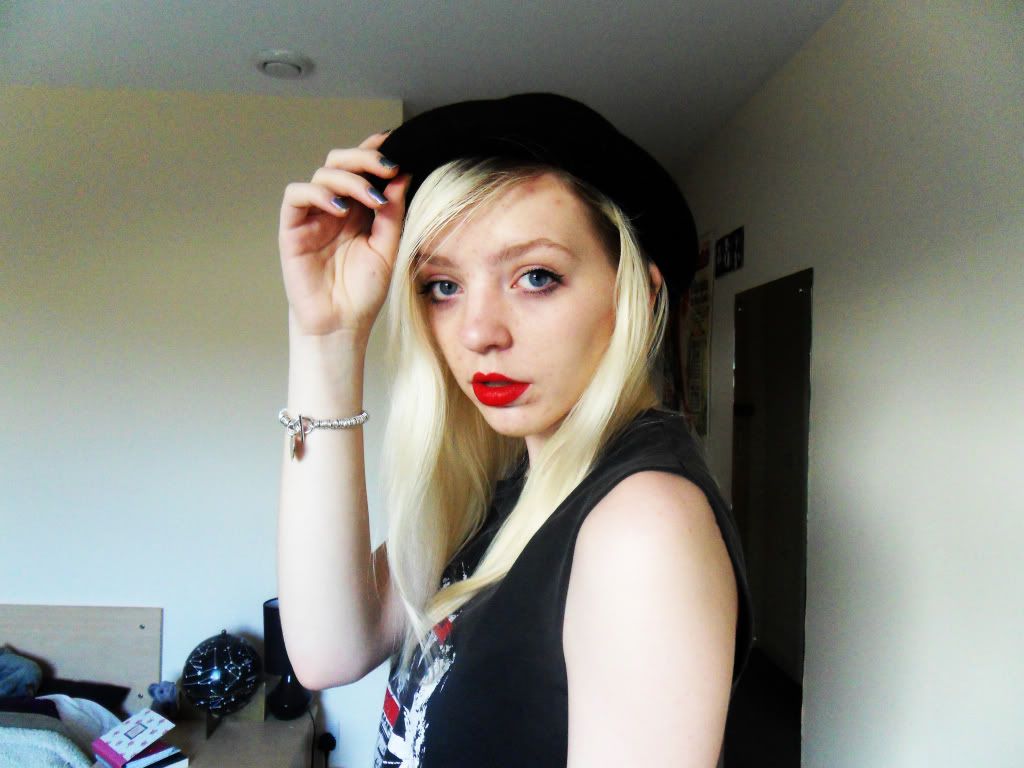 Black felt bowler hat: TOPSHOP | 'Run DMC' band tee: URBAN OUTFITTERS | Acid wash high waisted jeans: MISSGUIDED | Chunky boyfriend watch: RIVER ISLAND | Shoes: CONVERSE
Yeah, I'm wearing these jeans again, sorry I'm not sorry. They pretty much haven't been off my legs since I received them. I'm having fun experimenting with different things to team them with, but one of the first things I wanted to try was a band tee. I have a Kiss one which I got given for Christmas, and another Run DMC one which I've had for years, but apparently two isn't enough, because I visited Urban Outfitters and came out with this one. In my defense, though, it was in the sale for a tenner, which is, what? Like eighteen pounds off? And it does look really great tucked into these jeans.
That being said, it does look like quite a boyish outfit, which I am totally down with, I dig it when girls rock the whole adrogyny thing, but I thought the addition of some girly touches would make it perfect, which is where the felt hat and the red lipstick came in. Although I suppose the bowler hat could also be seen as quite a manly item? Hey, I'm down with it. In fact after just looking back at the pictures you know what would have been AMAZING with this look? SOME BRACES. I've needed the excuse to buy some for ages - ever since seeing
Chloe Sevigny rocking them
years ago - and now I've found one. Or a blazer would have given this a glam touch... Man, the options are endless!
I have some exciting news - I've booked to go to Paris! PARIS, people! One of the four fashion capitals in the world, full of sexy accents, romantic men, chic women and cute little cafés. Oh, and something else... Oh yeah, THE EIFFEL TOWER. I have a massive case of wanderlust and seeing the Eiffel Tower is way up there on my bucket list. I'm going with my uni's fashion society and I don't even know if they'll take us there, but maybe when they go on some pub crawl (apparently it's one of the biggest in the world - no thanks, though!) I could venture off and go and see it.
This is taking me way out of my comfort zone, I'm going with 160 people(!) who I don't know and I think they're all going with their friends anyway, plus it clashes with my 19th birthday when I'm there (booo) but after a little encouragement from my mum I couldn't say no, I mean how could I claim to be someone who wishes to experience the world and yet turns down an opportunity to visit one of the most famous cities ever?
Oh, and the best thing? Paris fashion week, MY FAVOURITE FASHION WEEK, will be happening whilst we're there, meaning we might get to see a show or two, which also happens to be on my bucketlist. I bet the street style will be pretty damn amazing too.
That will happen at the end of February to the start of March. Gosh, I hope it will be as good as I expect it to be...