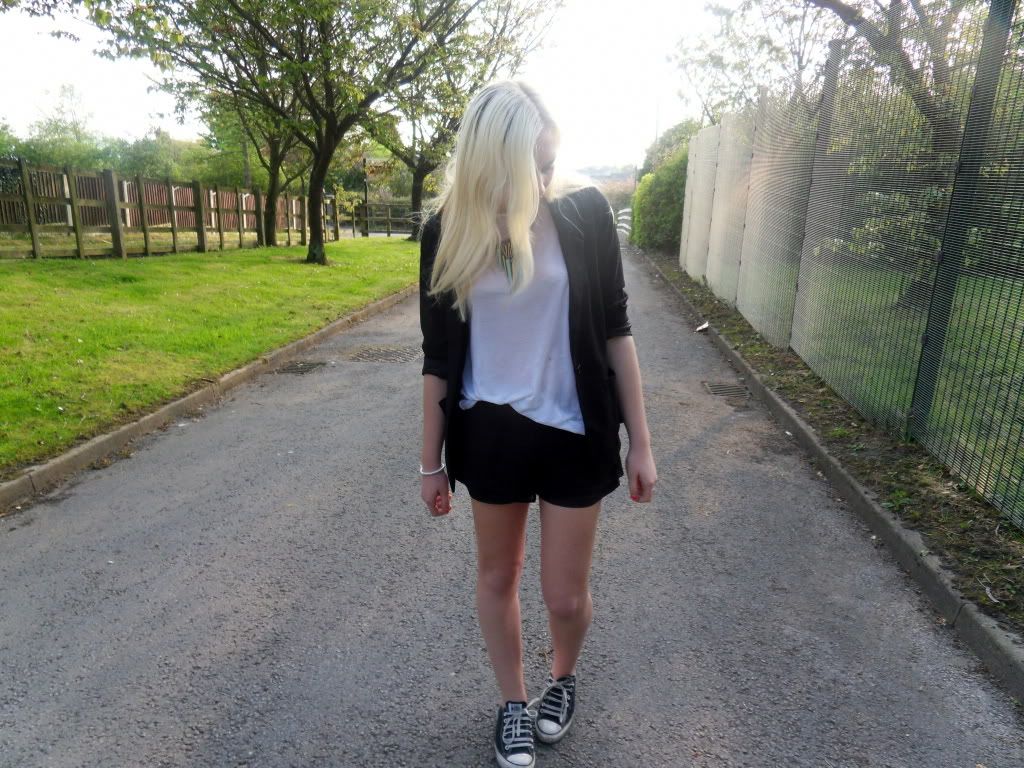 BLACK BLAZER
: H&M | SPIKE NECKLACE: TOPSHOP |
PLAN WHITE TEE
: ZARA | BLACK LACE SHORTS (
similar
): ASOS |
SHOES
: CONVERSE
I have been wanting a summer short suit for, well, ever since seeing
this picture of Elin Kling
(one of my absolute favourite street style shots EVER) and since I would love a suit in a more summer-appropriate-colour than black, I just don't have the money so I had to make do with my blazer, which I seem to be wearing with everything these days, and these shorts which I also practically never take off. I love how this outfit is different from the usual summery-outfits you see (denim shorts, maxi dresses etc etc) and yet is still kept quite season appropriate with the show of
some
a lot of leggage. I do enjoy dressing up in the summer usuals, but I do really like changing it up a bit. What about you, what is your summer go-to outfit?
The only teensy-weensy problem with the sun at the moment, well not with the sun but with me, so now whenever I am inside I get really frustrated because I'm not outside and making the most of it, but living in a not-exactly-exciting town (to put it nicely) and having no money, going for a walk seems like the only option, which is pretty damn rubbish. If only I lived near a sandy beach or an outside pool... (I'm not asking for
that much
, am I..?) I love you England, but warmer countries really do have more to offer *sigh whinge moan sob huff*. The idea of getting a bike for summer sounds really appealing ever since
Robyn
commented the on my post the other day that that's what she likes to do in summer, as bike rides are much more exciting than walking, so maybe I'll invest in one. The chances of me actually saving up for a bike rather than putting it towards clothes shopping/a new camera are
pretty slim though
really, really slim
so slim YOU CAN SEE THEIR BONES. But we'll see.