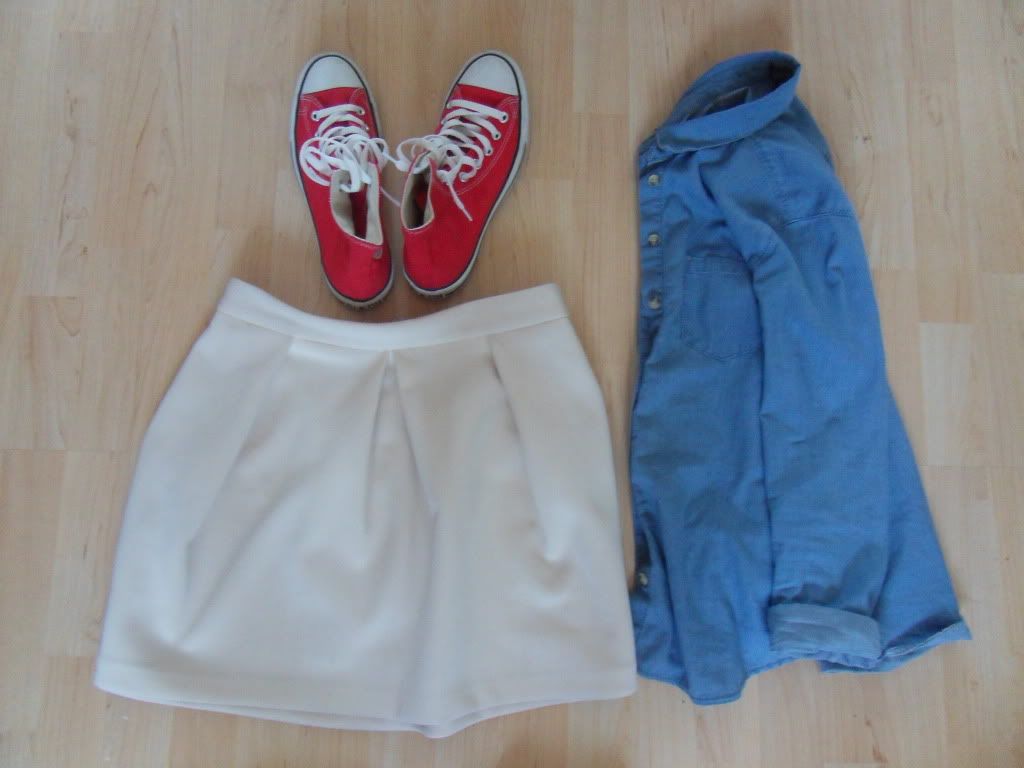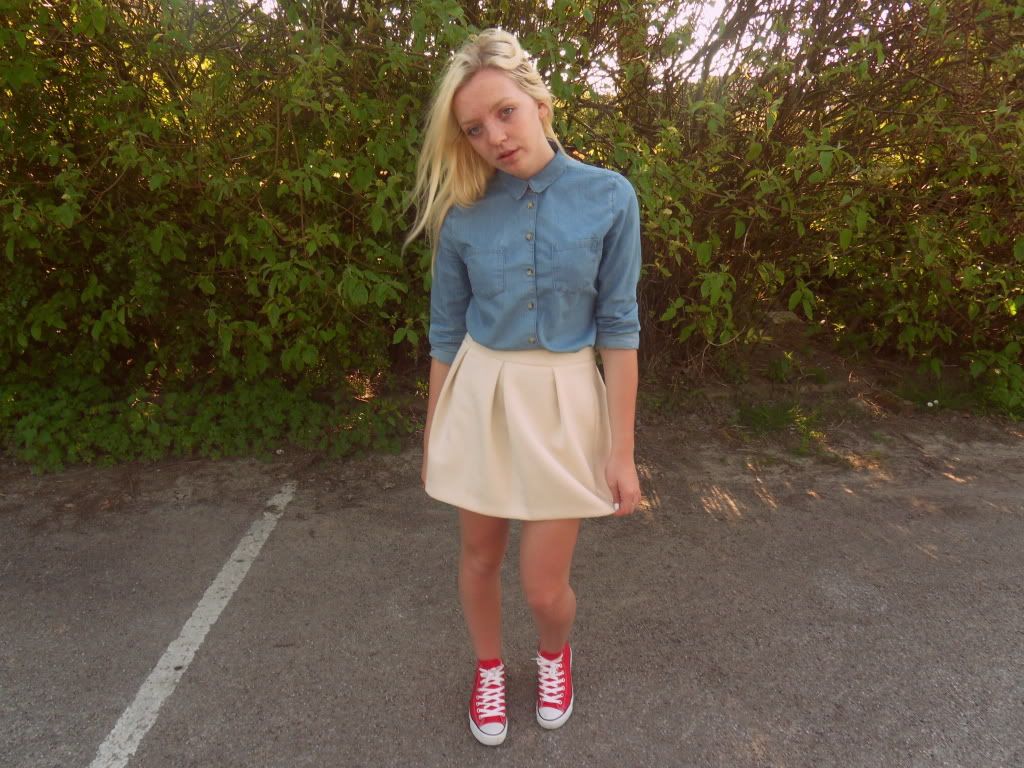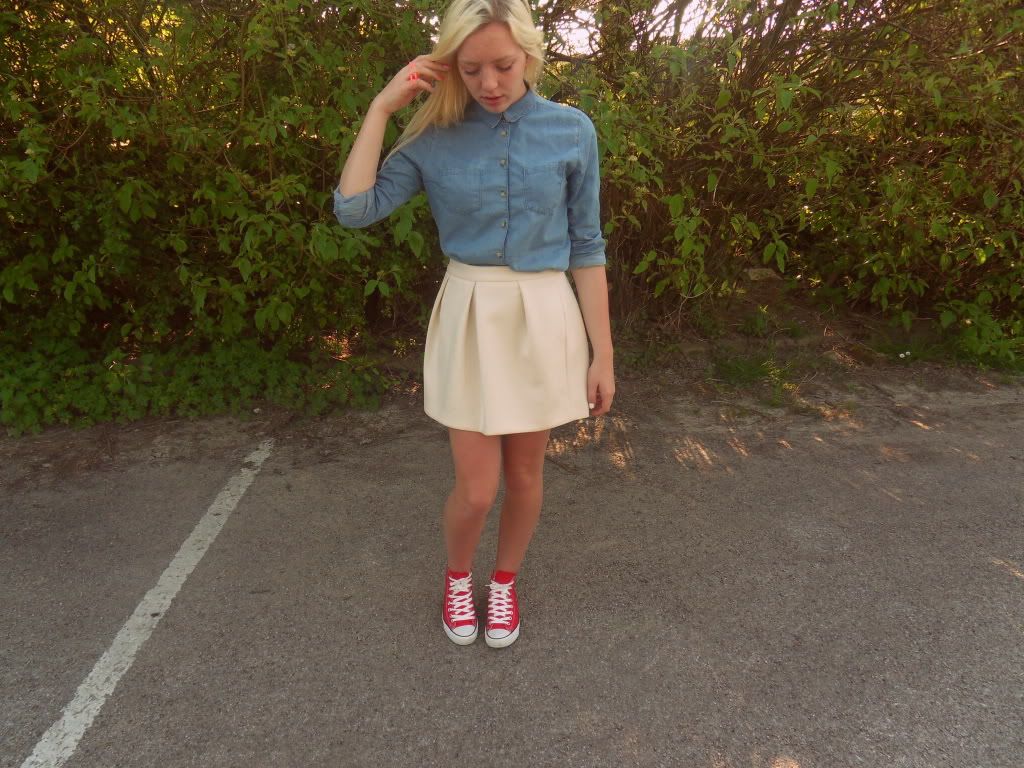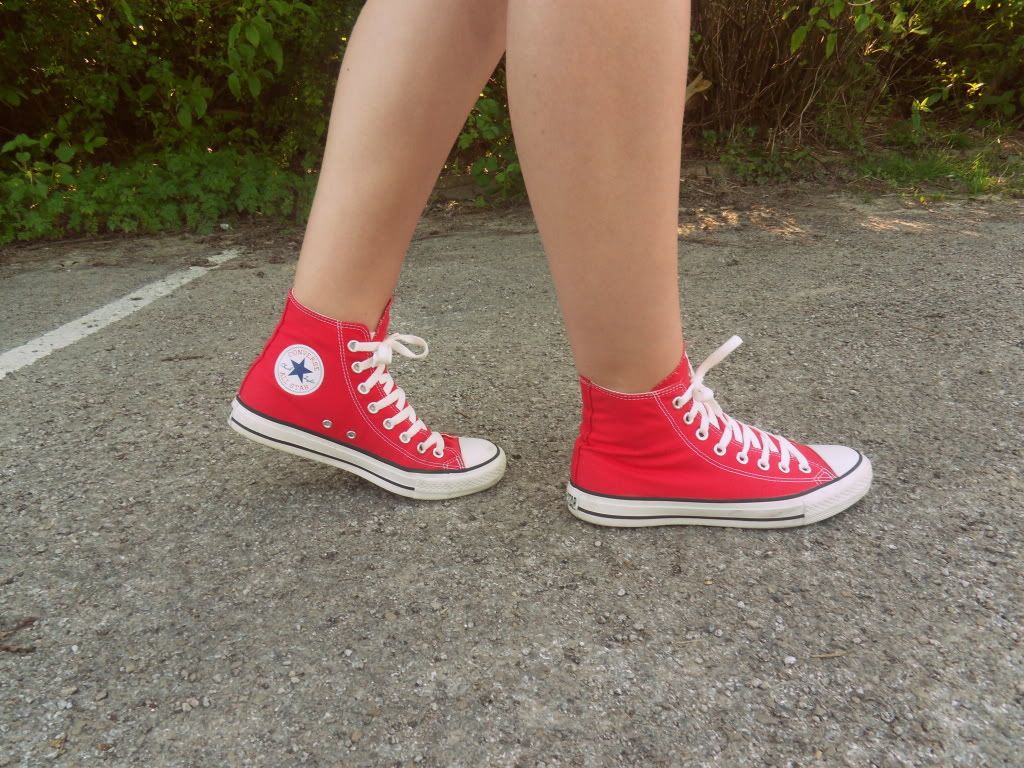 FITTED DENIM SHIRT
: TOPSHOP | WHITE SKATER SKIRT & SPIKE THROUGH RING: ASOS | SHOES: CONVERSE
Am being a pit patriotic with the choice of colours in this outfit, albeit unintentionally (never used 'albeit' before, let's go with it). This denim shirt, which I purchased only a few weeks ago, is usually never off my back. It really is a staple piece in my wardrobe and goes with ANYTHING, whether it's summer or winter. Best. Buy. Ever. Can't believe I've got some new shoes AGAIN, but my mum bought these to go out and after that, THEY'RE ALL MINE. I really am building up an impressive collection of Converse, they are without doubt my favourite shoes to wear and if anyone asked me to define my style with one item, it would be a pair of these. It's not a cheap hobby, but they last me a long and they actually do go with every outfit in my wardrobe, so for me they are completely worth it. Red is a stand-out colour, too, people say that a slick of red lipstick gives your outfit the perfect injection if colour, which is exactly what these shoes do. THESE SHOES ARE MY LIPSTICK. So you've been warned, these Converse are going to be featured on this blog many times from now, (I've already know they are going to be in my outfit tomorrow). Maybe they'll be a nice change from my black low-tops which I seem to wear all the time lately.
I wasn't sure about this skirt as I thought the fit around the waist was a little funny, but after putting it on with this outfit I think I am going to keep it because it seems to work well when things are tucked into it, I just need to pull it up and re-tuck a few times, which I'm sure I can cope with! I love the lantern shape of it and is a a nice change from what shape I'd usually wear. Plus white is my favourite colour to wear this season, so am purchasing more and more items in the colour.
Am off to see Men in Black 3 tonight with my dad and my brother, which should be fun! Can't beat a bit of Will Smith to brighten up a Monday.