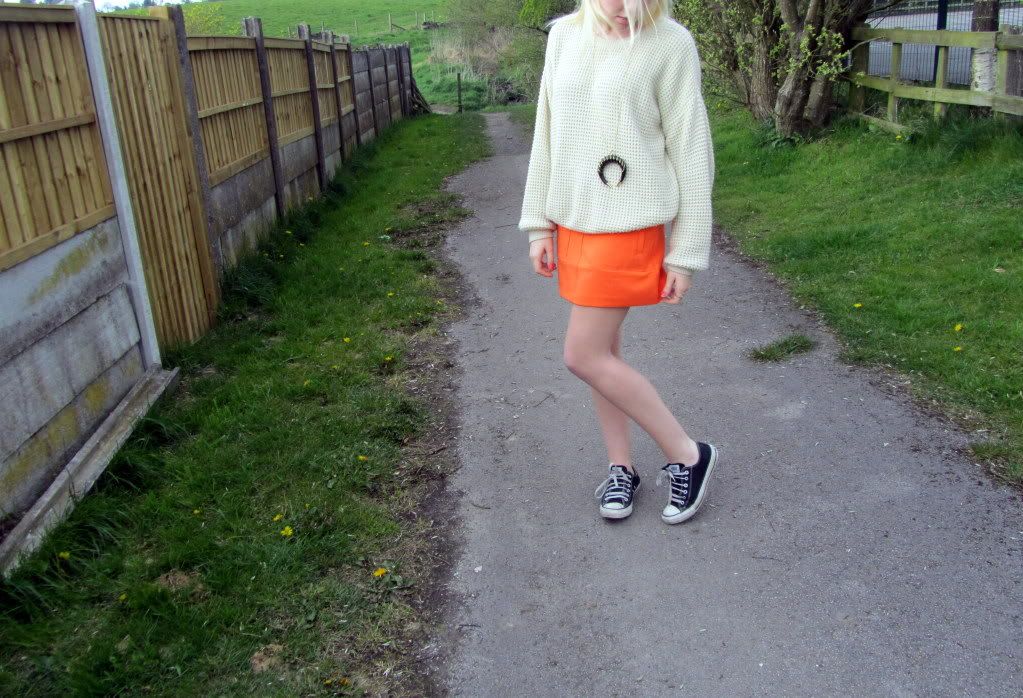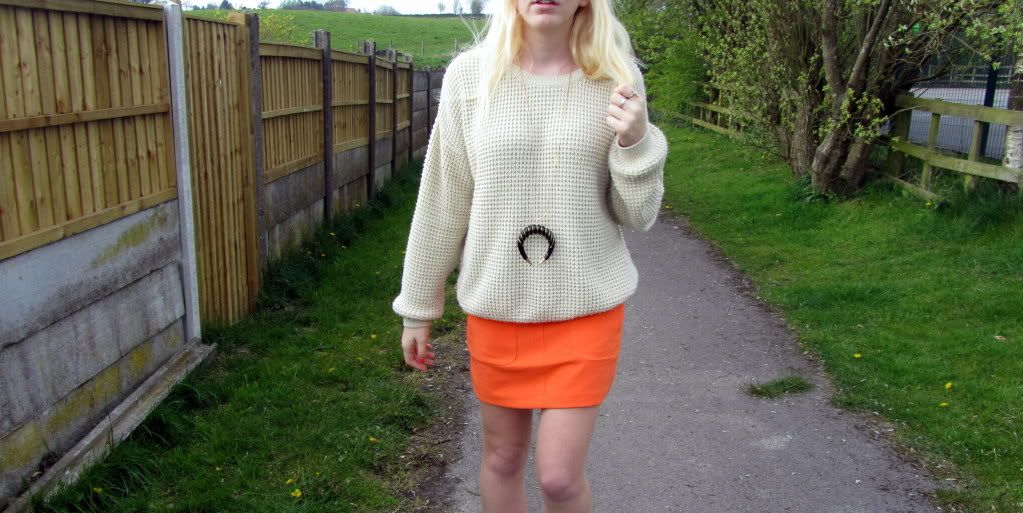 CREAM JUMPER: TOPSHOP | HORN PENDANT NECKLACE: ASOS | ORANGE SKIRT: VERO MODA via ASOS | SHOES: CONVERSE
One of my other new sale purchases is this orange skirt, how great is the colour? I didn't really realise how orange it was until I saw these photos, I like it. A lot. And I bought it for just over twelve pounds. Bargain with a double B! I think that the cream jumper really made it pop, I cannot wait to wear it with more stuff when it's warmer. Which should be now, really... But saying that, the sun has been coming out here in little old Burnley whereas according to my Twitter it's pretty crappy in some other place, so I couldn't resist taking pictures of the sunset which I see on my way home sometimes in the evening. B-e-a-uuuutiful.
This new necklace is ANOTHER sale purchase (and I'll probably be doing some MORE online shopping later on, serious, I probably need help) for four pounds fifty, it is meant to be a horn but apparently it looks more like a croissant, urm...
In other news, I had my french oral exam yesterday lunch time, I was fidgeting and freaking out all morning but I think all my hard work for it has paid off because it went relatively well, thank gawddd. So this means I'm, like, totally fluent now, right? Ahem, maybe not. I only have two more exams left now though: Chemistry and French written paper and I've finished English for, well, ever. I can't believe I am probably going to be at university in a few months, the past couple of years have gone so quickly, eeeek. Am going to have to start making my own meal and everything (I joke, I joke.)
I will have a Wishful Wednesday post up later, eff why eyeeee.