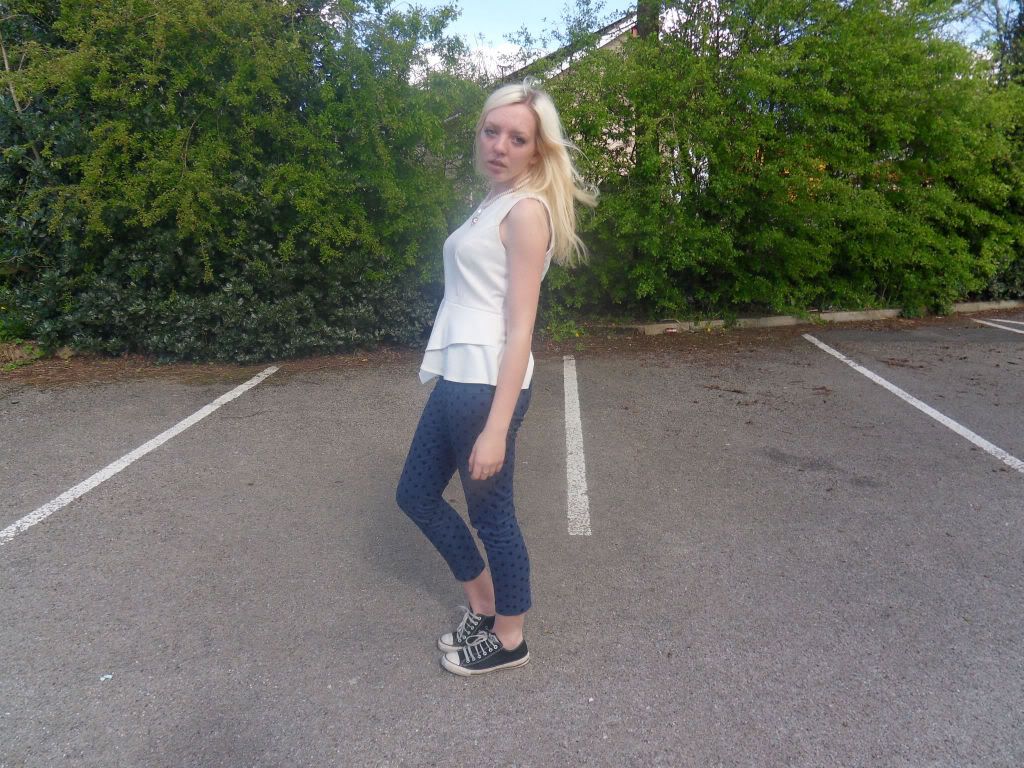 WHITE PEPLUM TOP: DOROTHY PERKINS | POLKA DOT TROUSERS & SKULL NECKLACE: TOPSHOP | SHOES: CONVERSE
Thank gawddd am able to write this post with some pictures, I broke my camera yesterday after I dropped it (for about the sixth time, I had it for four months...) and this time it is properly, er, screwed. Sob sob sob. The worst thing is I was saving up for a DLSR, so there's really no point splashing cash on a two hundred pound one, only to start saving up for a five hundred pound one all over again. Thankfully I've managed to borrow one for the time being. Lots of my stuff will be going on eBay tomorrow evening though...
Aaaaaanyway, wearing these totally amazing trousers. Again. Probably make my ass look really big, but that's what it's all about these days, right? That's how I'm justifying my big bootay, anyway, take it or leave it. This peplum top I bought a couple of months ago and is one of first things which I thought of which would look great with these trews. However I kept it casual with my Converse. I keep having to tell people "No, they're MEANT to look worn, they don't need washing/throwing away!", er, yeah.
So the weather's been pretty nice in England today it seems. If nice is sunny but still frickin' cold. (Come onnnnnn summer, where you at?) Not like I've done much with my day anyway, I DID organise my wardrobe though! Don't hate me 'cause you ain't me. I also watched the final of Britian's Got Talent tonight, I kinda' wanted the guy who sang his own songs to his mystery love to win, he made my heart melt a little bit. Why the heck does no one write a song about me? If anyone is out there looking for some song writing inspiration, seriously, check me out. Nudge wink.