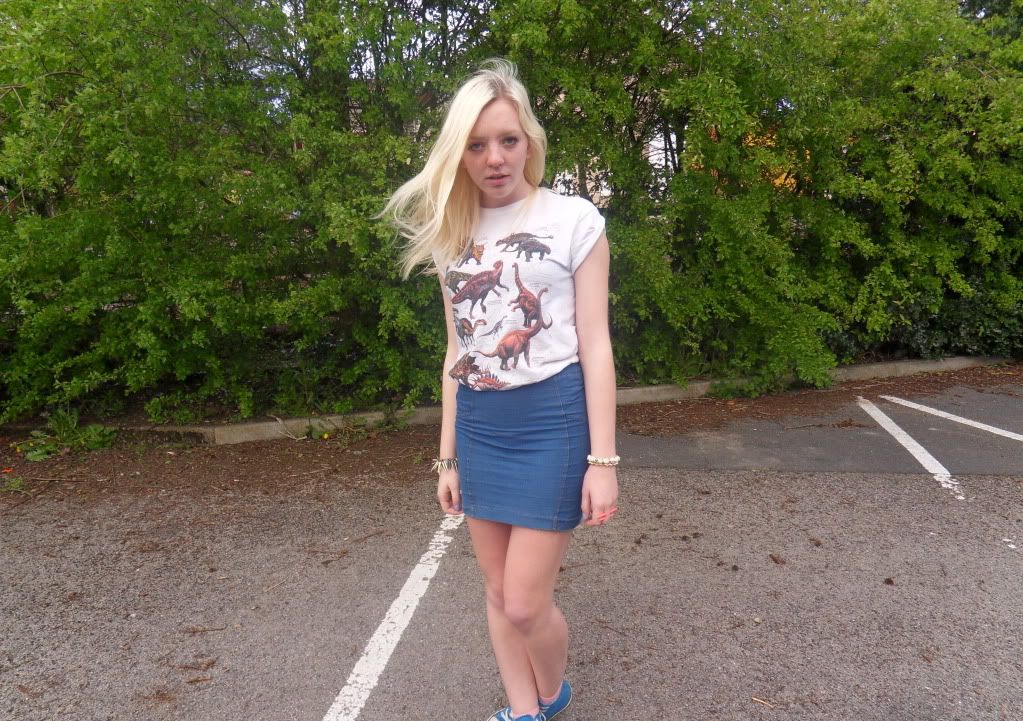 DINOSAUR TEE, SKIRT, BRACELETS & MOUSTACHE RING: TOPSHOP | NEON SPIKE THROUGH RING: ASOS | SHOES: CONVERSE
This t-shirt is ridiculous on anyone over the age of eight. But here I am, wearing it again, feeling extra coo-el. And with the wind being like it is, a bodycon skirt was my only option really. Well, it could have been jeans, but if you're gonna wear a little boy's tee I suppose you have to show some leg, don't you? Gotta even it out. The spike bracelet is a relatively new purchase, am pretty sure it's meant to be a bobble, but I have worn my hair like this for the past god knows how many years (I have a thing about my ears) so I think I'll keep it as a bracelet...
I received my Zara package this morning with two lovely tops in, so hopefully I will be able to picture one of them tomorrow
Well, after my exhausting day of having no college *smug face* am ready for some sitting down time and reading some blogs. I was hoping to watch Sex and the City double bill but he said making him watch the first episode was 'taking the piss', oh...
P.S. I've put some things on my eBay over the last couple of nights, and I
still
have more to put up, how do I let it all build up? Literally, there is a huge pile of clothes on the ironing board. Anyway, if you're interested in seeing what I have to sell then
click here
, lots of Topshop as well as River Island, Zara, Asos etc etc.