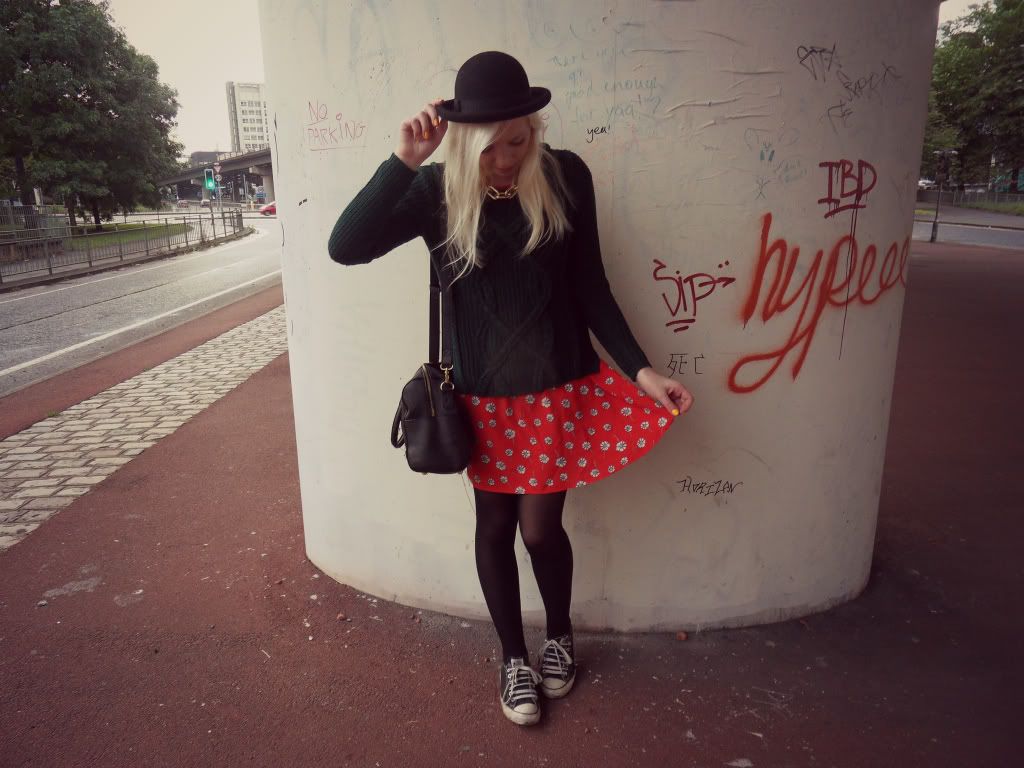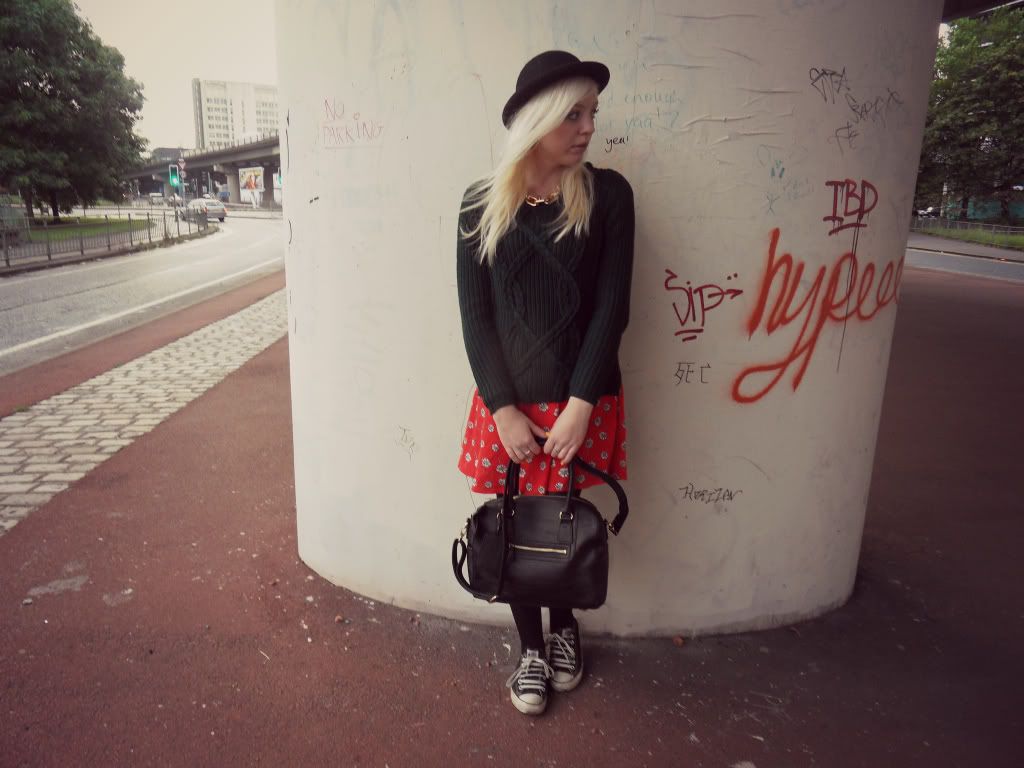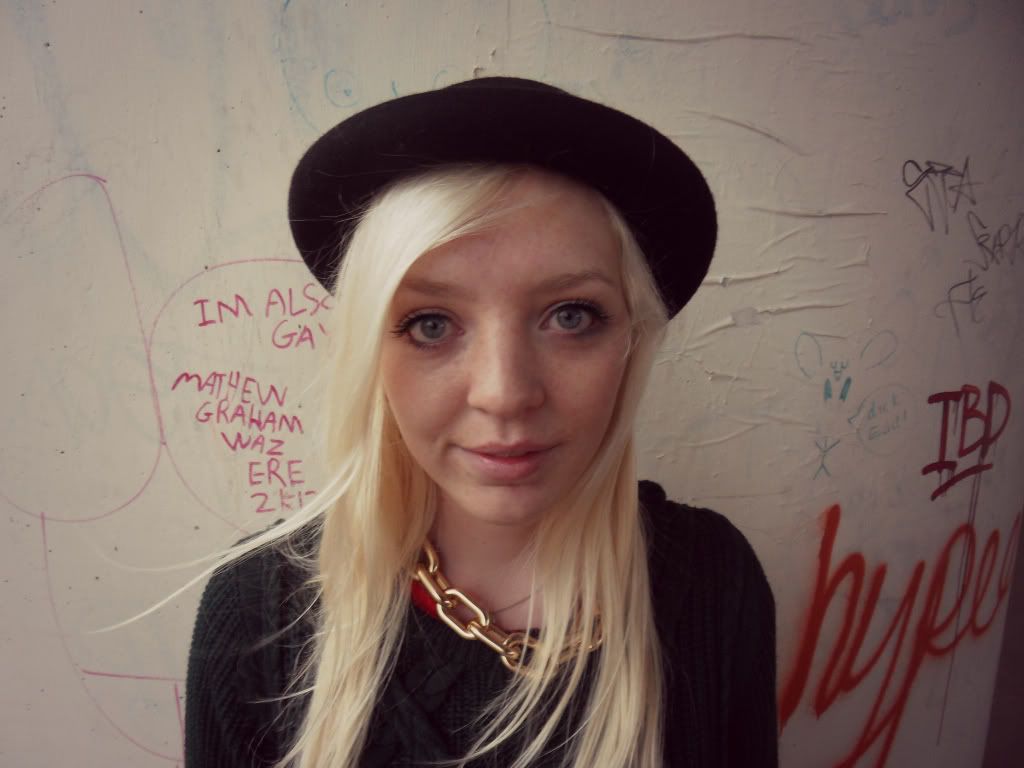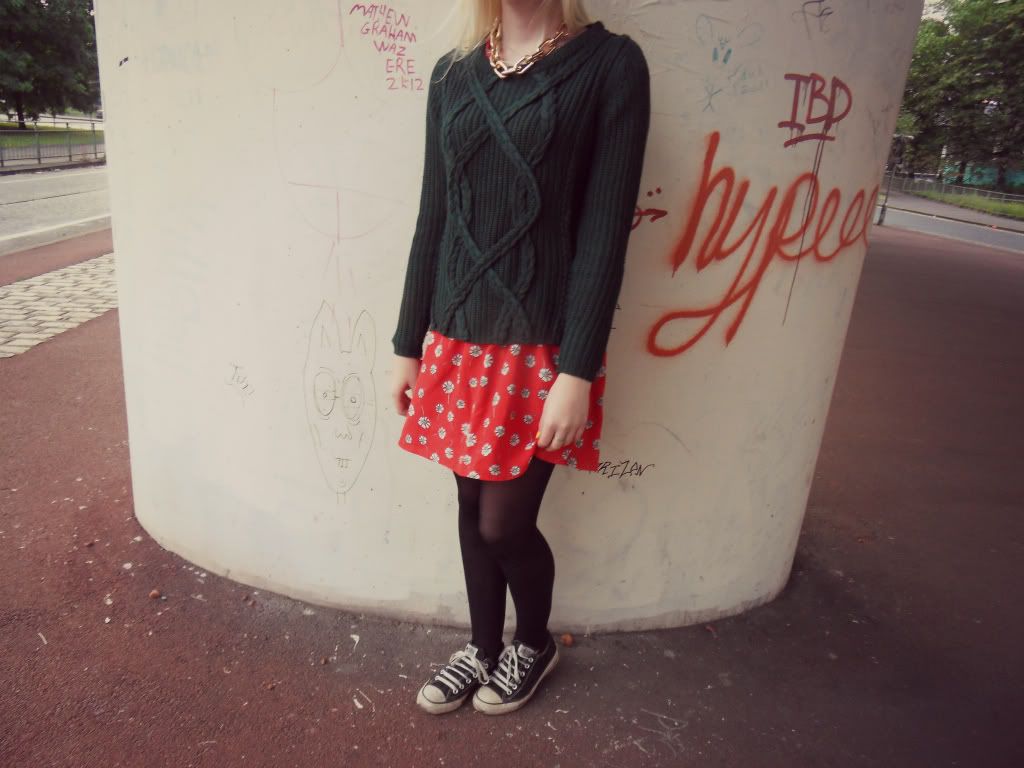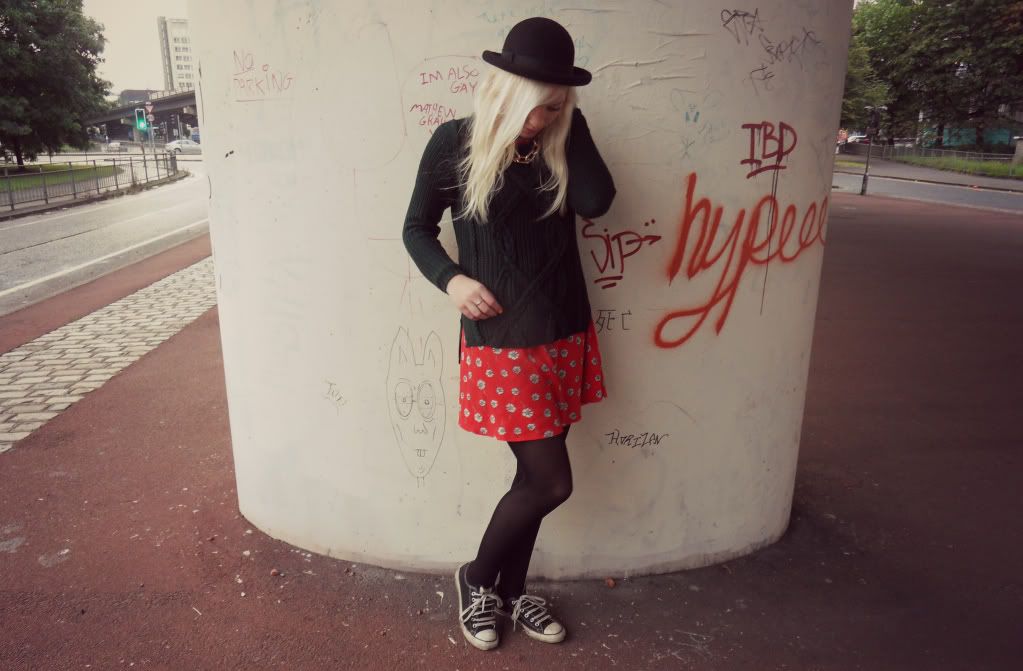 Green cable knit jumper: ZARA | Gold chunky chain necklace: ASOS |
Red daisy print dress, black bowler hat & black bowling bag: TOPSHOP |
Shoes: CONVERSE | Orange neon nail polish: AMERICAN APPAREL
As you can probably tell from this outfit and
my last one
, winter is quickly approaching, and my outfits are happy to adapt. I've already purchased a couple of new chunky knit jumpers, including this one, and I can't wait to add more to my collection, in a variety of colours. I have mentioned this jumper on the blog before when I included it in one of my 'Wishful Wednesday' posts a few weeks ago. I think dark green is my favourite colour to wear in the A/W months, and this knit was only twenty pounds (whaaat?), so it was only a matter of time before I added it to my online shopping basket. Thankfully I bought the biggest size available (a 'large') as the arms are quite fitted and on the medium they would have been too short. I am so pleased with it, I was expecting quite thin material because of how much I paid, but it is quite thick and you definitely get your money's worth. I have worn it numerous times already - with a black skirt or shorts - but today I decided to take another route and wear it over a red dress. Now I usually avoid wearing dark green and red together because together it's a very Christmassy combination, but thankfully I think the daisy print pulled it out of this territory, so I just went for it. I wasn't sure about this dress the last time I wore it as I wasn't sure there's many ways one could wear it, so I was happy to throw a jumper over it, giving me another way to wear this dress. I think it would look amazing with the
bright, yellow jumper which I wore in my last outfit post
, too.
The accessories today are pretty much the same as the other day - the hat, the bag and my new favourite, statement necklace. I can't get enough of this hat, I've been wearing my beanie quite a lot lately which is more of a grungy item, so it's great to take my style in another direction with this bowler hat. I'm not much a bag kinda' girl, don't get me wrong I appreciate all different kind of handbags, but I'd rather spend my money on clothes and shoes whilst just having one bag. Hence why my new one is PERFECT. It's just like my last bag except in a black colour, and hello, black goes with everything in winter. I am definitely over the whole pastels thing now and happily embracing the darker colours, so you'll be seeing this in pretty much every outfit post from now on.
Don't you just love my new neon nail varnish? It has a bit more of a yellow tone to it in these pictures, but in person it's like WOW. I've been lusting after the neon varnishes from American Apparel for a few months now, and finally I purchased them in this colour, the bright yellow and the pink/coral shade. As I said the other day, the yellow's staying time is absolutely rubbish and how it applies is nasty (still an AWESOME colour, let me add), but I've had none of these issues with the other two. I think they add the perfect pop of bright colour to any outfit, so I will be sporting these for the next few weeks, until the novelty wears off (if ever).
Hope you all have a nice weekend! After two hours on buses yesterday night I am home for the weekend, my brother has already claimed my bedroom as his own (naturally), but it's nice to be back for a while! Even if I have been gone for less than a week...