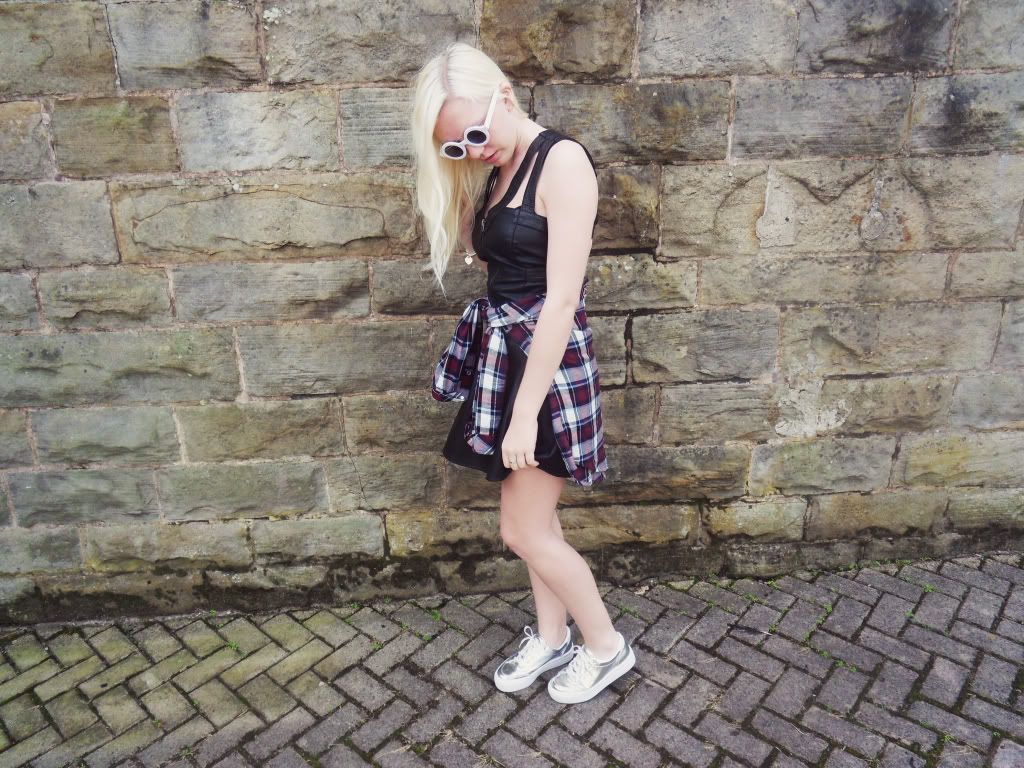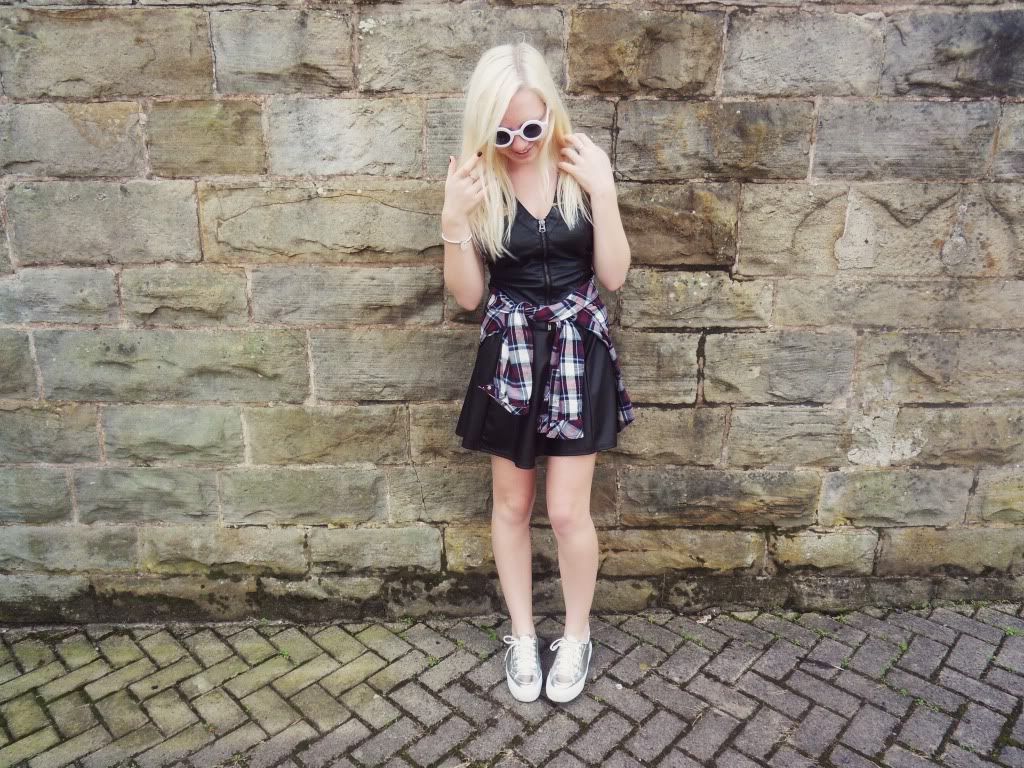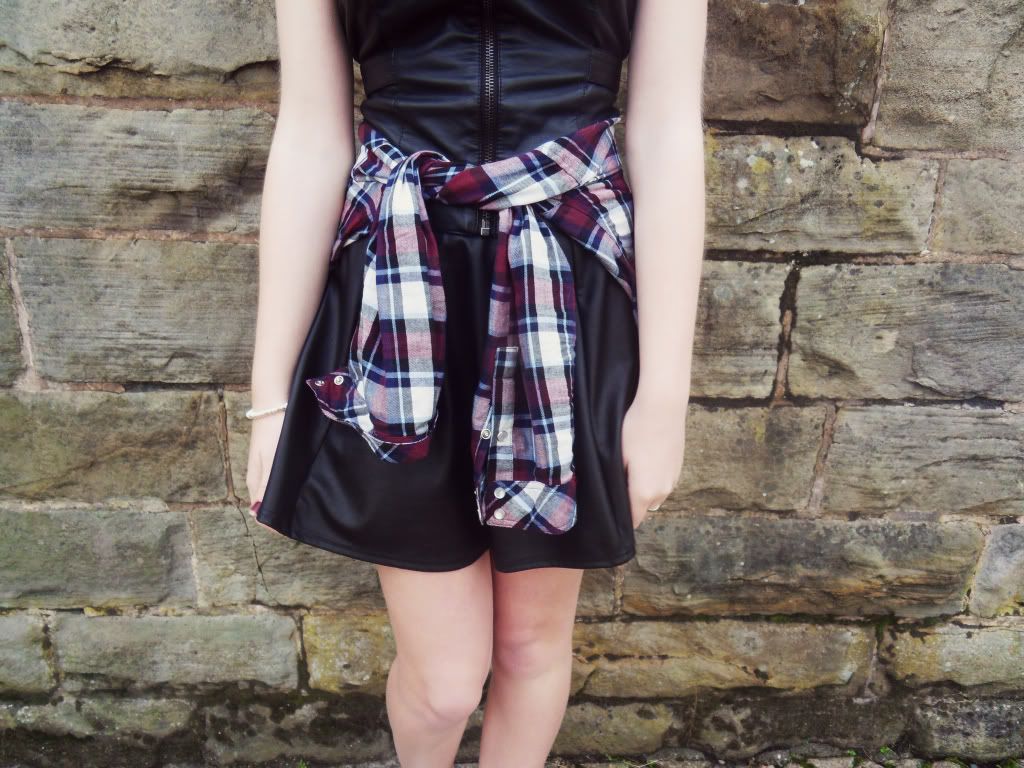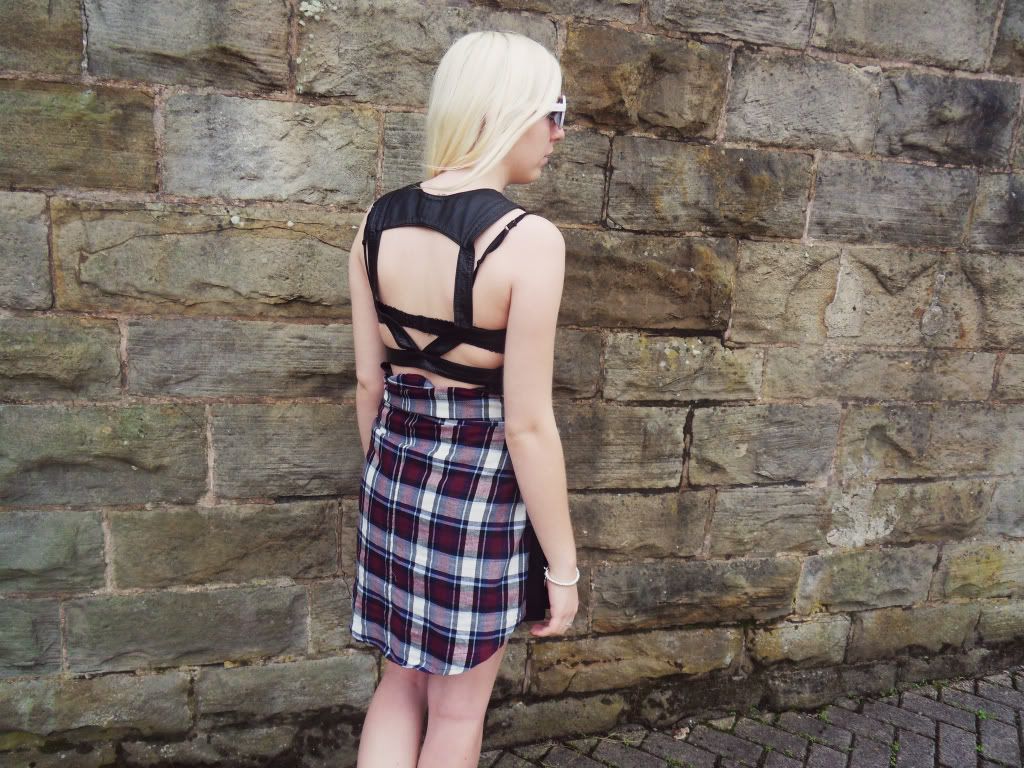 As some of you will know, I am digging my 'darker' looks at the moment. And word on the street is that gothic is gonna be huge this season HUGE, I tell you. Which, you know, I am kind of excited about. And to show you my excitement, I thought I'd get started and start channeling my inner goth (I haven't dived in at the deep end, mind) before the A/W months have even started.
What better way to show my appreciation of the trend than with by mixing my treasured pleather items. I know this skirt could be worn in many ways during the summer (you should know this by now too, as I have worn it, like, seventy three times already), but the main reason I bought it is because I know it would be a great piece in the winter. I think that the colder seasons are quite hard to choose bottoms for. I don't want to be wearing skinny jeans all the time, so when I pick a skirt/pair of shorts, I need to know they're gonna look great with a pair of tights and a big jumper. Hence why this skirt is perfect. And at a mere twenty pounds, I cannot stress how much you (yes, you) need this in your life. Just do it, 'kay?
I then teamed it with this zipped-up bodice. Quite a brave choice to put these two items together, if I do say so myself, which is where the checkered shirt comes in and it separates the two nicely. I don't usually tie things around my waist. Even when it gets hot and I have to take my jacket off, I will carry it over my arm. I am not ten, and I don't wish to look like I am. However there is something about this look that kinda' makes it okay. Does it work on paper? Oh, probably not. But I really look how the whole ensemble turned out.
I thought my silver flatforms would be the perfect addition. They offer a kind of sporty, futuristic twist. Give me a pair of tights, some biker boots and a man-style coat and this outfit is winter-ready.
So I've been having quite a hectic few days. I went to Manchester to look at accommodation, which is very last minute (which isn't my fault, I HATE rushing things!), and my mum and I got ridiculously lost trying to find the place. Ended up asking for a taxi. 'Berry Street please'. We ended up under some random bridge on BURY street. Cue lots of stressing. But we got there in the end (and figured out we were only a couple of minutes away when we got in the bloody taxi). I looked round the flat and it was okay, pretty much what you'd expect as a student. Although my wardrobe is TINY, like, big enough to store my coats in. That's it. I move in on Sunday. I give it a few hours before I am hiding in said wardrobe and crying at the lack of a power shower. It's fair to say I've been spoilt in my life up to now, but I am going to be a big girl (I'm a grown up now, don't cha know?) and get used to it. I will be living with three boys and two other girls, who I will hopefully get along with. Oh, maybe we'll be like 'F.R.I.E.N.D.S.' except in real life! I've always fancied myself as a Rachel. Are any of you starting uni this month?
I am getting my second tattoo tomorrow, so excited! I won't say what it is yet, but I will say it's going to be bigger than
my first one
and with my sensitive skin I am gonna be in there for a stupidly long amount of time.
Watch this space...