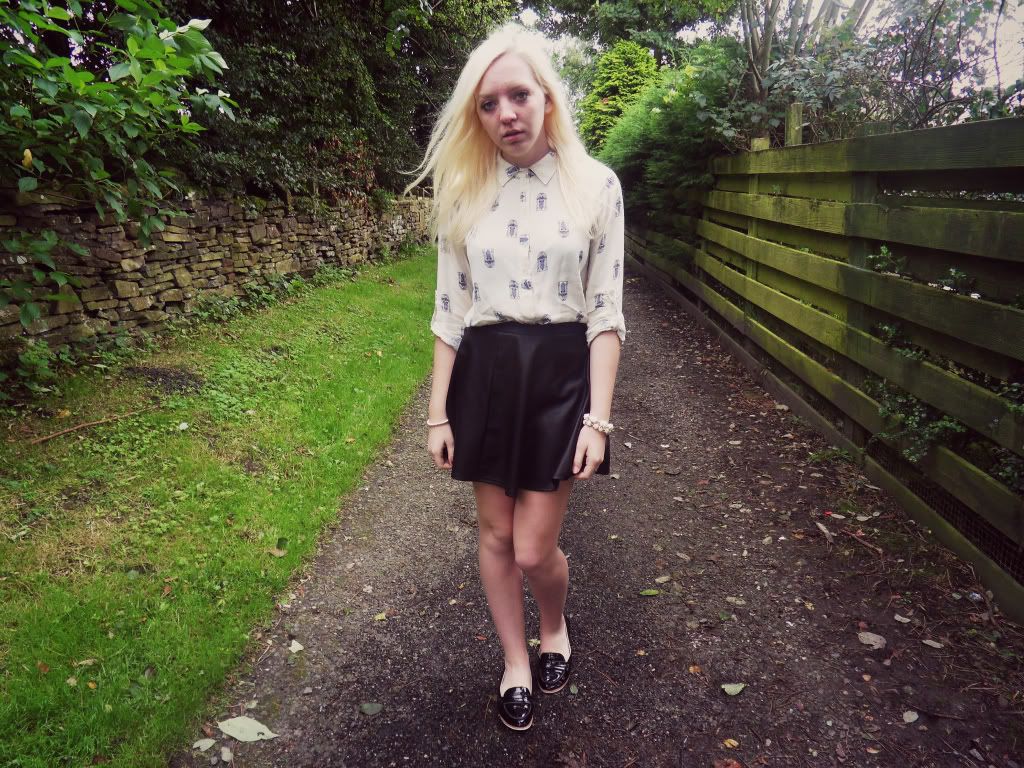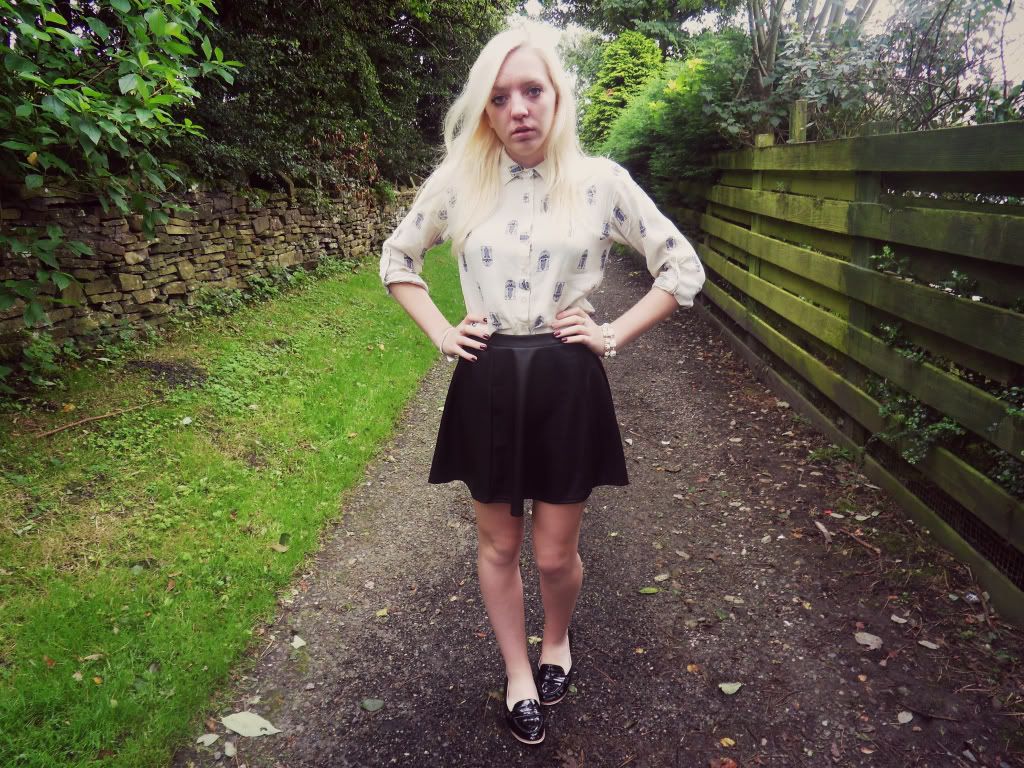 Jukebox print shirt: ASOS | Black coated skater skirt: RIVER ISLAND | Black patent loafers: TOPSHOP
Wearing this skirt again already, it's one of
them
items. Which goes with everything and you wear a shameful amount of times, but maybe no one will notice as long as I change the top and shoes each time, right? Last time I wore it with a grey, studded top so today I have decided to step away from my much-loved grunge territory and actually prepped it up a bit, with the buttoned-to-the-stop shirt and my patent flats. This shirt is such a lovely print, I can't get enough of it. A very cool twist on the usual white shirt. Unfortunately it's sold out now, but I know ASOS do a few different printed shirts (as well as Zara!), I had my eye on an elephant one but my size was out stock, sob sob.
I purchased the shoes a few months ago when I was in Manchester. I do love my Converse, and these are obviously hardly similar to them, but sometimes it's nice (and probably more normal) to just wear a different type of shoe with your outfits. Am I right or am I... well, just stating the obvious? Ahem...
I am spending this week mostly with my mother, trying to make the most of our time before I spread my wings and
fly away
move an hour away into university. I have no idea where I am living yet, though, so it's very hard to plan and feel organised at the moment. They've told me I could still be living in private accommodation (oh FANKS) which would mean I'd have to find ANOTHER place to live, which I can deal with, except it's very last minute. Is it even possible apply for somewhere at such short notice? SO FRUSTRATED EVEN TALKING ABOUT IT. I like having a plan and knowing what I'm doing and when I'm doing it, so I'm going a little crazy. Just a lil' bit.
I'm on my way to see 'The Possession'. This is not my choice, oh no no no, so I will be hiding behind my hands for most of it. I probably will be sleeping with the lights on tonight, too... I watched 'The Beauty and The Beast' on telly yesterday, which is much more my thing. I love a good oldie.
Happy Sunday!