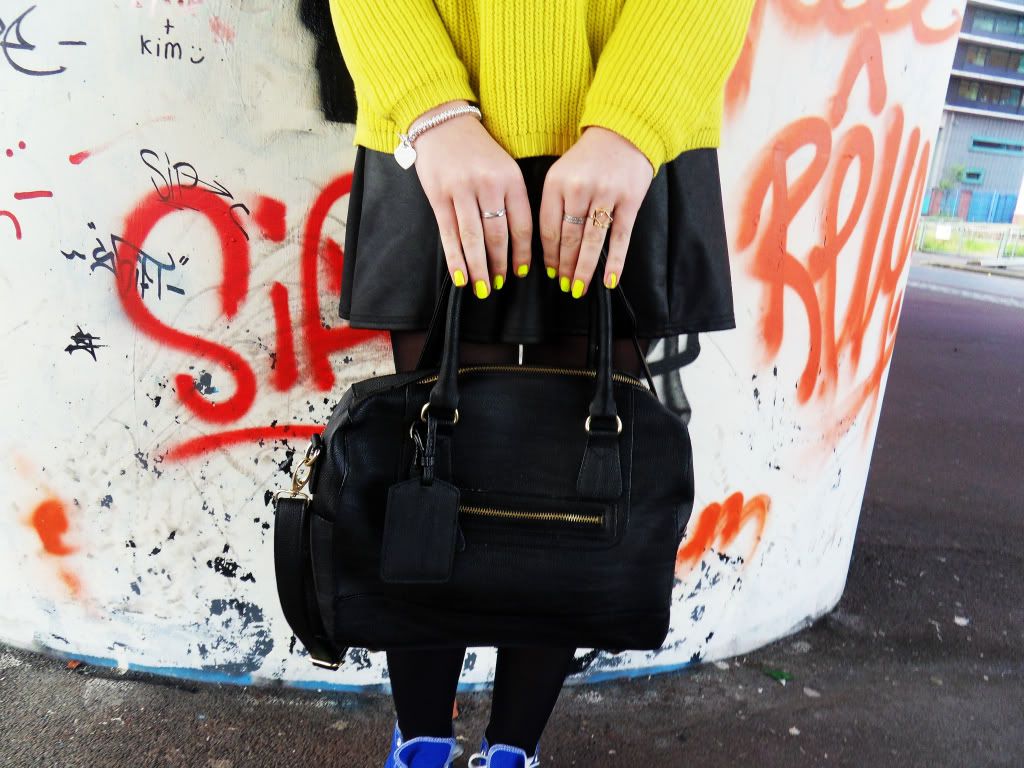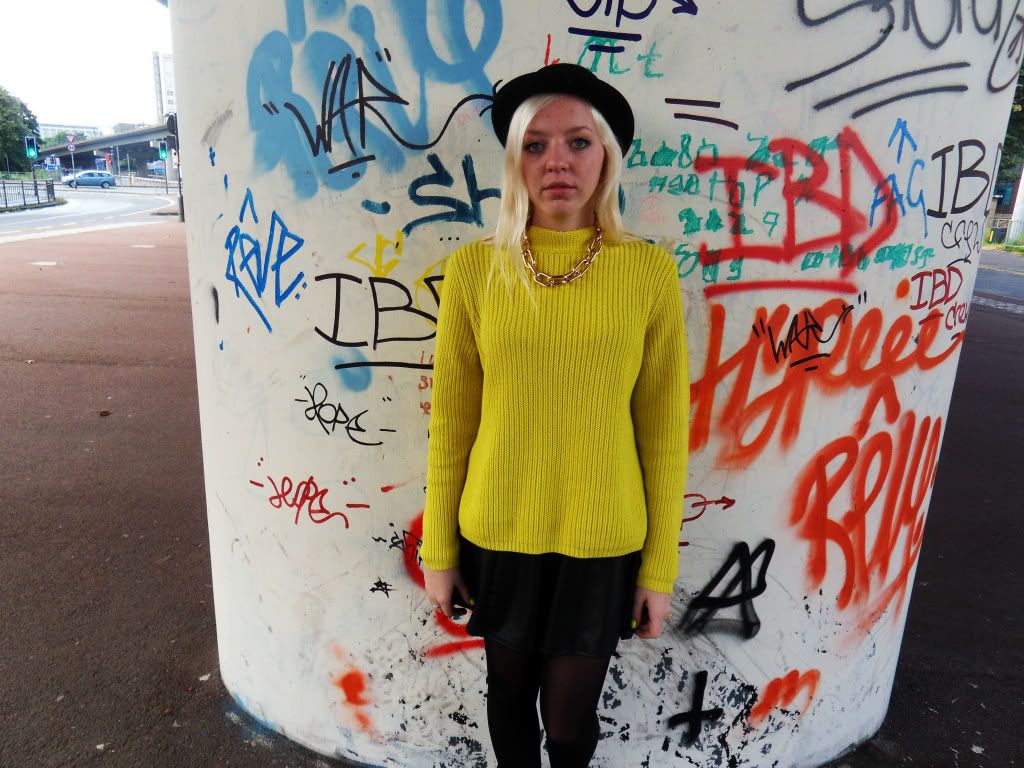 Oh, I am excited about this outfit. And my new graffiti background. And my hair (it looks so shiny!). I should not be spending money on new clothes (really, I shouldn't). But my uni had fresher's fair on Wednesday, and the fashion society Tweeted and Facebooked on Tuesday afternoon to say that they'd be looking out for people with 'cool, wacky clothes' on. Cue me thinking 'Ohmygosh ohmygosh I've only brought dull, wintery items with me. MUST GO SHOPPING.' I originally planned to nip into Topshop (when do I ever just 'nip' into Topshop? What was I thinking?!) and buy a funky tee at a relatively good price, maybe something around the twenty pound mark. What did I end up buying? Oh, a forty pound jumper and a twenty five pound, I repeat, TWENTY FIVE POUND, bowler hat. Of course I bloody did.
So yeah, this jumper - out of my price range? Probably. Was it love at first sight? Absolutely. It definitely wasn't what I had in mind when I thought about what I'd buy - hello? It's a jumper! - but the vibrant, almost neon yellow screamed 'wacky' at me. Seriously, it was shouting: 'OI, YOU! YEAH, I KNOW YOU'VE SEEN ME, YOU KNOW YOU LOVE ME, WACKY WACKY WACKY, BUY ME! BUY ME!' etc, etc.
Oh, and the hat? Funny story. I went off to buy some tights - yellow jumper in hand - and then planned to run to the till. But on my way to the hosiery section I just FELL, head first (obvs), into this hat. You can't make this stuff up. And then before I knew it I had planned this whole outfit out in my head within a matter of seconds. I couldn't just go and leave the hat now, could I? No. No, no, no. So I took it. And THEN I ran.
The neon nail varnish and the chunky necklace are both fairly new purchases, too (oh god someone stop me), but things which I've had my eye on for a few months. Am really pleased with this necklace as it makes a statement despite its simple design. I also really like the nail varnish as it looks AWESOME on, however its staying time is absolutely rubbish, and it doesn't go on that great either. But oh well, you win some you lose some.
To conclude, I don't regret my out-of-control shopping trip, especially after seeing myself in this amazing ensemble the next morning, but then again, I don't intend to check my bank balance any time soon.