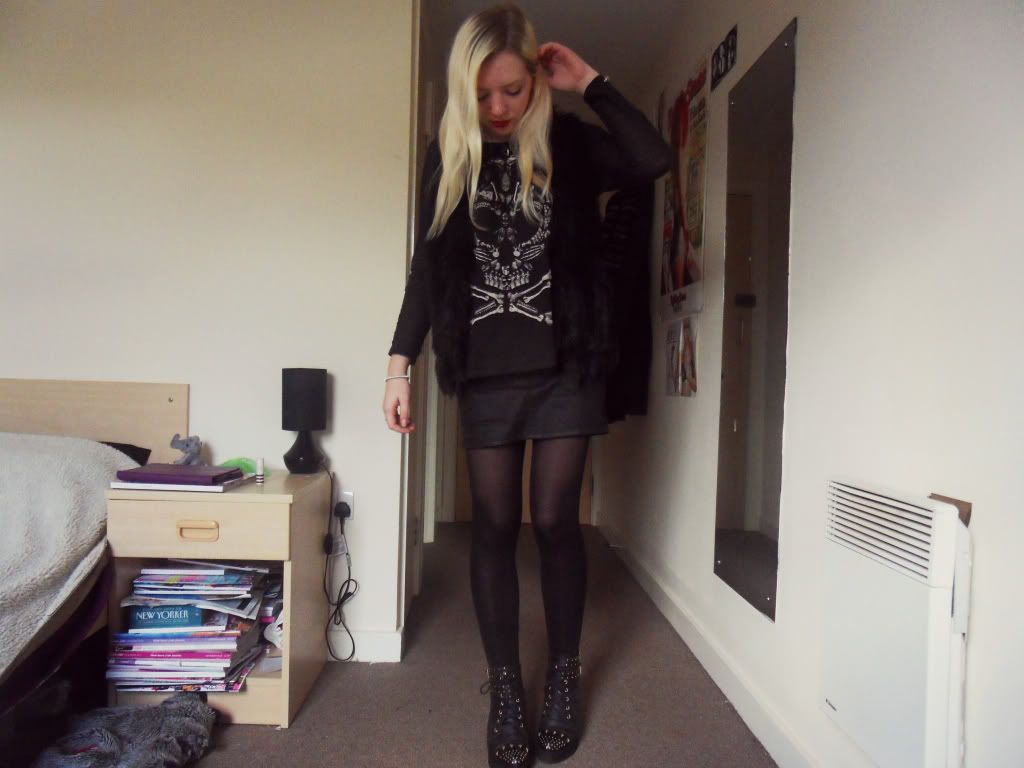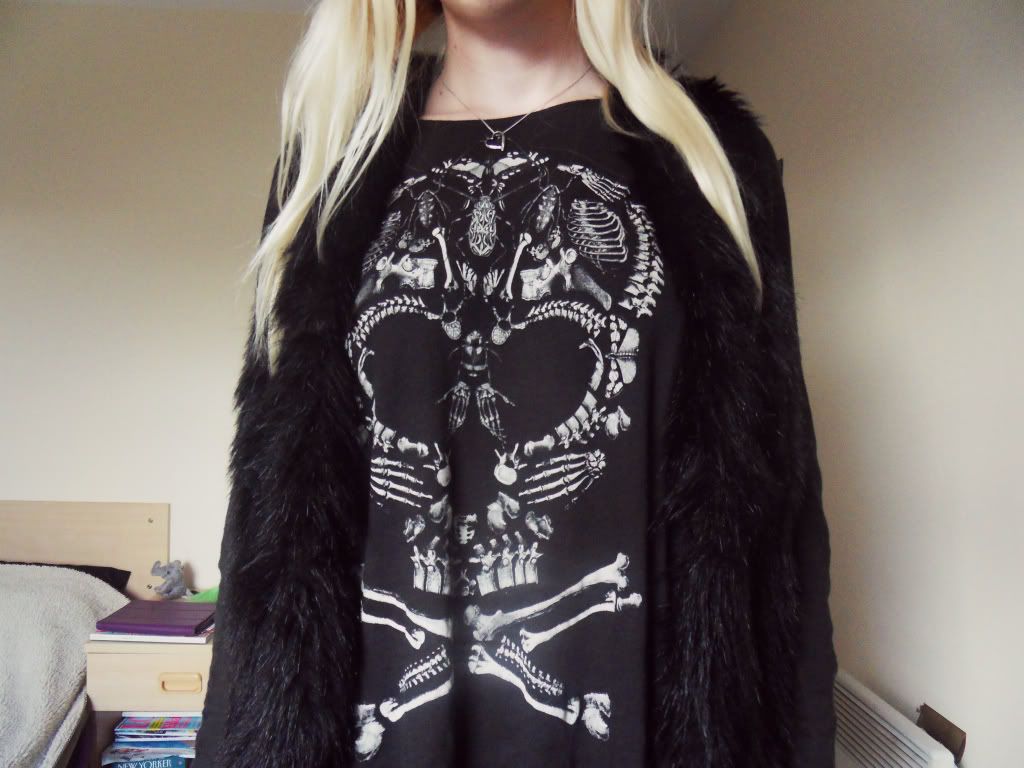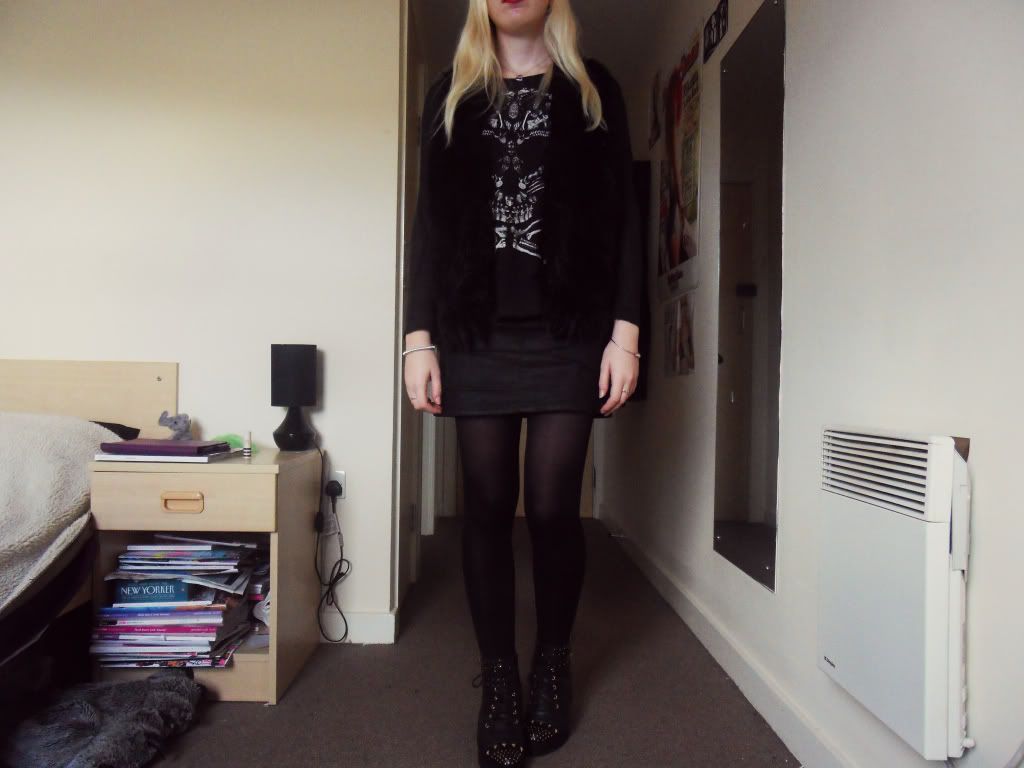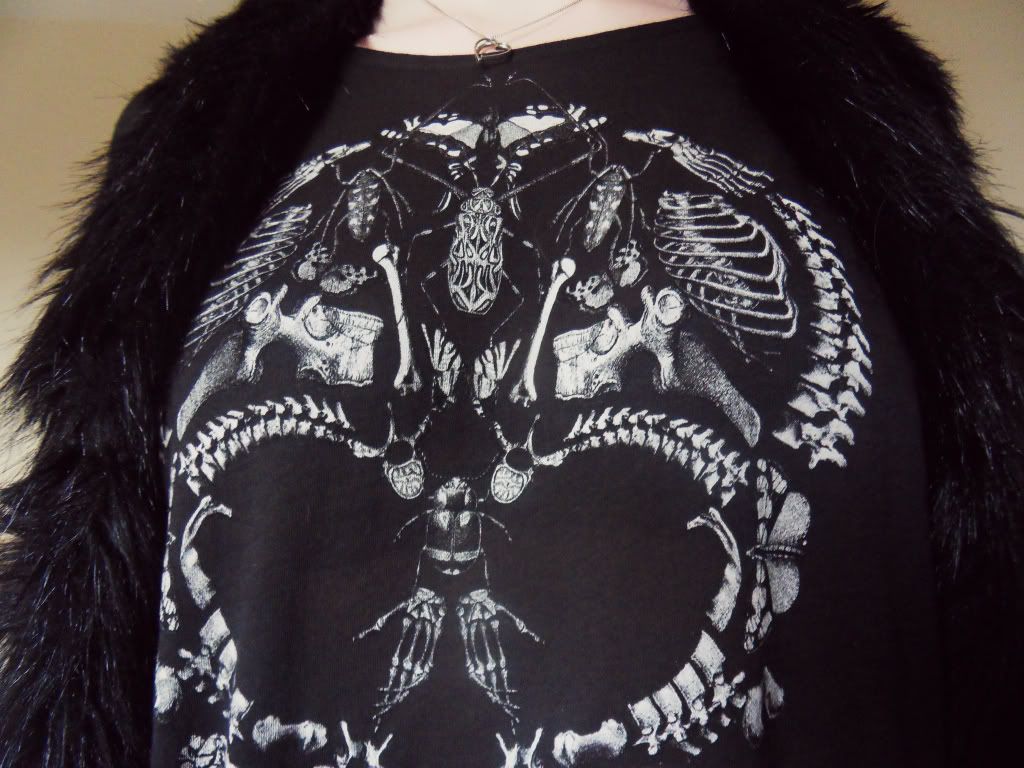 Black faux fur gilet: TOPSHOP | Skull long sleeved top & coated mini skirt: ZARA | Black studded boots: ASOS
Who ever said wearing all black in an outfit is boring, eh? Well, probably me at some point, actually... But I can safely say I have now changed my mind. There are so many people who rock all-black looks, and I immediately get inspired by their effortless coolness, so I couldn't help but try to give black another chance. I'm not a hater of the colour, not at all, I just tend to not wear it too much to avoid it looking boring and easy. I don't even think I own an LBD which, you know, literally every other woman has in her wardrobe. I usually look to inject some colour through my Converse. As you can see, though, I am a changed woman. I still love me some colour, don't get me wrong, but this outfit has resulted in me feeling effortlessly chic all day.
A big part of this is my new top from Zara which I bought last week. I really like it. I'm pretty sure it was the last one in the whole shop as it was just stuck on a random rail without a tag on it. I checked it was in my size and then kept hold of it because I have discovered that Zara bring in new stock like there's no tomorrow, so going away to think about buying it wasn't an option. I don't usually buy long sleeved tops, they're mostly vests or t-shirts. I'm not sure why this is because I do really like long sleeves and obviously they're much more practical for this time of year. I think it's the print which really sold it to me, it's made up of insects and bones and such (see last picture), which I think is really cool. I cannot
wait
to pair this with my new leather pants, but I also think it would look really good with a denim skirt in summer, too. Oh, and under my dungarees dress! Ah, the options are endless! *Gets all giddy.*
I've just got to say something about these boots. I haven't worn them in a while as I've been all about my Converse recently, but since trying these on for the first time in a while the other day I haven't really had them off my feet. I love them. <3
I've had a banging day off today, I have. I went to sleep at like half three
last night
this morning because I stayed up watching videos on Youtube (thank you, 'vlogmas'!) and then lay in until half eleven. Bliss. And I'm a big sucker for daytime television, so I haven't been stuck for something to do. One more lecture tomorrow and then I can go hoooome, hopefully putting the tree up this weekend too, yay.
Last thing - I'm in the process of deciding what to do with my hair. Sometimes I want to go lighter, and then I see a picture of Cara Delevingne and I want to back to my natural, dirty blonde. I posted an
old picture on Twitter of my natural hair colour
and got some lovely feedback, so please let know what you think! I'm also considering dying it pink, so
all
suggestions are welcome...