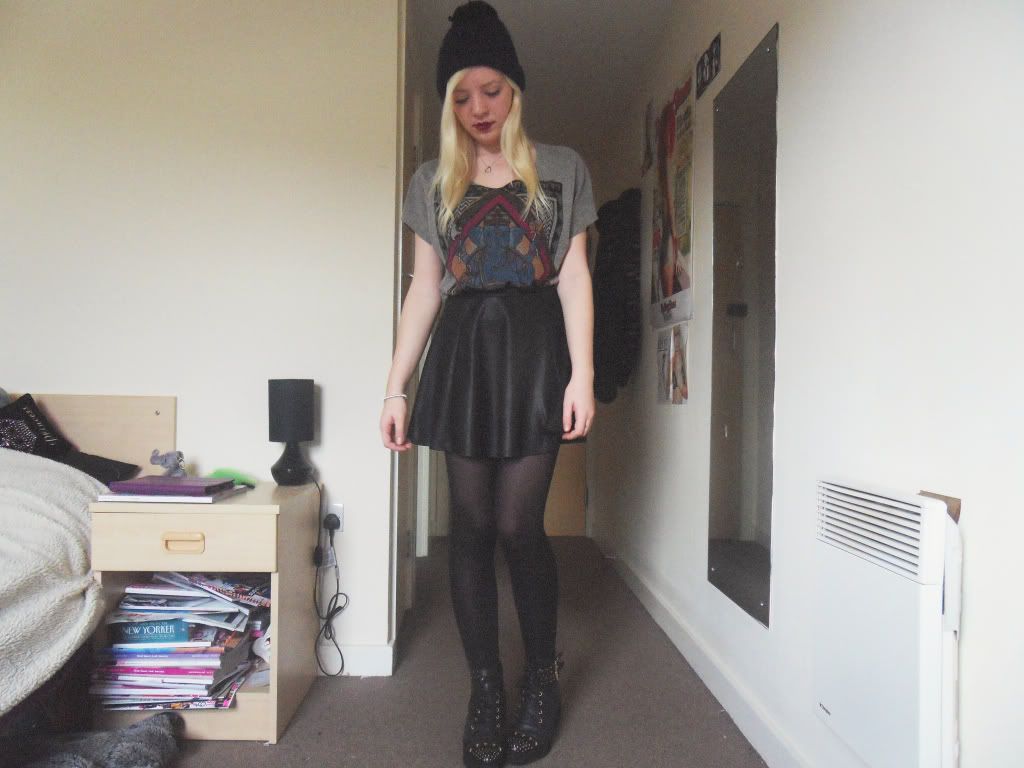 Ganesha tee: URBAN OUTFITTERS | Blue pom pom hat: TOPSHOP | Pleather skater skirt: RIVER ISLAND |
Studded boots: ASOS
It's the weekend, YAY. Well, for me it is anyway, don't hate 'cause you ain't me. A simple outfit for a relatively simple finish to the working week, and I actually like it more after seeing these pictures. I sometimes feel a little too boring when I wear just a skirt and a t-shirt, it feels like the easy option, but after seeing these it's clear that, when you feel like just throwing on a couple of things, you should just go with it. Plus, my amazing boots (have really fallen back in love with these) help to make the outfit look a little more glam, a little more dressed up.
I do like the colours of the tee with the faux leather material, and I think the loose, baggy fit makes the top look really good when it's tucked in. I decided to wear mostly black or dark colours so the t-shirt would inevitably be the focal point of the outfit. I mean, it's too cool to
not
show off, right?! I'm such an Urban Outfitters addict now. Even though I don't have the money for it (or for anywhere) at the moment, I still go to look in when I can and am constantly browsing their website. I don't really like any other lifestyle brands, but there's nothing I don't like about UO (well, accept maybe their prices... Okay,
definitely
their prices). The clothes, the shoes, the underwear, even the visual merchandising. They just have it spot on for me, and it's definitely encouraging my grungy, quirky style to come out even more. The thing I love the most, though, is their homeware. Now, I don't really have a home to decorate right now, but I can't help buying stuff even now. I have a couple of things from them for Christmas, too... They have a niche, and I like that. I really wanted the pug Christmas tree topper for this year, but it's sold out. Damn it...
Hope you all have a lovely weekend! I'm slowly getting into the festive spirit now. I mean, I love Christmas (d'uh) but I just haven't got the full feeling yet. I'm sure that will change once the tree goes up, and when I've seen the Shakin' Stevens video (my favourite) on the music channel, and when I've watched 'Love Actually' for the 36th time. Saying that, mum and I watched 'A Miracle on 34th Street' yesterday with some Christmassy smelling candles on, so that definitely helped. Plus, some of my relatives who live in Canada are coming back to England for the holiday, who I haven't seen in years, so that should be really nice to see them. 'Tis the season!
Fra la la la la, la la la laaaaaaaa...