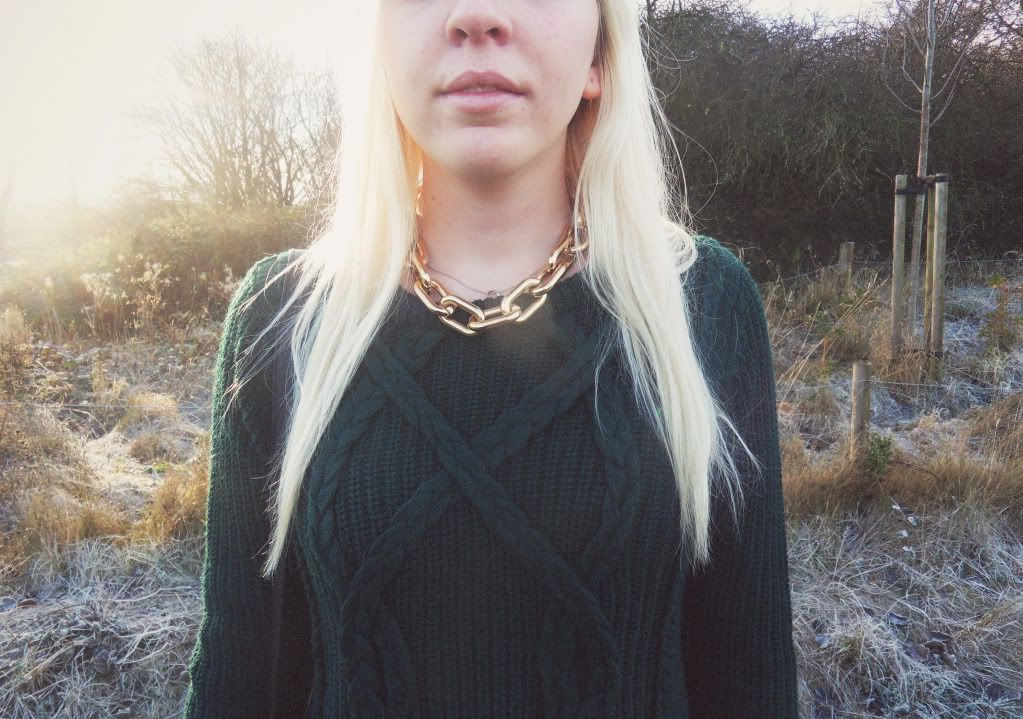 Green cable knit jumper: ZARA | Gold chunky necklace: ASOS | Skinny leather trousers: RIVER ISLAND |
Black bowler bag: TOPSHOP | Shoes: CONVERSE
My mum and I decided to take full advantage of the beautiful winter's day and go for a walk, when we took these pictures. I'm looking forward to finishing uni next week as mum finishes then too, so we're hoping the sun shines a lot so we can go on many walks. There's just something about this season that makes everything look so pretty, don't you think? I just want to take pictures of everything.
What better item of clothing to suit these cold days than this cable knit jumper in a lovely forest green colour. I bought this a few months ago for a small sum of something like twenty pounds, and am so glad I did because I will get lots of wear out of it these next few months. I could wear it with a black pleather skater skirt and maybe with a shirt underneath with the collar peeking out.
Today I decided to go down the simple route and just team it with my amazing new skinny leather pants. You're probably sick of hearing about these already even though I've had them for less than a week, but I have no shame. I think they look so great with this jumper and and really like the knitted fabric with the faux leather. They're both quite dark colours so I thought the statement chain necklace and my purple Converse would be perfect additions to the look.
Hope your week's going well so far! I had a longish day at university yesterday and have another today, but I have a day off tomorrow so wahoooo. Then I'm going home on Thursday and I think we'll be putting the Christmas tree up around then, which is always exciting despite me being a big girl now... I've also just found out I'm going to Clothes Show Live next Tuesday with the fashion society (I thought it was just this weekend? But whatever.) so that should be good! Quite a few exciting things happening over the next few weeks and then it's Chrisssstmassss! Once the tree's gone up I'm going to let myself jam to Shakin' Stevens and watch 'Elf'. What do you like to do to get in the festive spirit?