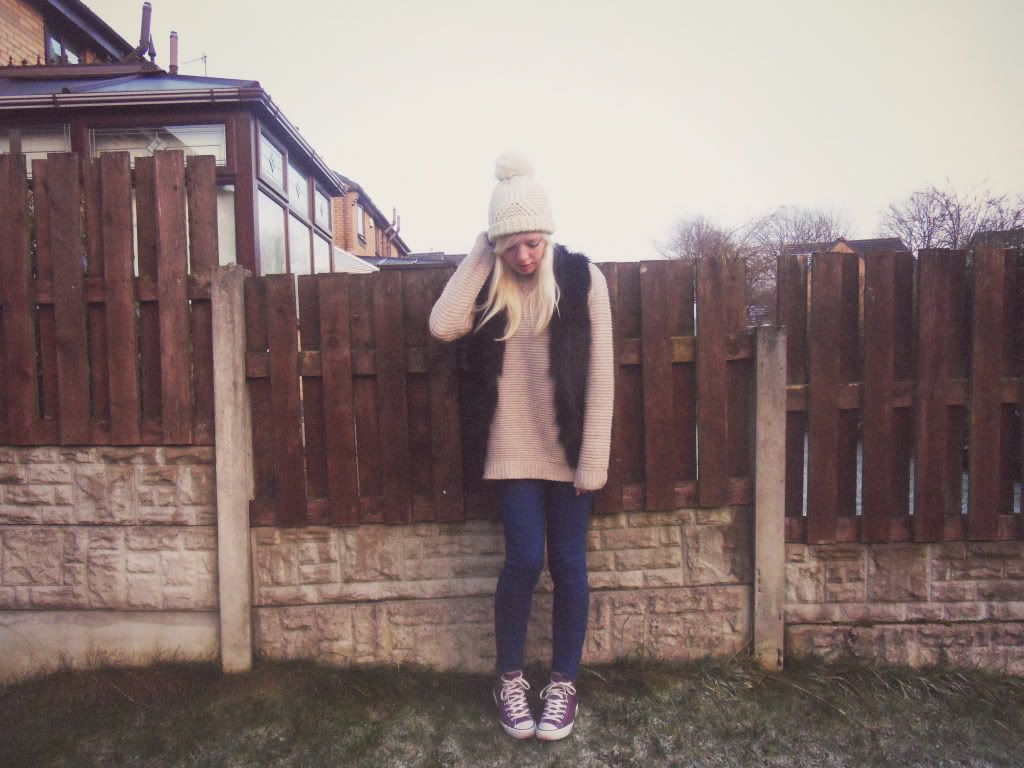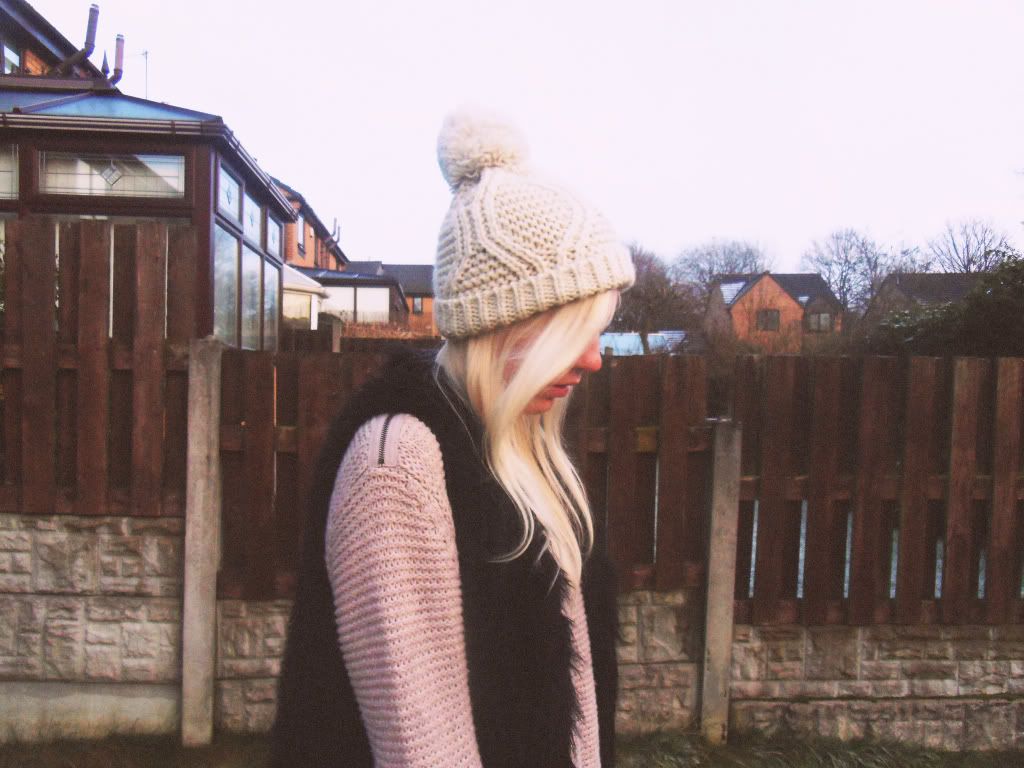 Cream pom pom hat, black faux fur gilet & dusty pink jumper: TOPSHOP | Blue skinny jeans: ZARA |
Shoes: CONVERSE
I've said it before and I'll say it again, there's something about winter which makes everything look so much more prettier! You know when you wake up and look outside and can just
tell
it's going to be absolutely freezing? Today was one of those days. Although I'm not one of these people who suddenly falls back into bed and is repulsed by the thought of going outside, I just want to go out on a a nice walk and take lots of pictures. Which I did, if you count a stroll around my back garden taking some pictures of trees as a walk. I did intend to go on a walk, but it gets dark so early these days that I didn't really get the chance. Oh well, I have three weeks off now to go on lots of walks with my mum, yay!
I really like this outfit. I wanted to reflect the frosty weather in my outfit, so clearly I went for the most snug outfit I could have. In fact if the word 'snug' was a piece of clothing, it would probably be this jumper. I've had it for about a month ever since my mum literally forced me to buy it (although she did pay for it, thanks mum!) but haven't featured it on the blog yet. It's a bit longer than I thought it would be so it's a bit difficult to wear it with skirts because it looks like you've only got the jumper on with nothing underneath, but I will make it work at some point. This is my first time wearing it with pants and the skinny fit of the jeans go perfectly with the loose, baggy top half. I pretty much always buy jumpers in a size up, I prefer them to be nice and oversized.
I wasn't sure if the addition of the gilet would be too bulky, but I ended up liking them together quite a lot. I think I will get a lot of wear out of this gilet in the next month or so, it's the perfect layering piece and the faux fur adds a bit of glam to any look, even this extremely casual one.
So today is my first proper day of the Christmas holidays (my dad was shocked when he found out how early I finished. Uni life ain't so bad!) and it has been pretty damn lush. I awoke at half past ten, which is pretty good for a day off, unpacked, watched good old daytime TV whilst baking some chocolate muffins - yummm - and then I finally got dressed and took these photos. I have taken full advantage of having a day off, by doing absolutely nothing. Oh yes.
Have you finished for Christmas yet?
P.S. I saw the Shakin' Stevens music video for the first time this year last night! Hence the title of the post. I have been waiting for it to come on and it now officially Christmas time, yippeee! It's definitely my favourite Christmas song, what's yours?