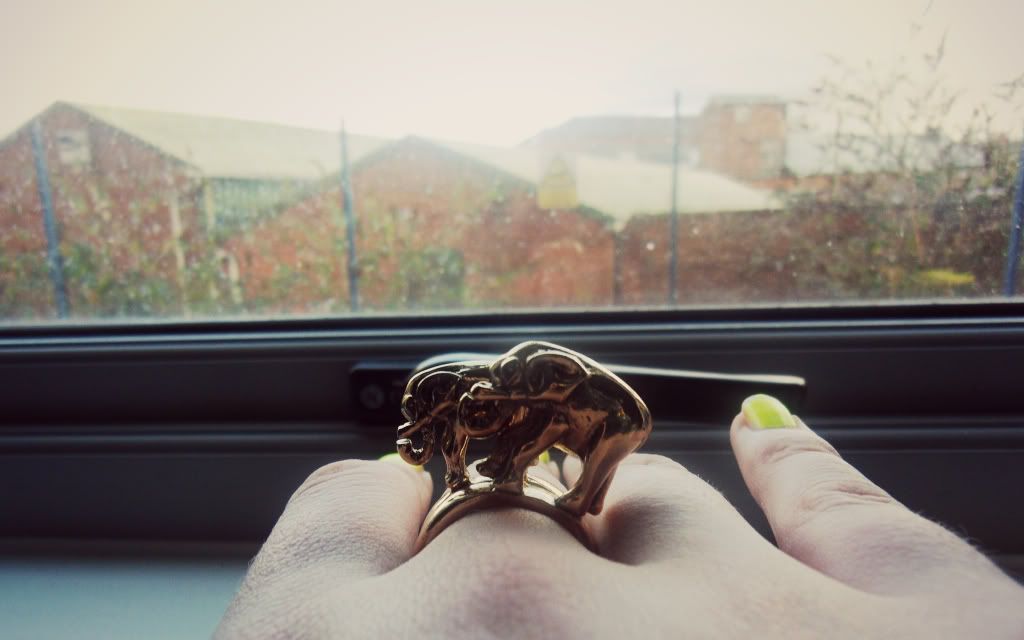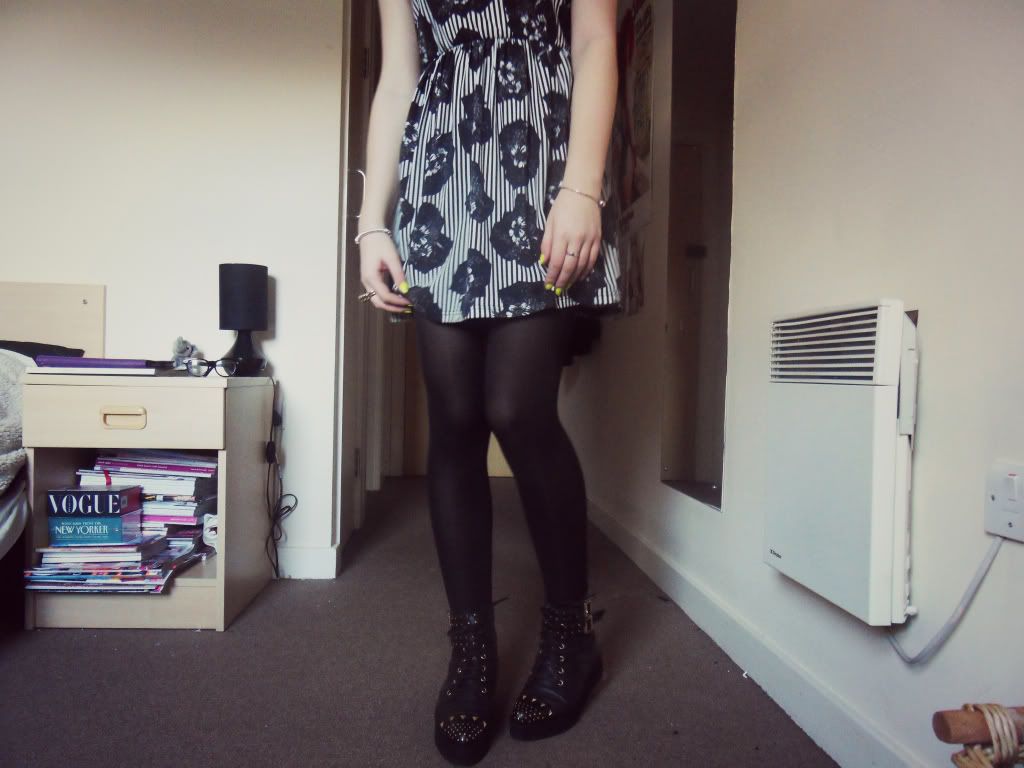 Black & white floral bouquet dress & elephant rings: TOPSHOP | Gold chunky necklace & studded flatform boots: ASOS
I am quite mad at myself for not remembering to take a picture of the back of this dress, as that's the best bit. You can see the back of it in
yesterday's haul post
, but it looks much better on when you can see my tattoos. Ah well, next time! As I've said before, I try to avoid buying dresses when possible because sometimes when you've worn them once you can't wear them in many different ways, so you get bored, and then end up selling it on eBay. Sometimes, though, I come across a dress which is too nice to refuse, and I convince myself I will discover lots of different ways to wear it, and I buy it. This dress is one of those.
It's about a month old I think, and I spotted it on the website before going to the store and seeing I liked it as much as I thought. Which, naturally, I did. I think it's the print that really sold it to me, I like the patches of the print contrasted against the stripes. Monochromatic items of clothing aren't usually what I go for, not really sure why, but I like that about this dress and how it just opens more choices for you when it comes to what you wear with it. The red lipstick and the neon nails were essentials for me to make this outfit what it is. I wasn't sure the boots would go but I did like how they looked together when I tried them on, and I think the gold necklace and the rings subtly match with the little gold studs on the boots. This dress would also go really well with a big chunky cardigan over it in a bold colour, like forest green.
Sometimes it's nice to just wake up in the morning, just pick out a nice dress out of your wardrobe and not have to do much to your outfit after that.
So I last week I asked you, on here and on Twitter, if I should go back to my natural hair colour (a dirty blonde). All of you who answered pretty much said 'Yes! Do it!', which helped a lot because I couldn't decide what to do for the life of me, so I've come to the decision that next time I visit the hairdresser's I will be going back. I didn't think I'd ever go back because I thought dirty blonde was a bit boring, but some old pictures, as well as Cara Delevingne, have completely changed my mind. I'm excited to have a bit of a change, you know what us girls are like with our hair.
I'm going home for Christmas tomorrow, YAY! I've only been at univeristy for one term but I am
sooo
ready for a break. I'm going to go home, spend lots of time with my mum and other family, bake a lot, watch a lot of movies and daytime TV, just... Bliss. Cannot wait.