Tops:
There are so many glam tops out there on the highstreet to suit the party season, so how glam you actually go is down to you. I really like the blue sequin top from ASOS with the cutout back top, I think the best way to wear something as luxe as these is to tone it down on your bottom half. Maybe with a pair of black skinny jeans or some coloured coated trousers. If your style is more classic then I'd definitely opt for the basic white shirt or the leather t-shirt. French Connection do the perfect staple pieces, you can check out more of their women's tops
here.
Trousers:
1.
Green & blue tartan trousers
£40 TOPSHOP | 2.
Glitter lurex trousers
£18 RARE |
3.
Blue tailored velvet trousers
£29.99 MANGO | 4.
Printed palazzo trousers
£16.99 MANGO
Trousers may not be your first choice when coming to your partywear of choice, in fact you probably don't even consider them when you're too busy searching for dresses, however I think they're the perfect alternative and look great with a simple tee or shirt. I'd definitely recommend them, they will get you noticed without a doubt.
Dresses:
1.
Lace drape maxi dress
£89 FRENCH CONNECTION | 2.
Print lantern dress
£75 TOPSHOP |
3.
Foiled wetlook skater dress
£32 MISS SELFRIDGE | 4.
Bodycon dress with embellished cross
£55 ASOS |
5.
Metallic pleated skater dress
£65 LASHES OF LONDON | 6.
Cut out shoulder dress
£42 MISS SELFRIDGE |
7.
Baroque print bodycon dress
£36 TOPSHOP
Ah, dresses, how can one resist a goregous dress? I've gone for a few stand-out ones because NYE is a pretty big deal, right? Although if you prefer a more simple dress you can easily dress it up with some statement accessories. I really like the silver pleated dress from Lashes of London, maybe not too appropriate if you'll be outside for some of the night, but it would look equally as good layered over a white shirt.
Shoes & accessories: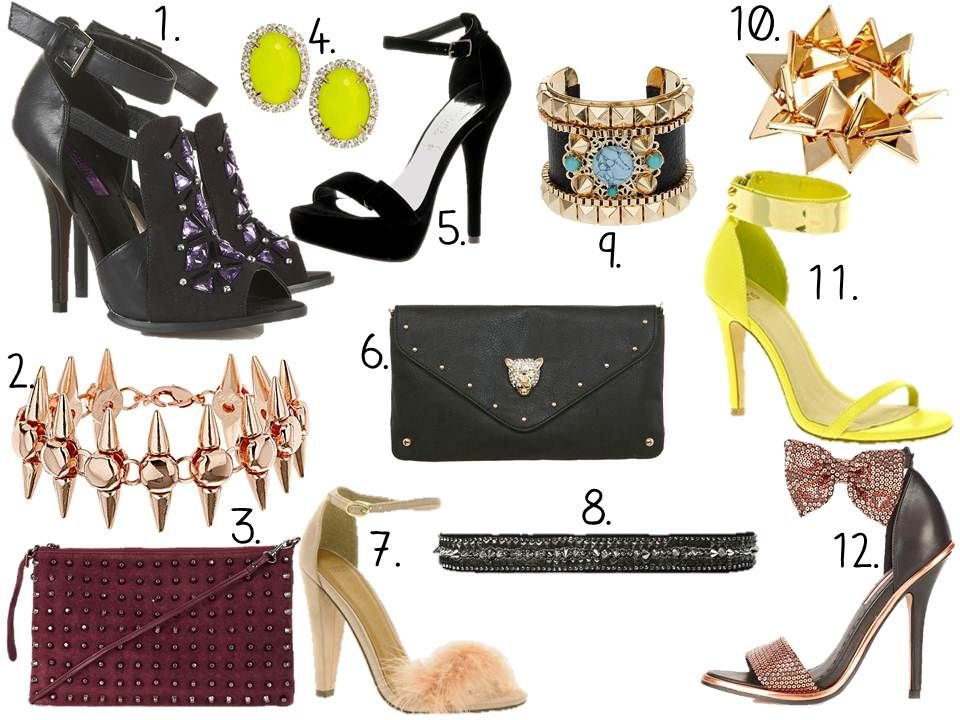 1.
Gem vamp sandles
£30 TOPSHOP | 2.
Clean spike bracelet
£10 TOPSHOP |
3.
Studded suede clutch bag
£36 TOPSHOP | 4.
Big stone earrings
£12 ASOS |
5.
Black ankle strap heels
£19.99 NEW LOOK | 6.
Panther clutch
£18 MISS SELFRIDGE | 7.
Fluffy sandles
£45 ASOS | 8.
Studded belt
£16.99 ZARA | 9.
Spike cuff
£15 MISS SELFRIDGE | 10.
Triangle stretch bracelet
£12 ASOS |
11.
Neon sandles with gold cuff
£45 ASOS | 12.
Strappy bow sandles
£30 TOPSHOP
And you can't forget the jewellery and an amazing pair of heels, can you? Why, they make the whole look. Depending on your outfit you might choose to inject some colour through your accessories or just stick with simple gold metals.
I know how time consuming picking an outfit for an event can be, so I decided to put together a collection of items which would be perfect for the night and which suit a variety of different styles, so there's something for everyone. I'd definitely recommend taking a look at
French Connection as some of their eveningwear is goregous
, and they have knocked off
more than a hundred pounds
on some of their sale pieces. Say whaat?
Happy shopping!
Please note: this is a sponsored post but the idea of the post is still mine and I've put a lot of effort into doing it, I hope you enjoy!