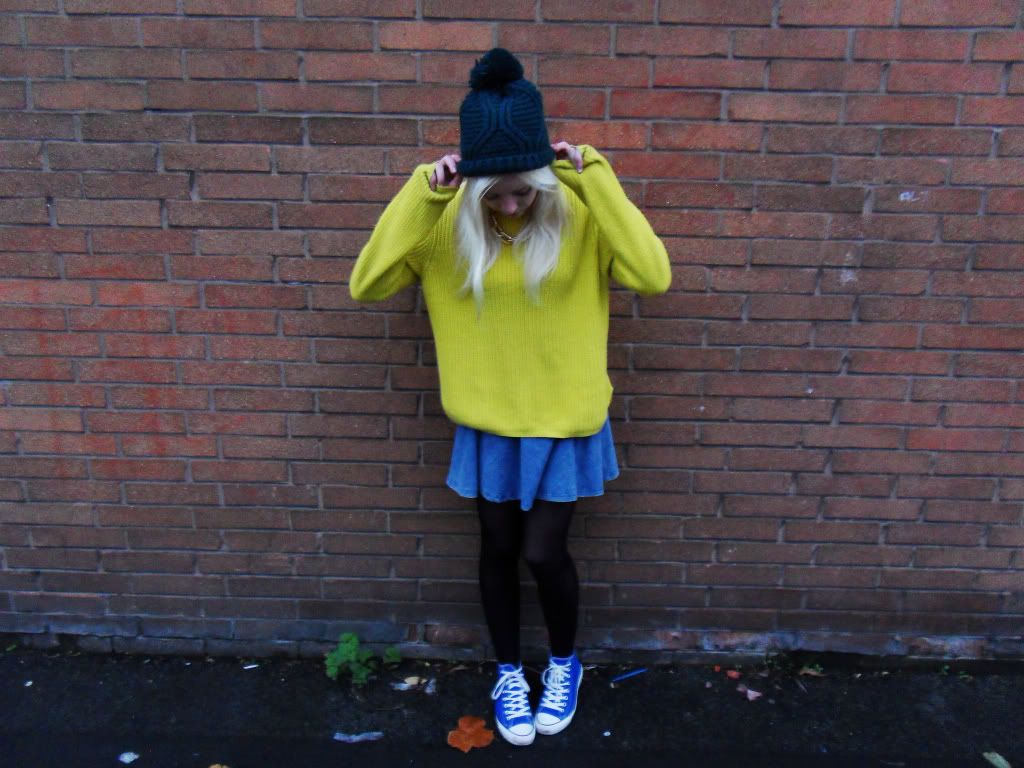 Yellow roll neck jumper
,
denim skater skirt
&
green pom-pom hat
: TOPSHOP | Gold chunky chain necklace: ASOS |
Shoes: CONVERSE
I really like the colour of this jumper. It's bright, almost fluorescent, which probably isn't the first colour which you'd buy a jumper in, but it was for me. Another great thing about it is how snug and oversized it is. If one was crazaaaay enough to buy a jumper in this neon hue for their winter wardrobe, they probably would tone it down with black items. Moi? Nope. I just kept on adding colour, see: blue denim-look skirt and green hat, plus statement necklace. Oh, and then bright blue Converse. Standard. Just add some nail varnish in another bright colour and you're ready to go. I am all for wearing all black and looking as chic as hell, but sometimes I find it's nice to go the other way, stick your tongue out at the cold season and just opt for colour, colour, colour.
I did spend a lot on this jumper (it is from Topshop, after all) a couple of months ago, but I don't regret the purchase one bit as I have worn it so many times since and will continue to do so. I think it will look equally as wicked teamed with a simple pair of skinny jeans and my black faux fur gilét.
Hope you're all having a nice weekend so far? I spent yesterday inside watching Jurassic Park with my brother (yes, I did buy the box set) and spent some more time with him today. I've also now seen the trailer for 'Life of Pi' which I can already tell is going to be my favourite film of all time. I bought the book years and years ago when I was in America simply because there was a tiger on the front, only I haven't gotten round to reading it yet, but I can't put it off now I know there's a film coming out. So. Excited. I am also looking forward to the release of 'Breaking Dawn: Part 2' which looks AWESOME.
I'm off to my aunty's soon with my mum to watch standard Saturday night television and eat some pasta. Sorted.