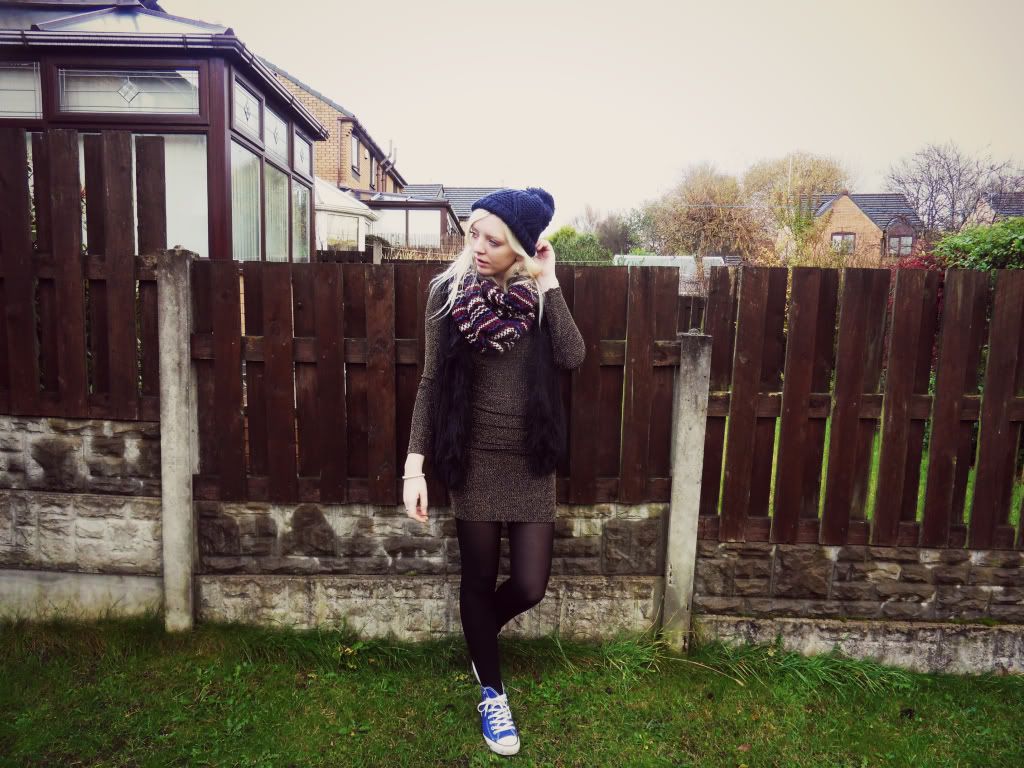 Gold sparkle dress, black faux fur gilét, fairisle knit snood & blue pom pom hat: TOPSHOP | Shoes: CONVERSE
So if you haven't noticed already, this dress is actually the
same dress from my outfit post
the other day. Yep, the midi dress. So it's actually two dresses in one. What can I say, I'm a genius...
Like I mentioned in the previous post, it is more of an evening/going out dress so I try my best with it to make it into a more casual outfit for daytime wear, which I think the hat, the snood and the Converse have definitely done. Success! This snood is one of my favourite accessories, I think the colours are so great and even though it's not something I usually go for I liked it as soon as I saw it in store. I think it looks lovely with the dress, which is quite unexpected since they're very different items.
The faux fur gilét is a fail-safe item in any winter wardrobe. The texture adds a bit of glam to any outfit whilst keeping you nice and warm at the same time. In fact I've been out in this on and that's it as I was warm enough without having to throw my big coat on, which is definitely a good thing.
This is a perfect, Christmassy outfit in my opinion. The sparkles and the faux fur give it that luxe feel, whereas the hat and scarf make sure it's still nice and cosy. I can't help but team the hat with this dress, as the colour of it subtly matches with the dark blue base of the dress.
So there you go, I'd never worn this dress until a few days ago, and now I've worn it twice, in two completely different ways. Being inventive with your closet is a must when you can't afford to buy anything new.
I'm currently watching Jeremy Kyle whilst doing this on my break from uni. I go back later for a two hour lecture and finish at six, but then I have a day off tomorrow, woop woop. Today in two weeks I will have the Manchester blogger meet up. I am totally excited for it as it's my first meet up and I don't get the opportunity to go to any as they're usually in London. It will be great to meet lots of new girls and it's held at Harvey Nichols which should be really cool.
P.S. Did you see Kristen Stewart's red carpet look from last night? I think it's my favourite from her yet, the dress is beautiful! Check it out
here
.