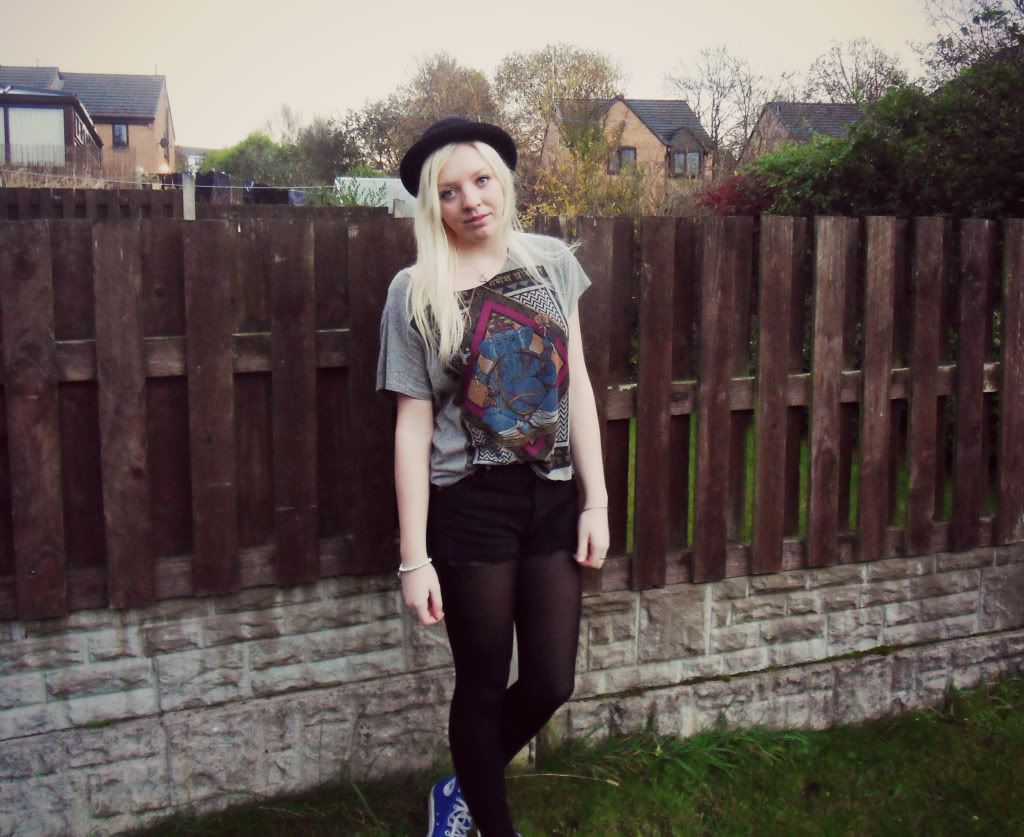 Ganesh tee: TITLE UNKNOWN via URBAN OUTFITTERS |
Black vintage denim Levi's shorts: HEARTS & BOWS via ARK | Black felt bowler hat: TOPSHOP | Shoes: CONVERSE
I don't know if you saw my Urban Outfitters haul post the other day but if you did you would have already seen this t-shirt. I also said how elephants are my favourite animal which works out quite well as Ganesha is also my favourite Hindu god. I learnt Buddhism followed by Hinduism in my first year of college a couple of years ago and ended up thinking Hinduism is a really lovely religion what with all of their different gods of different things, but Ganesha was the one who stood out to me (and this was before my obsession with elephants).
Ganesha is the Lord of success and destroyer of evils and obstacles and is also worshipped as the god of education, knowledge, wisdom and wealth. The rosary in one of his hands suggests that the pursuit of knowledge should be continuous and the open hand is a pose of protection and refuge. He is also humble enough to ride a mouse, 'the lowest of creatures'. So there's a little lesson in religion for you. I'm not a Hindu, no, but if I was I would definitely choose to worship Ganesha because, you know, he's totally awesome.
Aside from that, I do really like the top as a whole. I think the colours are lovely against the grey base and it's got a great loose fit. Perfect just simply tucked into some high-waisted black denim shorts. I'd love to dress it up a bit though, too. Maybe with a bodycon midi skirt, or a blazer, so you'll have to watch this space. I'm quickly becoming a big fan of Urban Outfitters, the prices are probably slightly worse than Topshop, even, but they have a niche and stock extremely cool and quirky stuff, so I can now say it's one of my go-to shops, alongside ASOS and Topshop. Oh, how pleased my credit card will be.
I'm back in Manchester now and am currently on my lunch break from uni before going back for another hour. I'll then probably come back, watch rubbish on telly and read some magazines. I have recently been trying (and trying, and trying...) to get a job in retail, but have had no replies back. Nada. I must applied to at least fifteen vacancies in the past few months, I even handed my CV into a bridal shop yesterday hoping my experience in that area will help me, so am keeping my fingers crossed!