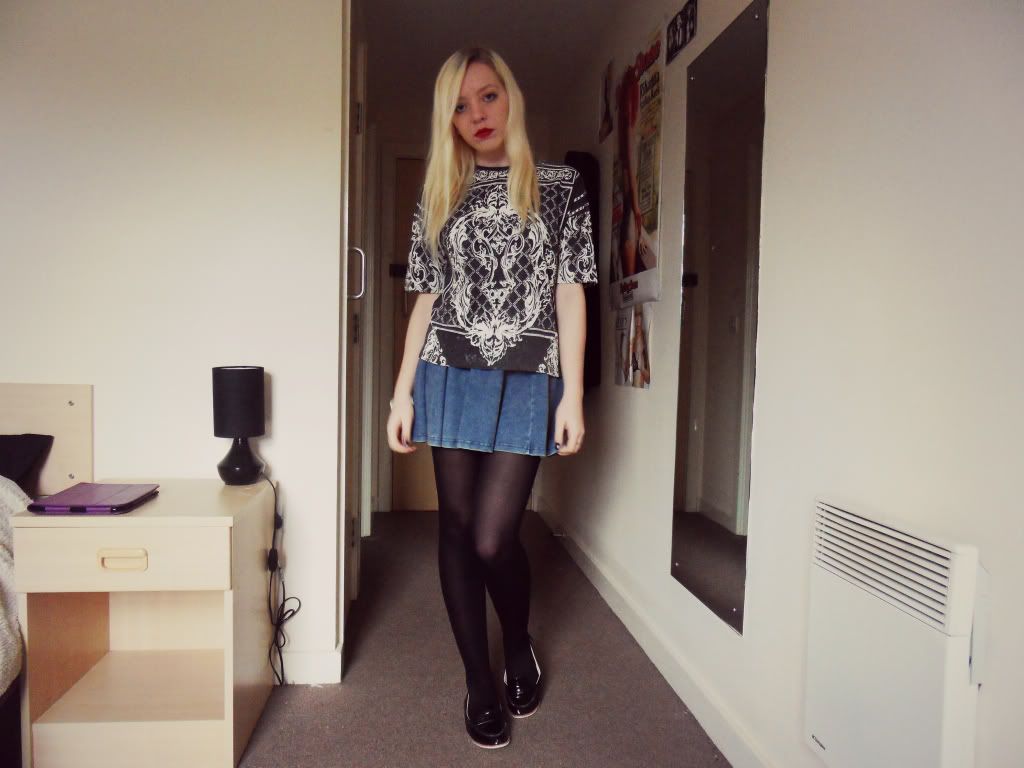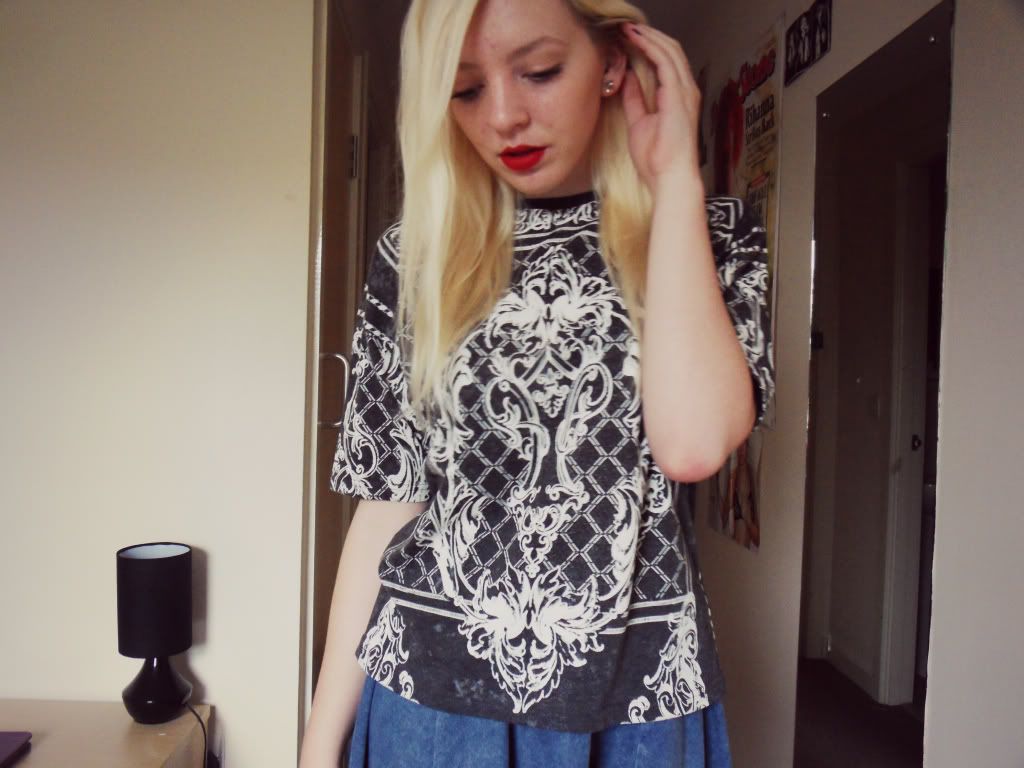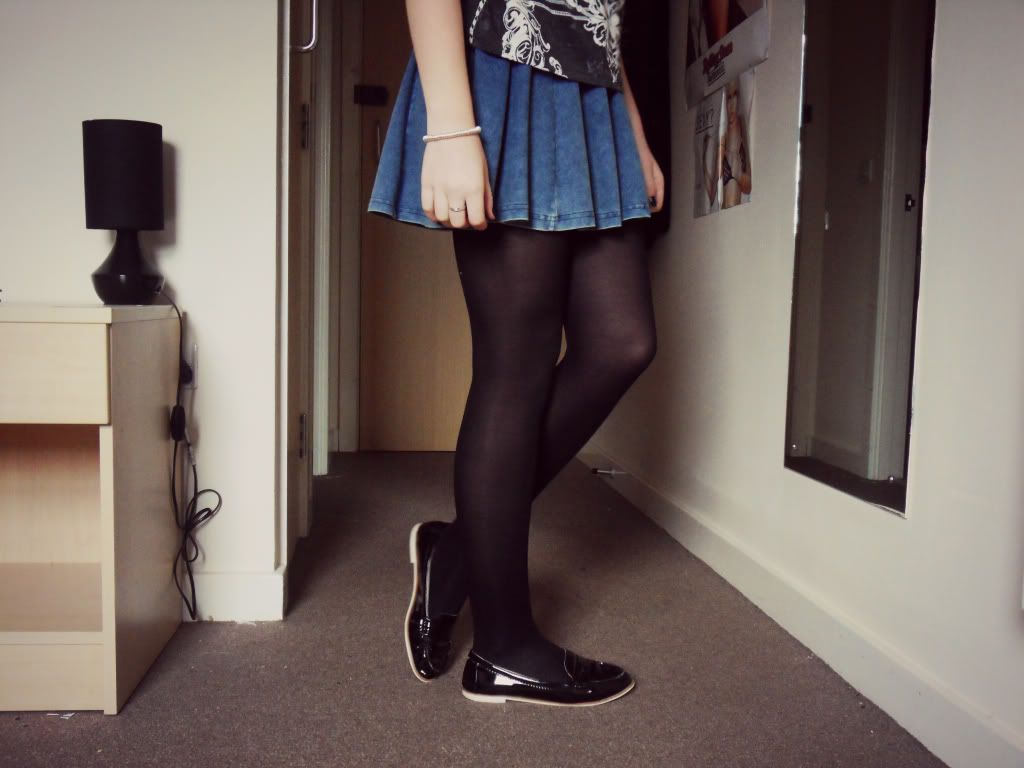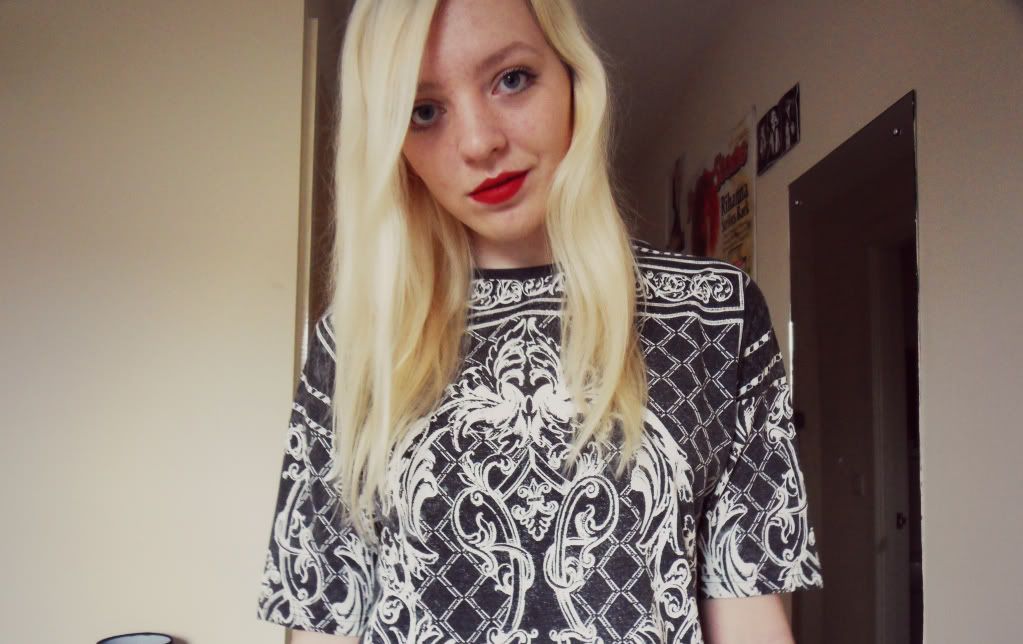 Baroque print tee: ASOS | Denim look skater skirt & black patent loafers: TOPSHOP
So as you can probably tell by now, I cannot get enough of this tee. I've now worn it in three outfit posts. In a row. Someone is going to have to come and physically tear it off my back.
I wore this outfit for a chilled, easy day spent looking round town for a bit and a trip to the book shop. 'Off duty' days don't really exist for me when it comes to what I'm wearing, so even though I have done pretty much nothing all day I still feel better to put on a nice outfit and a touch of make-up. I'm definitely not a trackies kinda' girl. I'm not sure why I went for my loafers today, I think I just wanted a change from my trusty Converse and ended up going for these. They fit me feet exactly right which gives me huge amounts of satisfaction every time I wear them.
I really like the top with this skirt as I think the acid wash blue and the grey go extremely well together, and are practically just asking to be teamed with some red lipstick. I've been wearing my berry shade a lot recently, but red just seemed
right
with this look, and now I want to wear it all the time. Do you think you can get red tattooed on to your lips? That'd be good. I'm also having a good hair today, which is always nice. I am getting a bit bored of my hair in general though, I want to change it but I don't know how. Well, I do know, I want to grow it down to my ass, but that hasn't happened for a good few years. I don't think I'm brace enough to chop a chunk of it off, either... Hmm.
I'm doing very well on my spending ban. I don't think I've gone shopping in a whole
week
*mini wave in celebration of me!*. And it's extremely hard at the moment since ASOS have brought back their 25% student discount, as well as Urban Outfitters having 20% off and free delivery (it makes me cry to even say it). Man, my will power has a big smug smile on its face right now.
I'm now back home after having my last lecture of the week this morning. I think I'm going to the cinemas tomorrow to see that film with Jennifer Lawrence and Bradley Cooper in it, 'Silver Linings Playbook', is it? I like Jennifer Lawrence. I like Bradley Cooper. Therefore, I will inevitably like this film (er, I hope). So the weekend starts now for me, wheeeeee!