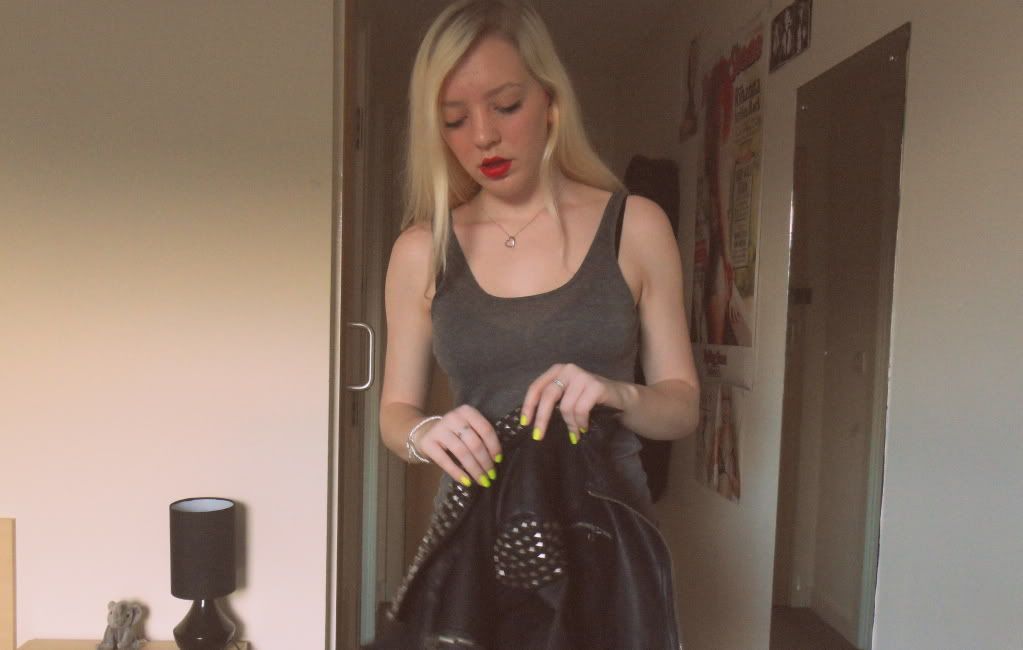 Studded faux leather jacket & grey vest top: TOPSHOP | Skinny jeans: ZARA | Batman Converse: SCHUH
This outfit is quite unlike me as I usually feel too boring and 'bleh' in a pair of jeans, and I wouldn't usually even consider a vest top. I used to live in these in my tomboy days and thought that I never wanted to see one again since discovering my great interest in fashion, however when I was home this weekend I saw this vest top lying around (it's my mum's, or was...) and decided to team it with my organza tu-tu skirt. I wasn't crazy about the outfit and felt I looked like a gothic ballerina (perhaps that's a good thing, but...) but I decided to bring it back to Manchester with me as I liked how it looked with the leather jacket. And then I decided to pair them with some skinny jeans.
Now, even though I still added me own spin with my amazing Batman Converse, this is still quite a reserved outfit for me. However, with the addition of the red lipstick, I love it. It's simple, yes, but I felt effortlessly cool which is just how I like to feel sometimes. The jacket is also my mother's but she's let me borrow it until I've got the whole looking effortlessly cool thing out of my system. I feel like the pop of this fluorescent nail varnish was the perfect thing to add and injects just the right amount of colour into the outfit. Oh, and it subtly matches with my Converse. Ten points for you if you noticed!
I also really like how I get to show my tattoos off a bit as I don't really wear tops which show any of my back. It's official, despite the fact that I'm constantly wearing short shorts, skirts and dresses, I feel the most sexiest in this look.
After saying all that, I've just gotten changed out of this as I'm going to a blogger's meet up tonight and didn't want to feel underdressed. This is my first meet up as most of them are usually in London, and I am so excited. I don't get out much, so this is a pretty big deal, kay? I'm meeting a few girls at the station at five (so I'll be rushing out after I've finished this!) and then we're going to Harvey Nichols for a little event thing for a couple of hours, and then some of us are going out for a meal after at Pizza Hut. I know,
CHECK ME!
I'm going to try to take pictures and then maybe I'll put a post up on it.
Hope you all have a nice day!