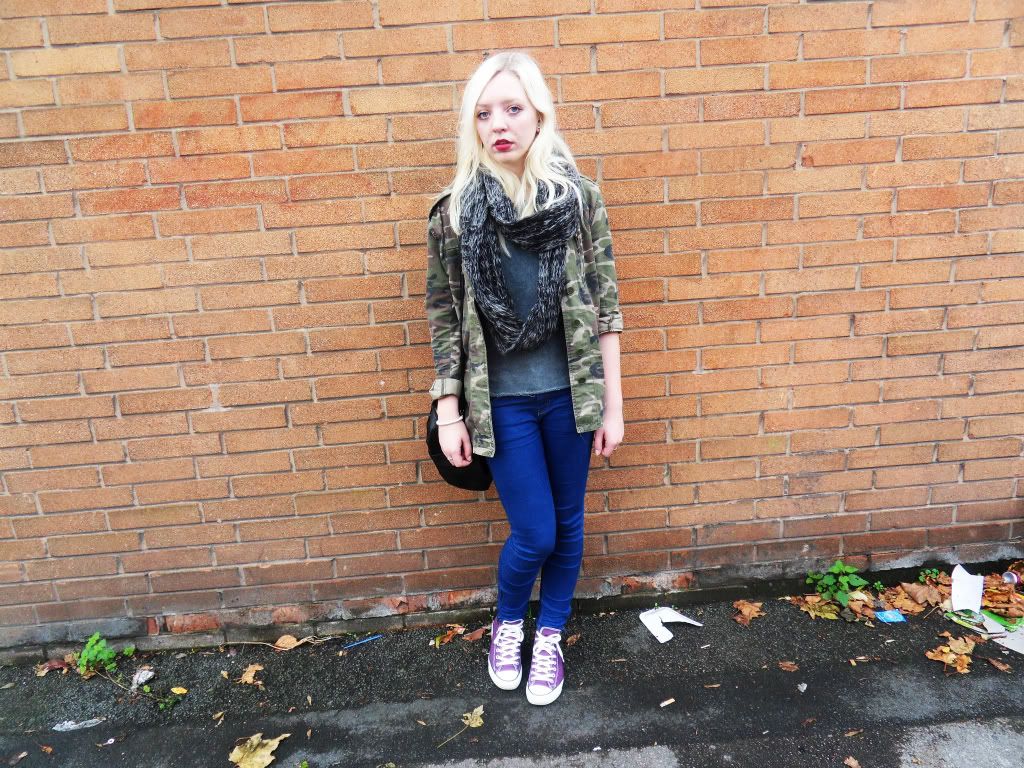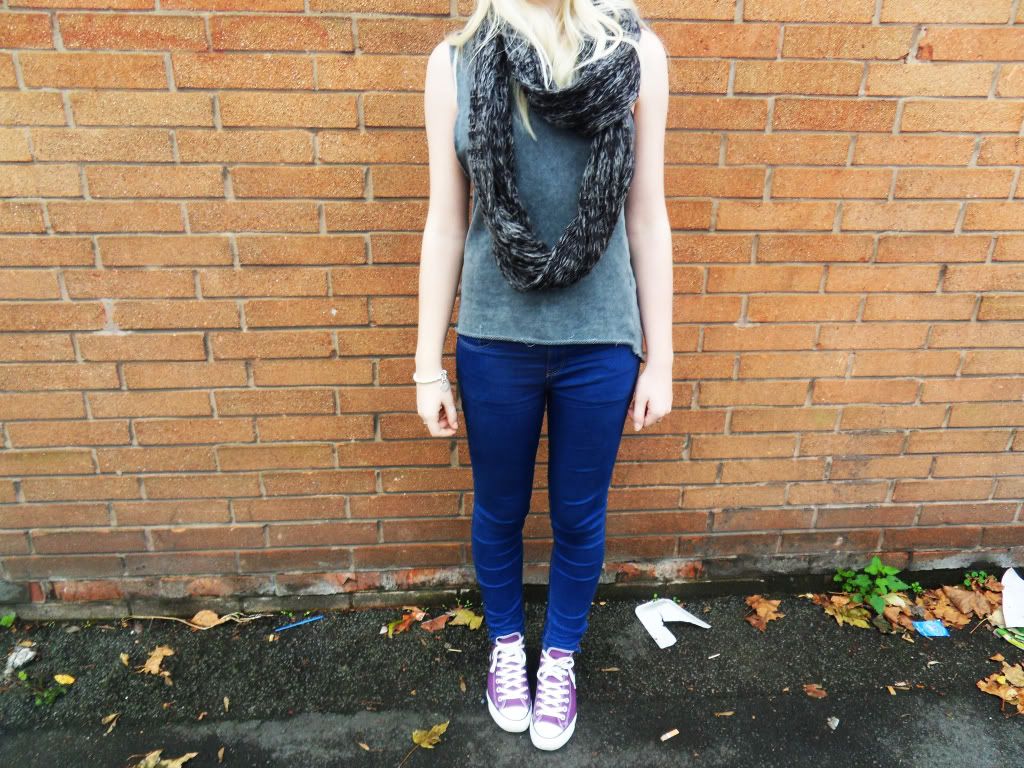 Camo jacket & black coated bowling bag: TOPSHOP | Grey vest with cut-out cross back: REPUBLIC (Crafted brand) | Contrast grey snood: ASOS | Skinny jeans: ZARA | Shoes: CONVERSE
I feel like Autumn is pretty much a rollercoaster ride in respect to what the weather is going to be like. You can wake up in the morning to a bright, sunny day, and once lunch time hits the clouds have swallowed up the sun and it's much chillier outside. Thankfully there is a solution to stop one leaving the house in a summer dress only to be really regretting it hours later, and that solution is layering. Not only are layered outfits completely practical for this season, but fortunately for us, everyone can layer. Yep, this isn't just some trend that you will have forgotten about in a few months, layering is something that is a huge hit every A/W season. In fact for a lot of countries, England especially (ahem), it's pretty much a necessity. I actually think that finding the right mix of colours and textures to go together makes getting dressed even more fun.
My camo jacket makes such an easy layering piece. I try not to wear it too much as nearly every single person on my fashion course has a similar jacket (I HAD IT FIRST, OK?), but once the novelty wears off I'll start wearing it more again. It is over-sized and quite a heavy piece (albeit very comfortable) which means it's a great transitional item as you don't have to wear a big, winter coat over it but it still keeps you warm enough throughout the day. For now it does, anyway. I then added this snood. This is also great for layering as I don't need a big, chunky scarf just yet, and this is nice and light. I actually didn't need it in the morning as it was a bit too warm, so I just popped it in my bag and wore it later on when it started to get colder.
This top is a new purchase which you might have seen in my mini haul post a few days ago. I really like the faded grey colour and the frayed hem, but the back of it was definitely its selling point for me. Naturally a few of the studs have come off already, which was what I was expecting, but nothing a bit of superglue can't fix.
Hope you all have a nice weekend! I don't think I'm really do anything apart from going out for lunch later and then into town. I might be going to see 'The Perks of being a Wallflower' at the cinemas as I've read the book and I've heard the film is really good. I went to see 'Taken 2' on Wednesday and that was AWESOME. Liam Neeson has one hundred percent still got it, he kicked butt and I was on the edge of my seat throughout.