Studded cross back vest & racer back vest: REPUBLIC (Crafted brand)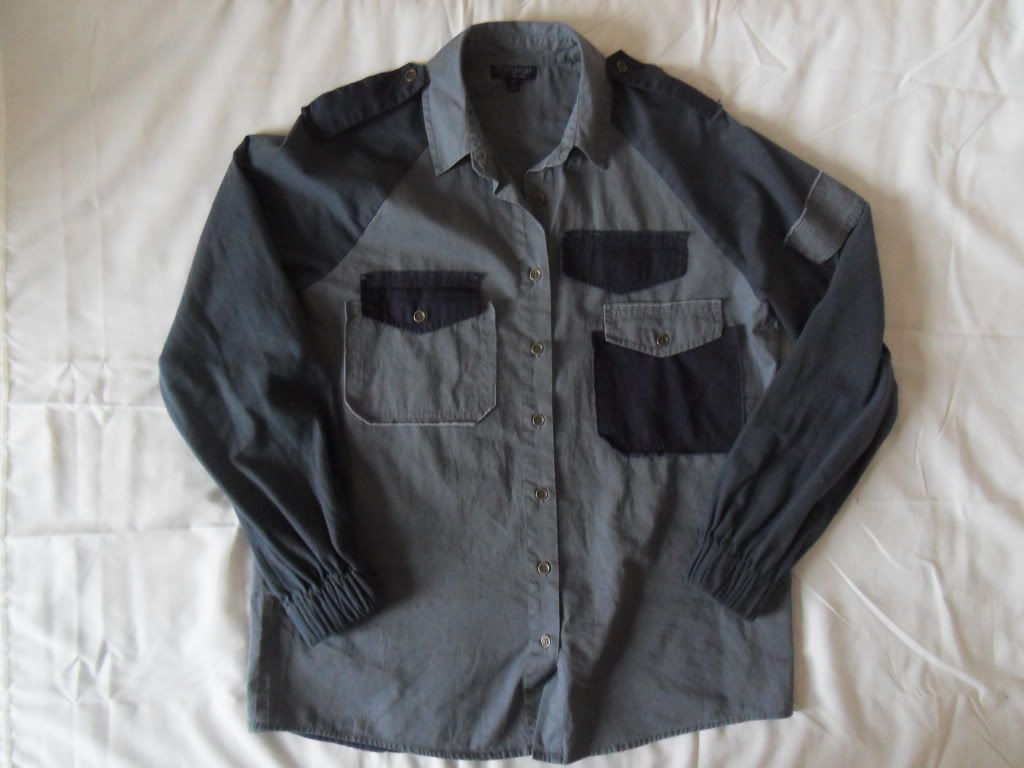 Blue military style shirt & underwear sets: TOPSHOP (sale)
Can you believe that I have been shopping again? Yeah, so can I... I've decided that I need to go on one shopping trip a week, or else, well, I won't be satisfied will I? Ahem.
I never really shop in Republic, I've only ever had access to an actual store since I moved to Manchester, but ever since seeing
this vest
in one of
Grace's
Youtube videos, I have wanted to buy it. So I went into the store a few days later, couldn't find it. Tried again yesterday, thought I found it when I saw this grey vest, but alas, it wasn't the right one. However I did like this one anyway so I ended up buying it, as you can see. And then I saw the red one, and I bought that too... They definitely have the grunge factor, with their dark shades and frayed hems, and I really like the low sleeve holes, so I just had to buy. I can't wait to wear these.
The reason I went shopping in the first place yesterday is because Topshop emailed about them having a sale on. Now I've never been to a Topshop sale in their massive Manchester store before, so I just had to go and check it out as quick as I could. I could have done a lot more damage to my bank than I did, though, so I thought I've been pretty sensible. These were all easy buys for me. I've wanted this military shirt ever since it became available online, and I even included it in a 'Wishful Wednesday' post a couple of months or so ago, so when I saw that this had been reduced to £20, man, was I a happy chappy. They also do one in a khaki green colour, but I've always preferred the blue version so I just left it at this one. And how can a girl say no to a couple of pretty sets of underwear in the sale? I also had my eye on these sets when they were full price, but I find it harder to justify spending twenty five pounds or whatever on underwear, when you can buy a cool top which everyone is going to see. I do love me some lingerie, though, so I was really pleased to grab these at a lower price.
Have you bagged yourself anything in the Topshop sale? Maybe you're trying your very best to avoid it? I've actually heard a few people on Twitter say they didn't think it was great, so they didn't get anything. Well, I'm happy with mine!