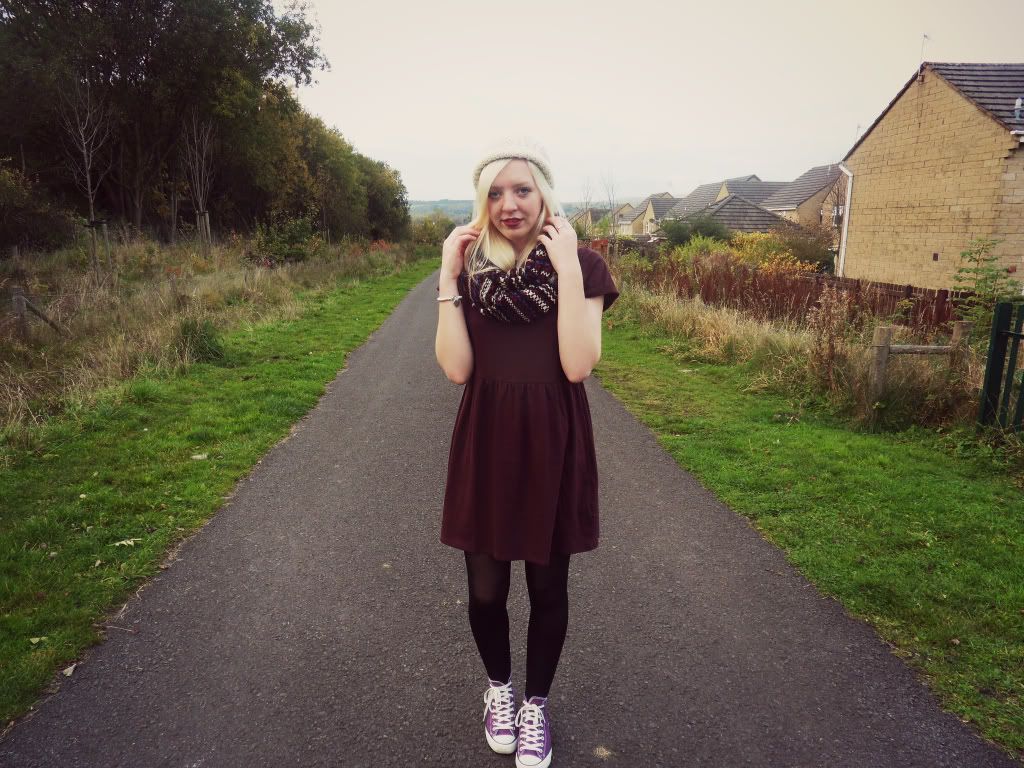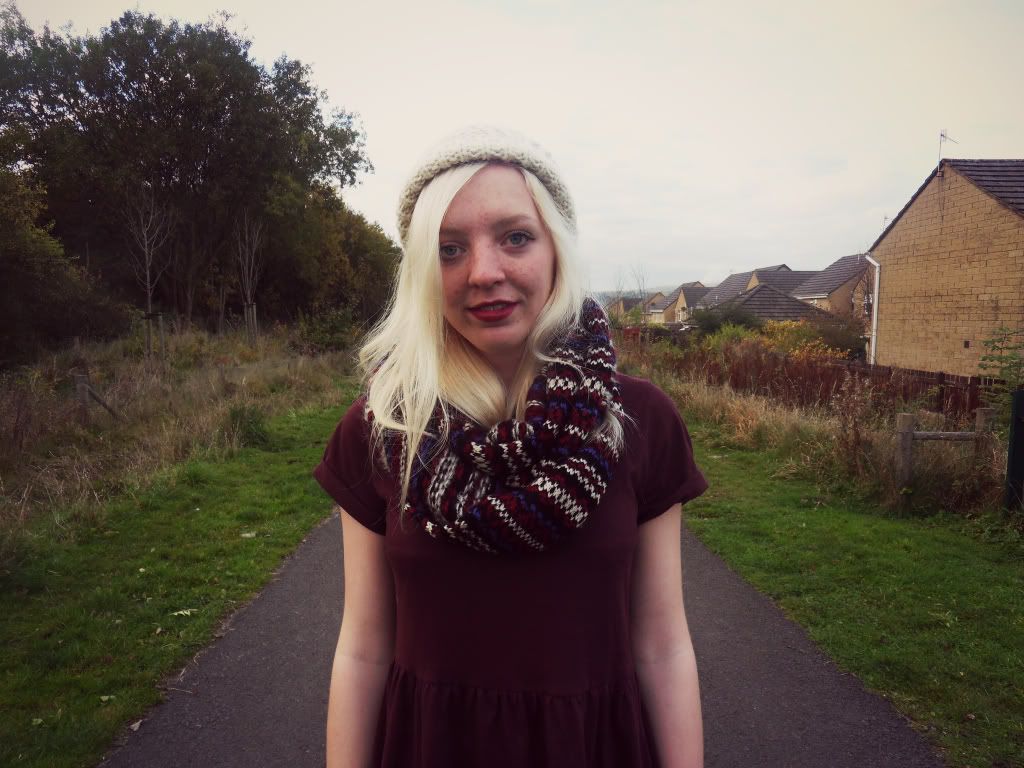 Berry speckle t-shirt dress
,
fairisle knit snood
& cream pom pom hat: TOPSHOP | Shoes: CONVERSE
I love Autumn. My mum and I decided to go for a walk yesterday as the weather was nice and wintery. Sunny and chilly, yet not cold enough that you need to put your big coat on. Perfect. On our way back we admired the orange sunset and lilac sky, the orange leaves on the trees and the smell of fire coming from somewhere really added to the festive feel of it all. And you know what, I think that there is no better way to celebrate a winter's day than to go for a nice stroll in clothes which reflect the weather, i.e. dark colours like berry shades, a snug hat and cosy scarf, and a dark lipstick wouldn't go amiss, either! So that's exactly what I did, and now I am started to get excited for Christmas, which isn't good as it's far too early and by the time Christmas actually comes I will have no festive spirit left in me (I know this because I did the exact same thing last year). Watching my favourite Christmas movie 'Love Actually' (for the twentieth time, no exaggeration) at the end of the night probably didn't help, but hey.
Before our walk we nipped into town to do a spot of shopping. And by a 'spot', I mean a really big dollop. You know when you take a while to find something you like, and then when you finally buy the first thing that's it then, and you end up easily buying loads of more things? Yeah, well that happened.
I started off with a green blazer from the River Island sale, and then some knickers from Topshop. I then thought 'That's it now, I'm done'. Paid at the till. Walked to the door, saw something else I liked on the way out, and boom. I picked that up as well as another two things. It's my mother's fault, really, I was encouraging her to buy a dress and she said 'If you buy something I will', so I picked up this dress. In my defence, I have had my eye on it ever since it dropped online, so I'm actually really glad I got given the push to buy it. I bought it in a size up as I didn't want it to be body hugging but wanted the loose, baggy effect. I know I will wear this so many times throughout the year, so I am definitely happy with it and keeping my eyes out for other colours.
I then went on to buy the snood, which is an item I've never even seen before yesterday in the shop. It's not something which I usually go for, which makes me like it even more. The colours are so lovely and it's really soft, which is always hard to say 'no' to. The hat was an easy pick for me as I have the green version which I can't get enough of, so it was only a matter of time before I purchased it in another colour. I really want the navy blue one, too. Watch this space...
Hope you all had a lovely weekend! Mine has been nice and chilled, I hope this weather continues into the week.