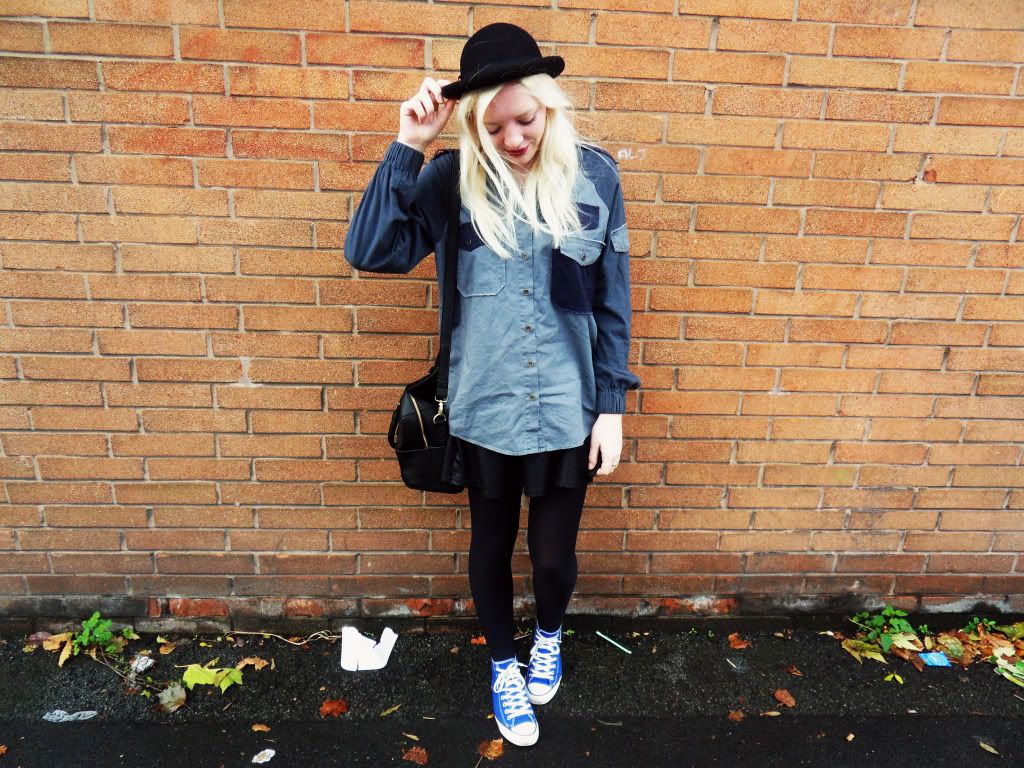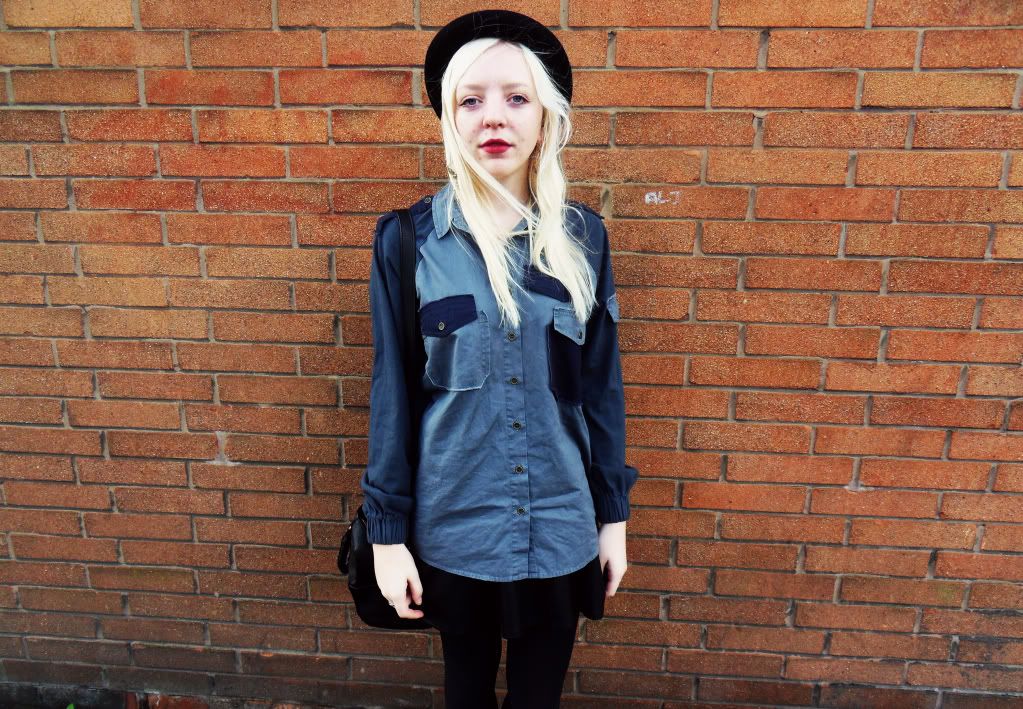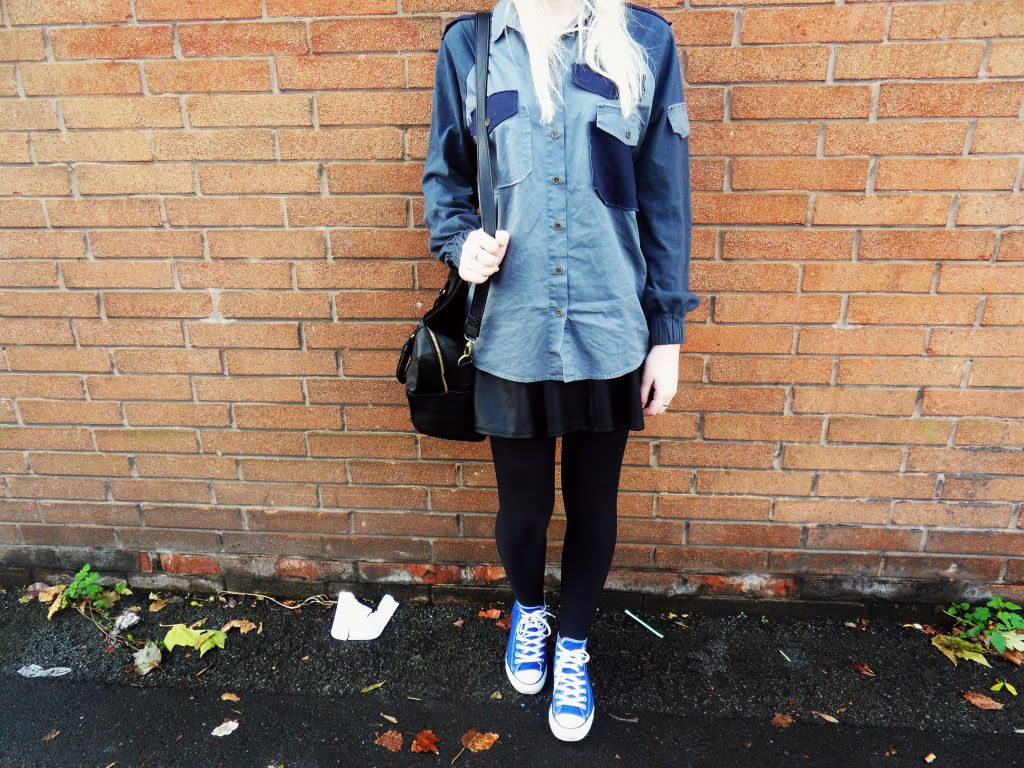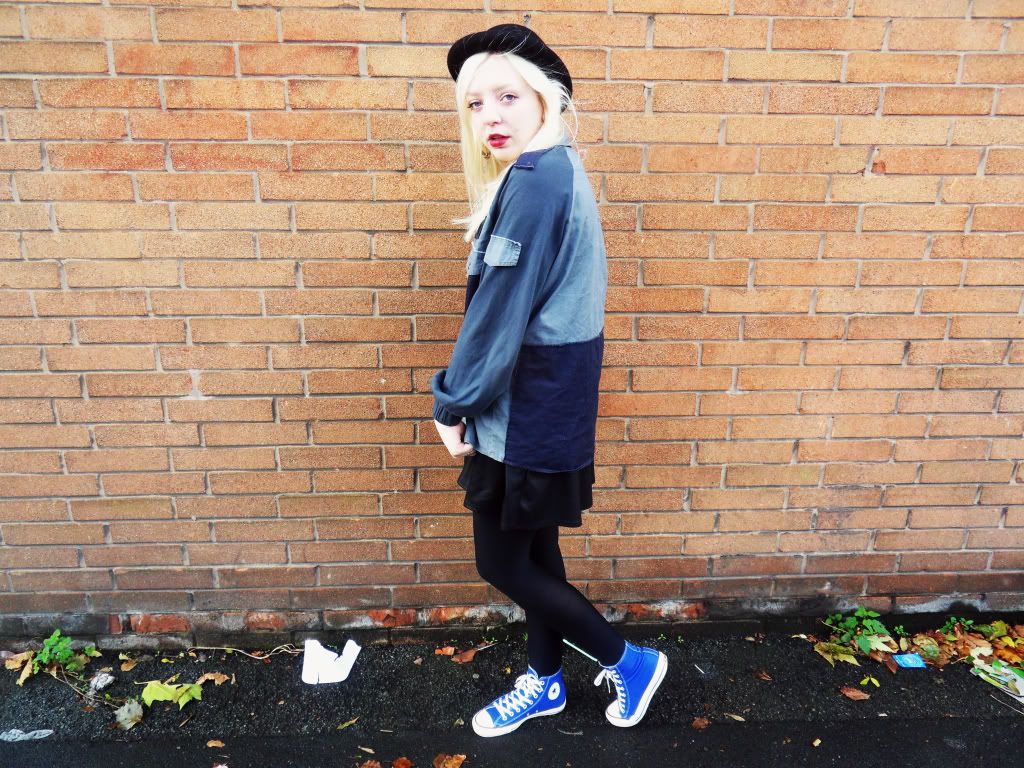 Blue military style shirt, black coated bowling bag & black bowler hat: TOPSHOP |
Black coated skirt: RIVER ISLAND | Shoes: CONVERSE
Oooh new shirt! I included it in my post the other day when I showed you what I bought from the Topshop sale, and here it is on. Like I said, I wanted it at its full price so when I saw it reduced to twenty pounds I didn't hesitate to pick it up. It's not your typical military item due to the complete lack of khaki green, but that's what I like about it as it gives a subtle nod to the trend instead. I love the mix of shades of blue and I bought it in a size up so it would give the shirt an overized, I-pinched-this-out-of-my-boyfriend's-wardrobe look about it, which is a look I tend to embrace.
I chose to keep the rest of my outfit simple so the focus would be on mah new shirt, cue lots of black pieces. This skirt is a ridiculously overused piece now as I add it to anything and everything, but I'm simply getting my money's worth, so that's okay. I decided to add the hat to give the look a femine edge, thus contrasting with the shirt. I love combining different styles when I get dressed in the morning so I couldn't resist, really.
Although I did decide to keep things simples today I think the shirt would look equally as good when worn with another colour, such as a pair of deep red skinny jeans, or a bright coloured beanie hat. Watch this space...
So an update on university - the course is still going really well and I am enjoying doing something which I, er, enjoy. One of my teachers has actually asked me to give a five minute talk on my blog in next week's lesson, in order to introduce the rest of the class to blogging since it really helps your chances of getting a job in the industry nowdays. Me? Talking in front of lots of people? Oh, okayyy... Friday tomorrow, yay!