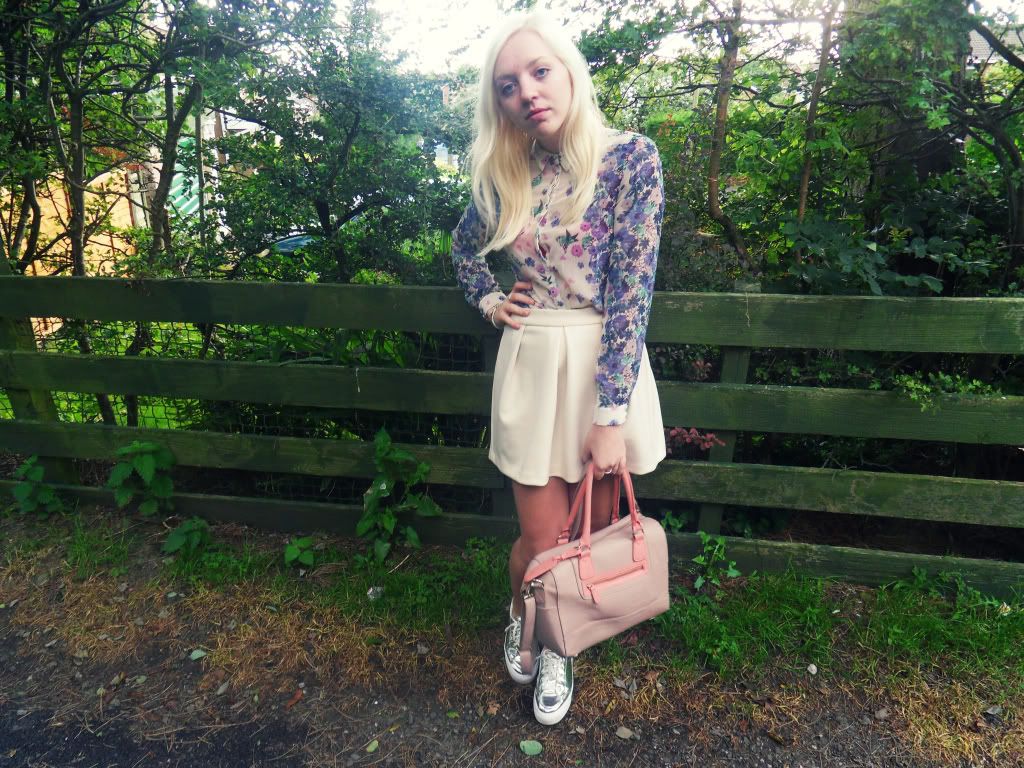 Floral butterfly print shirt: RIVER ISLAND | Bowler bag: TOPSHOP | White skirt & silver dino flatforms: ASOS
Some days I feel like being more girlie and pretty than I do on others, but rather than throwing on a floaty dress and leaving it at that, I thought I'd go for the skirt and top option. This shirt is a perfect piece for days like these as it as still feminine but relatively more grown up than your average floral dress. I went for the buttoned-up-sleeves-down look today since my legs were on show and I wanted to avoid flashing too much flesh. It is quite a busy print so I teamed it with more neutral items to balance it out. I purchased it during my trip to London a few months ago, I really love the mixture of pastel colours on it and it goes great with everything, from outfit like these to more winter appropriate ones when I'd team it with a pair of pleather shorts/skirt and a woolly snood Perfect. I've seen a couple of people wearing a sleeveless version but since the sleeves are where most of the floral magic happens on the shirt, I've decided I much prefer this one.
I bought the skirt a couple of months ago after deciding I need more white items in my wardrobe rather than black. I haven't actually worn it that many times but I think it'd look great toughened up a bit with an oversized military shirt and a pair of biker boots (which I don't have, but I am still on the look out for a perfect pair). The shoes seemed like the perfect addition to the outfit, the metallic tones go really well with the shirt and add my much-needed edge to the outfit.
I don't think dressing like this will probably continue for much longer as the rain is already back as I am typing, but I came to terms long ago with the fact that England just isn't having a summer this year so it's not like I've got a whole summer wardrobe planned out. In fact I'll probably be buying a winter coat before you know it.