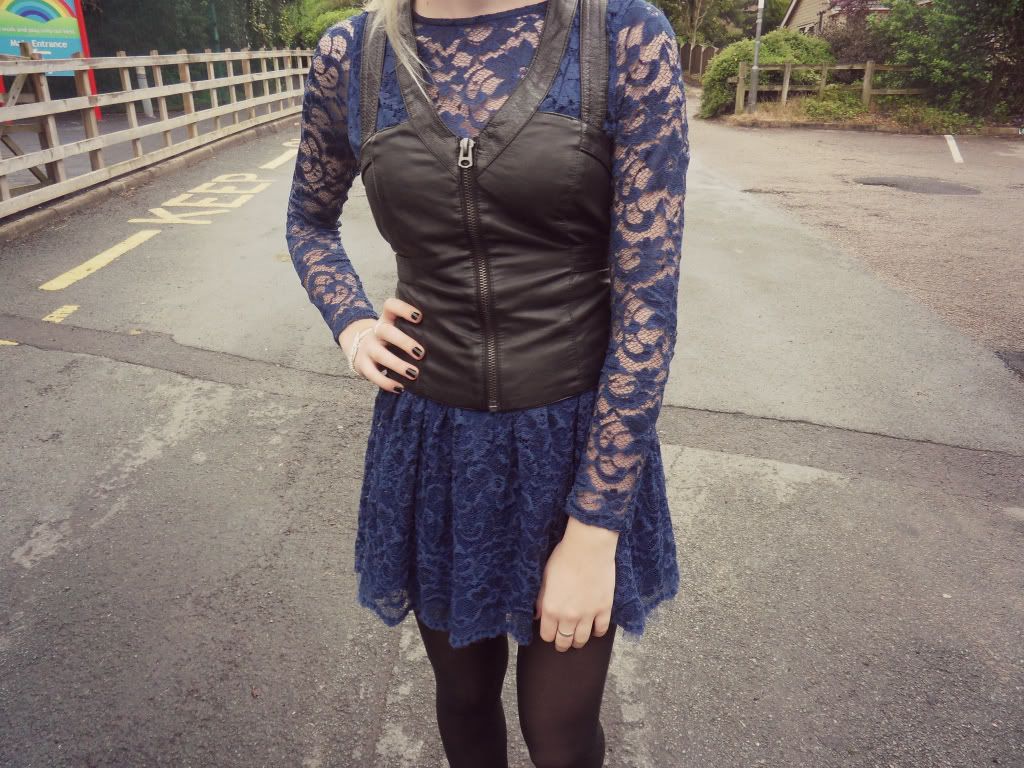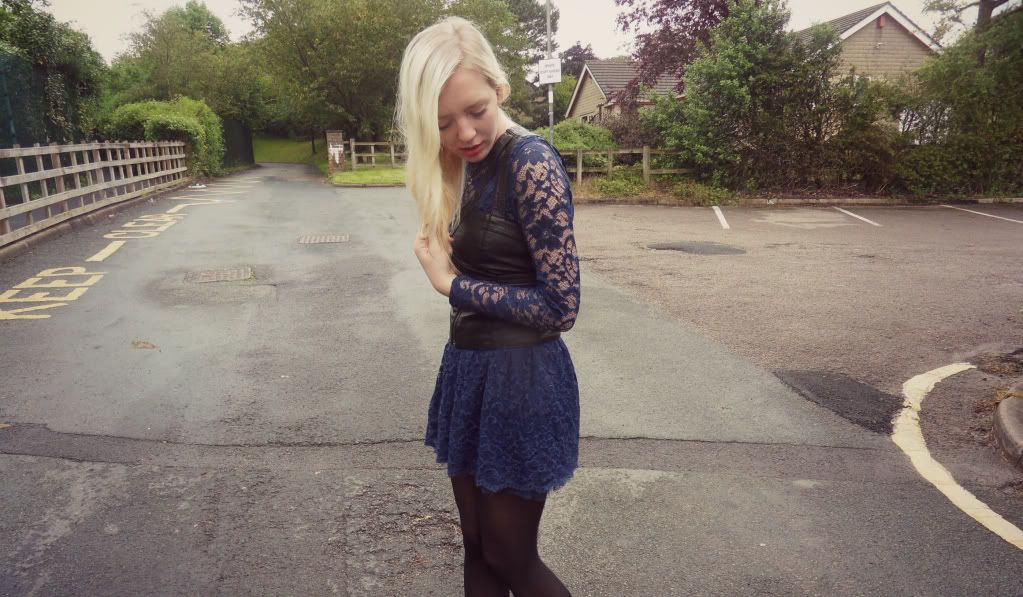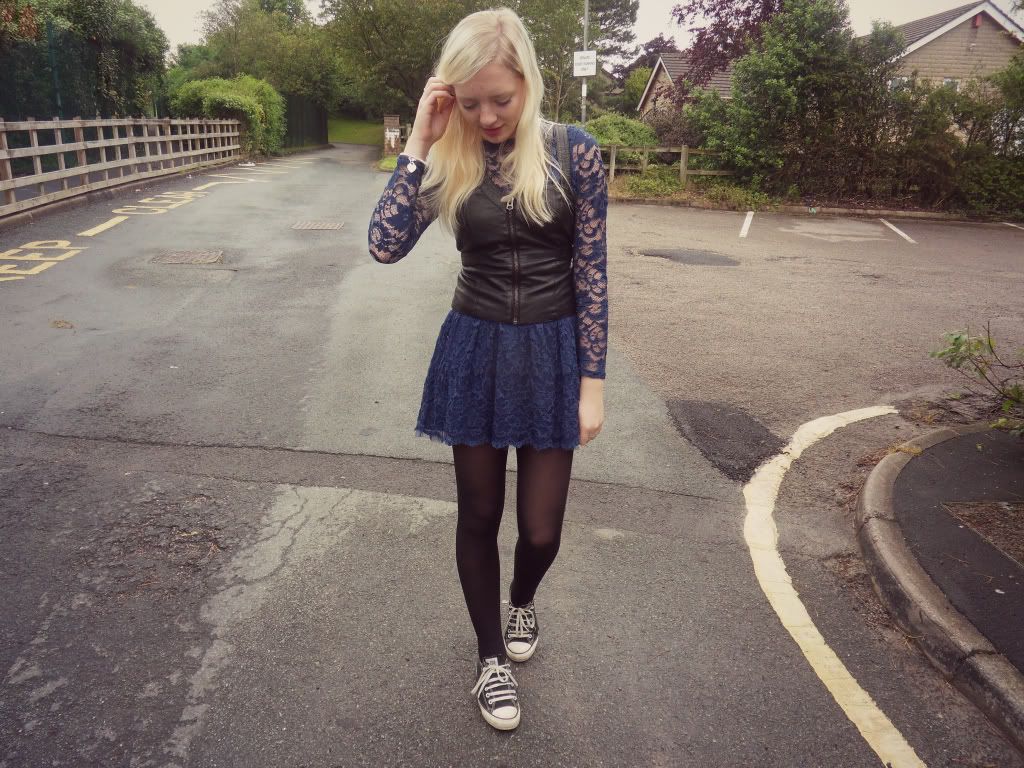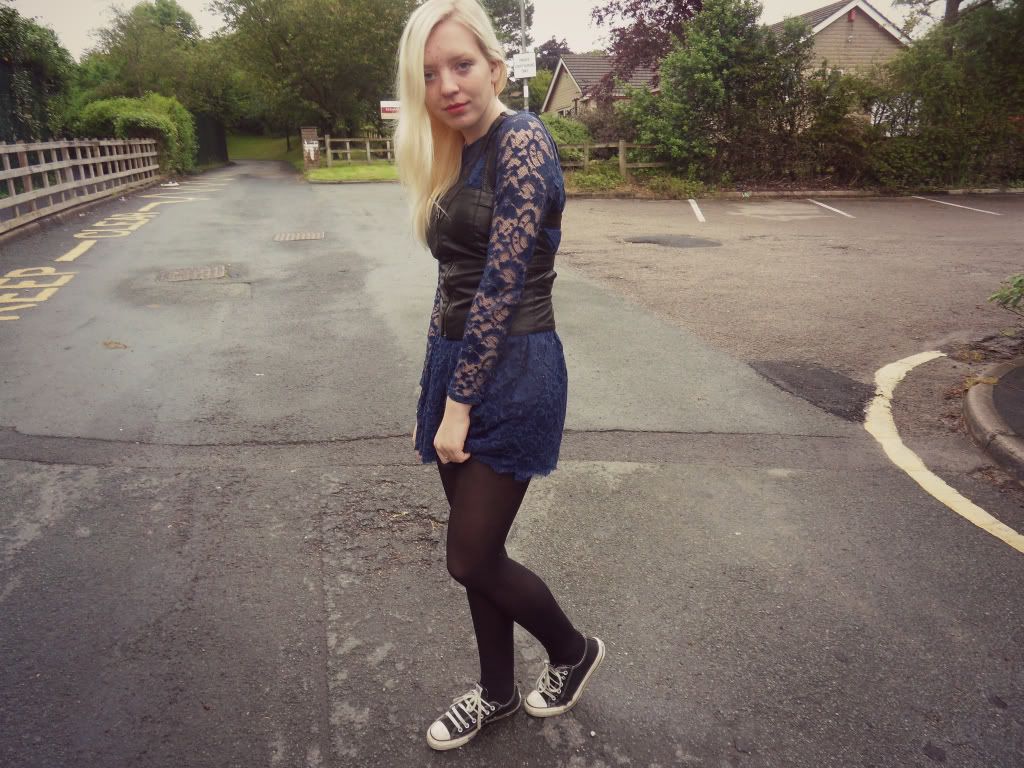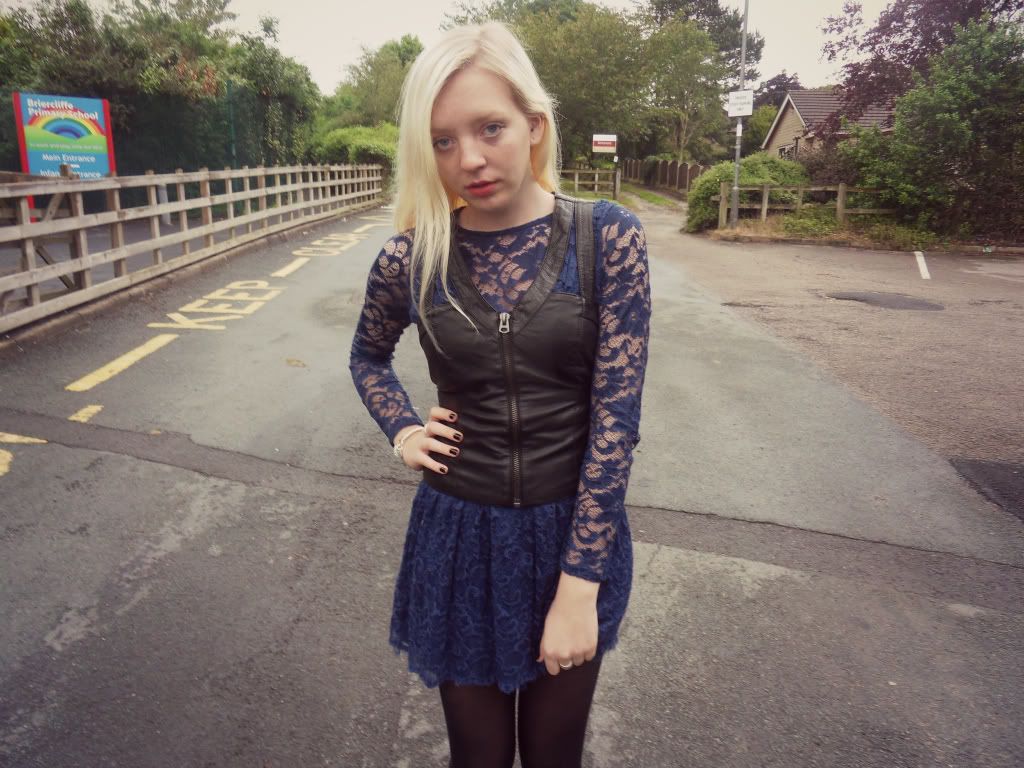 Black pleather bodice top: TOPSHOP | Navy blue lace dress: ASOS | Shoes: CONVERSE
Lace was a pretty huge deal a few seasons ago, and it's kind of stuck around since. Lace can be a
perfect blend of sweet and sexy when it's done right
. Because of the luxe fabric I suppose wearing it can look a little lingerie-like at times so some would combat looking
too
sexy by pairing it with a blazer or a chunky knit, however I went the other way completely and toughened it up by experimenting with this lace and leather combo', giving the outfit a
perfect dose of gothic glamour
(my kinda' trend). The colour of the dress is a lovely midnight blue and I love the flash of skin through the full lace sleeves. I am really digging this outfit and it just goes to show you can be stylish and chic in autumn/winter seasons rather than just piling on black clothes, one just has to find textures and colours which work well together and compliment each other.
I've only just started wearing this bodice and trying it with different outfits, but as each season passes I think it's becoming more and more obvious that leather isn't just for jackets, boots and bags anymore but rather every item of clothing. Even dresses were especially popular in the most recent fashion shows. I haven't tried a head-to-toe look (ahem, yet) but I think this top injects just the
right
amount of sexiness without making anyone think you're expressing some kind of fetish
(but hey, whatever floats your boat, baby).
In other news, I've spent the day doing lots of, er, nothing really. I took a dress back to Topshop and exchanged it for another one (which makes it practically FREE, right?!), which I'll feature on another outfit post shortly, and I think I'll end up doing some more shopping online tonight. You do what you gotta' do. I'm also off to see Batman tomorrow which I've been looking forward to, so I hope it completely blows my mind with its awesomeness. I won't be allowed to ask questions like I always do though, so I must. Pay. ATTENTION. I have a tendency to drift off daydreaming about something, like
'How does Christian Bale get his voice so growly?'
. If someone asked me at the end of the film what colour shirt someone was wearing, though, I'd probably know.