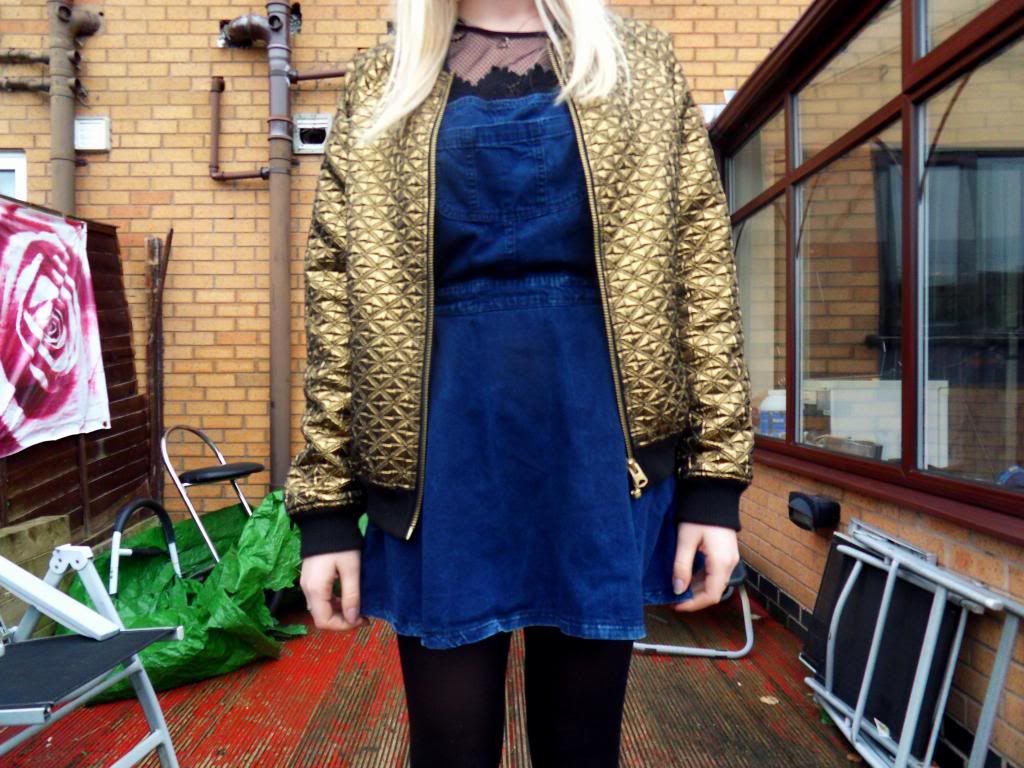 Black fishnet t-shirt: H&M | Denim dungarees dress & gold quilted bomber jacket: TOPSHOP | Red 'New York' beanie hat: RIVER ISLAND | Shoes: CONVERSE
How awesome does this dungarees dress look with this top though? It's like they were made for each other, riiight? The thing I really like about this top is how the lace covers just the right part, which destroys the whole thing of "Heeeere's MAH BOOBIES" which see-through tops usually have. I mean it's still a little bit "Heeeere's MAH BELLYBUTTON' but this dress gets rid of that so you don't need to worry about that either. Sorted. Saying that I really like how you can see errrrthang around the back. How cool's that?
I look a little bit like a farmer girl slash toddler in this dress so I always wear things which try and move it as far away from them as possible, and the top and the beanie hat do a perfect job, if I say so myself. They're cool and edgy and the bomber jacket is the cherry on top of this stylish cake. My dad said last week that this bomber jacket looks a bit '...Rapperish', which any normal girl would take an insult but I'm ghetto so I'm totally down with that and it's whack. Dawg.
So I'm writing this at 03:52 on Thursday morning and I am tired, so very tired, but am scheduling a load of posts to keep you guys busy whilst I'm away. When you're reading this it will be mah birfdayyy. I won't read them today but I will when I get back so none of you have any excuse to not wish me a happy birthday, unless of course you're not reading this in which case:
OI, YOU, YEAH YOU, IT'S MY BIRTHDAY, THE COMMENTS BOX IS DOWN BELOW. KFANX.