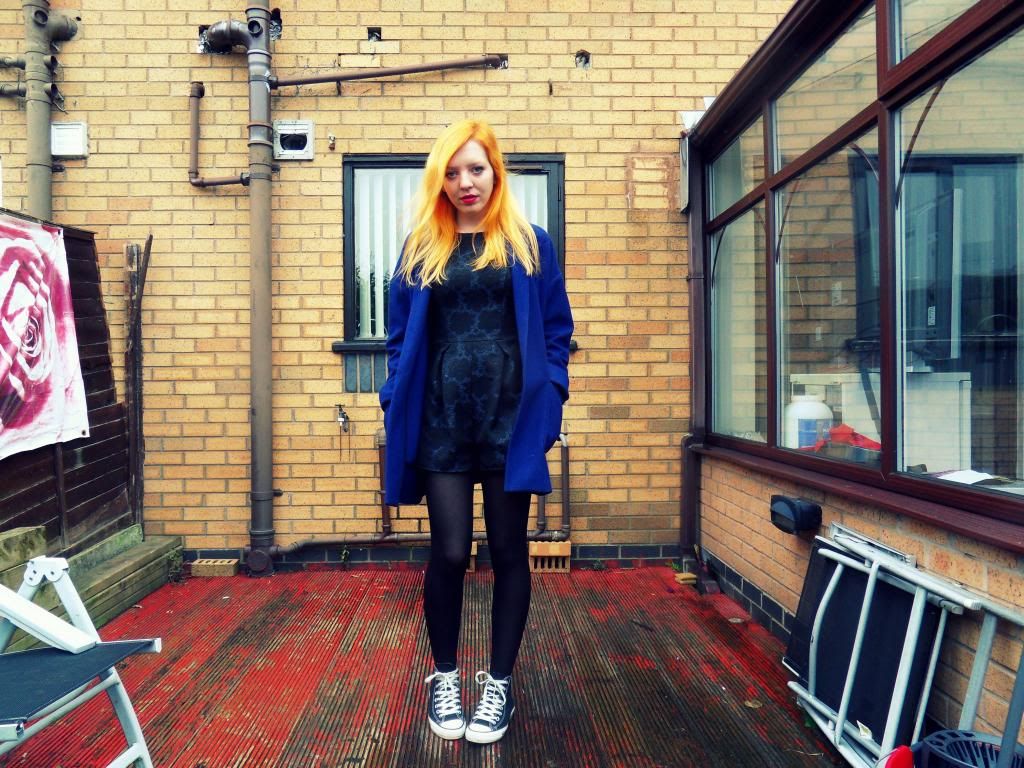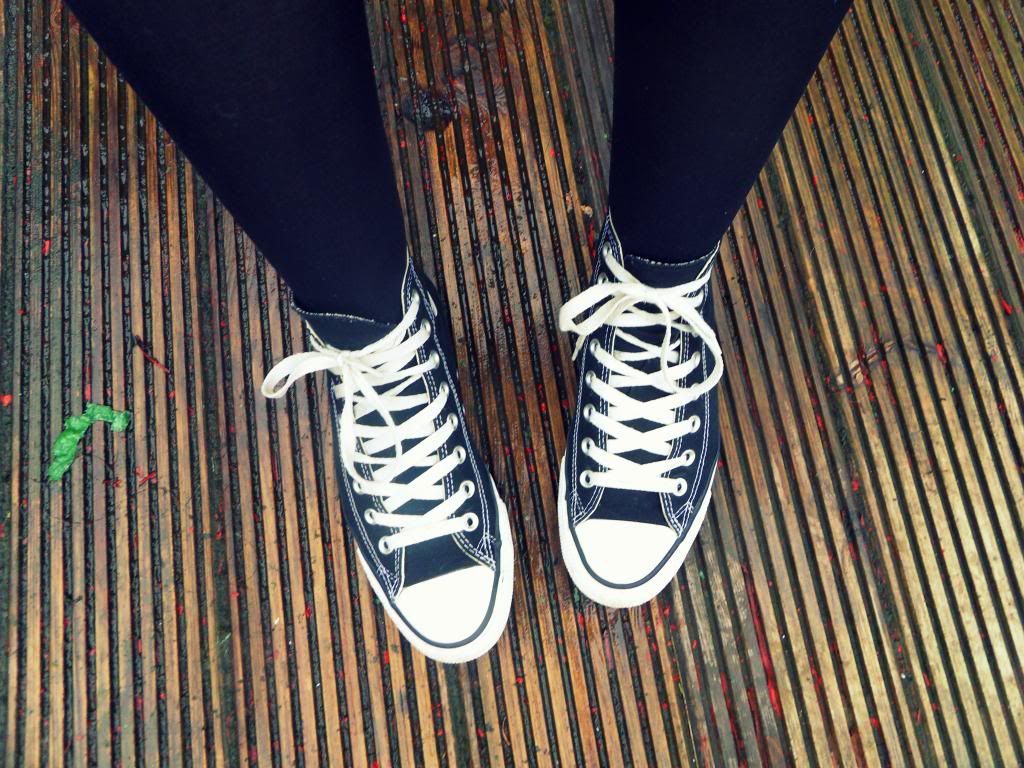 Blue coat: RIVER ISLAND | Floral playsuit: TOPSHOP | Shoes: CONVERSE
Ever since dying my hair orange I've had to put extra thought into what I choose to wear. Let me tell you, not a lot goes with orange, including my bright yellow jumper which I usually wear all the time. Not like I'm complaining, it's been awesome being an orange head. One colour that I do think works with it, though, is navy blue. Simple, not too bright and thus balances out with bold hair colour. The floral print goes perfectly and a simple, chic playsuit is the ideal item just to throw on (although not when you go for a tinkle and find that suddenly you're getting nearly naked). I grabbed this baby in the Christmas sale for £20, that'll definitely do for me. I haven't worn it with the bright blue coat before but I actually think they go really well when worn together, non? In the summer, if it ever does get warmer here in the UK, I look forward to wearing it sans tights with a shirt (just typed 'shit' and very nearly didn't notice) underneath.
My last few blog posts was all around me and my birthday and going to Paris, I haven't posted since last weekend - having a needed small break which every blogger has now and again - and to update you guys, I never went to Paris. I was meant to go on Thursday, early evening, so I spent the whole day buying last minute things, rushing around and packing my bag. I got to the coach, stayed for about ten minutes and decided to go home. Why? Social anxiety, that's why. I was going with about 140 people and yet I had no one to go with and was going on my own. I got there, saw everyone in groups, started worrying about everything which I'd been pushing out of mind before and decided it was best for me to walk away. I thought this was chickening out but my parents have been terribly supportive and have convinced me it was actually a
brave
thing to walk away and act upon a pretty crazy decision (I have the best parents ever, don't cha know?). So I have to not even think about all of my money I've wasted on it - because I could have bought a lot of pretty clothes with that amount - and just know that I did the right thing for
me
. A few emotional hours later I was home late Thursday night, got a hug and an Indian takeaway and spent my birthday here the day after. I didn't do much due to the fact I wasn't meant to be in the country, but I had a lovely, chilled day with my mum and had a meal with my dad the night after, so a birthday spent at home with the family is perfect for me. Paris, we will meet at some point, and I think we'll get on pretty damn well when we do, but just not right now.
Let's see how being nineteen treats me...