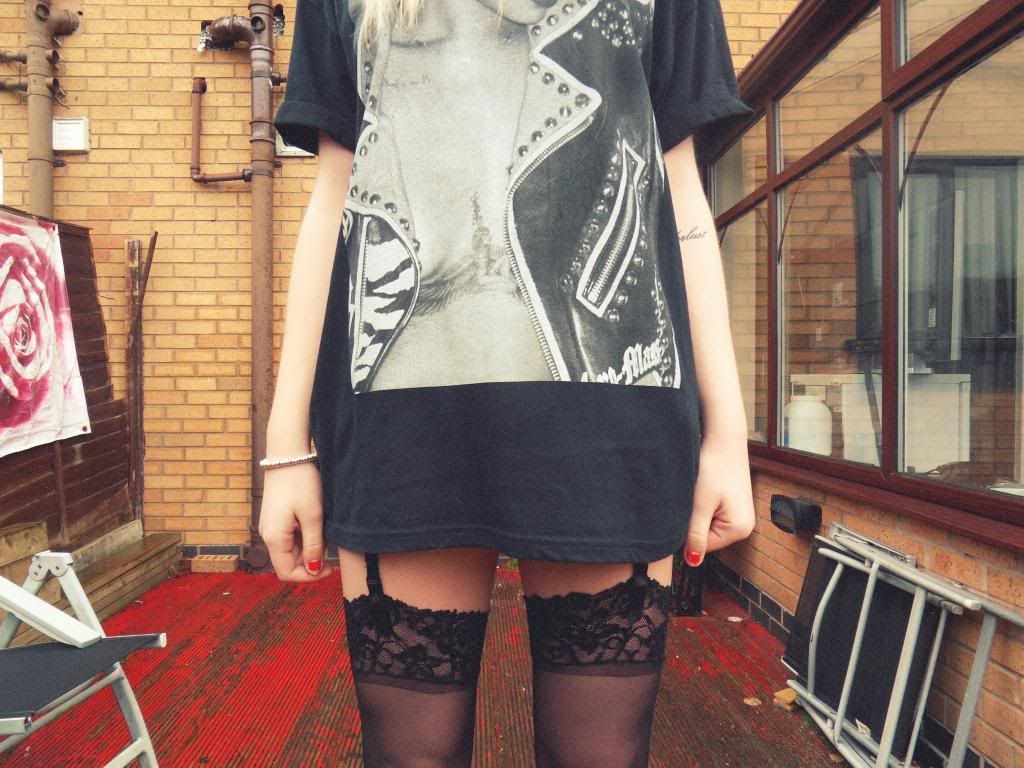 Oversized Rihanna t-shirt: RIVER ISLAND | Grey beanie hat: TOPMAN | Stockings/hold ups: MARKS & SPENCER | Biker boots: ASOS
Over the past week or so I've been pondering the question 'Is it okay to show your stockings in public?'. I mean, obviously they are when they look like a pair of tights, but I'm talking about when people can actually see your garter belt straps. In fact I've been wondering this ever since I saw a blogger rocking a thigh high split maxi skirt showing off her stockings underneath, this was sometime last year, and she looked absolutely smoking (can't find said post, gahh!). Lydia from Fashion Influx also
regularly rocks them.
The main reason why I've finally been encouraged to wear them, though, is because I went to see 'Rocky Horror Picture Show' in theatre the other week, which not only meant I finally had a pair of stockings in my wardrobe, but I loved everyone's costumes - cast and audience - so much that it inspired me and I wanted to find a way to incorporate that sexiness into my daytime look. As much as I loved wearing a corset (first time for me!) and a tiny skirt, you wouldn't see me walking round Tesco in that ensemble. The thing I love about Rocky Horror though is the 'fuck you society I'm gonna be who I want to be!' message it conveys, so I just kinda thought 'Y'know what, life's too short to wear pants everyday, and these are the years which my body's gonna be at its best, so why not show it off?'. Aaaaand so I am doing.
As the amazing Frank-N-Furter put it: "Give yourself over to absolute pleasure".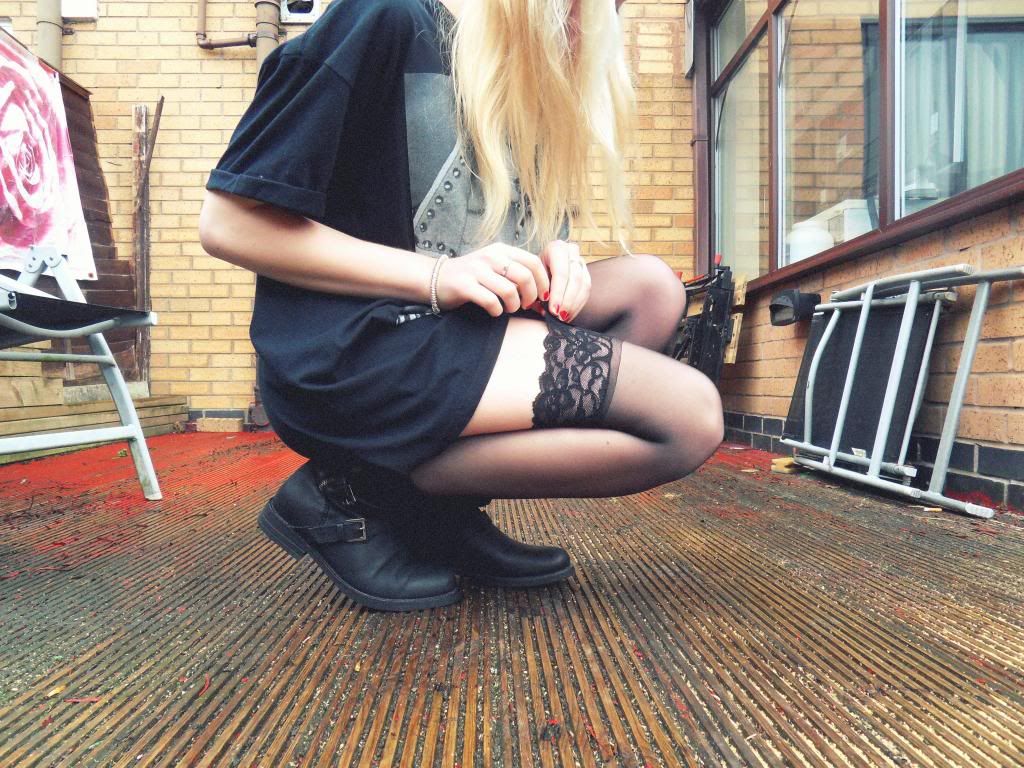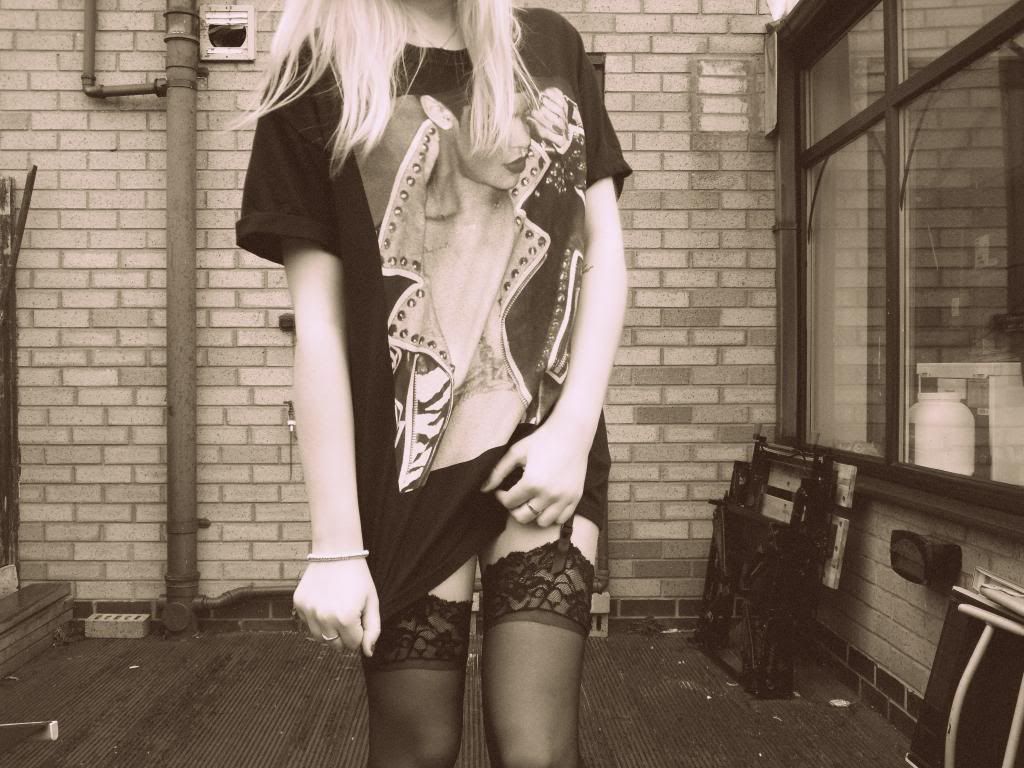 So, to answer the question, stockings are thought of as lingerie, so
no,
they're not acceptable to wear in public, really. Buuuuut I'm gonna do it anyway. SOLVED.
So if you're thinking about wearing them yourself, which you probably aren't but I said 'if', then here's an idea of how to. I will try out the split maxi skirt one because I was totally inspired by that, but for today I'm going for this. Stockings/hold ups are, of course, very feminine and very,
very
sexy (well... I think so!) so I tried my very best to contrast this as much as I could with the clothes that I wore with them. In comes the oversized t-shirt. I did find this on the sale rail but it was on its own, so I think it was originally from the men's section. It's an XL so I can just get away with wearing it as a dress, at least that's what I'm hoping. The oversized t-shirt shape is very boyish and not very flattering, which is ideal for this look. Then we welcome the beanie hat, grey wool, nothing girlie - also a man's item.
The final addition was the boots. On paper they're probably the worst choice of footwear to wear with stockings, but for the look I was going for they did the job perfectly, and I think the combination of them is pretty damn awesome. Also note how I didn't wear my trusty red lipstick, but I'm not gonna lie the temptation was there!
So there we have it, it doesn't exactly say to future boyfriends 'take me home to your parents!', BUT OH WELL. Now I'm not saying go and wear something which you'll feel totally uncomfortable in, but that one item you loved but was maybe too scared of wearing because of what people may think?
Do it!