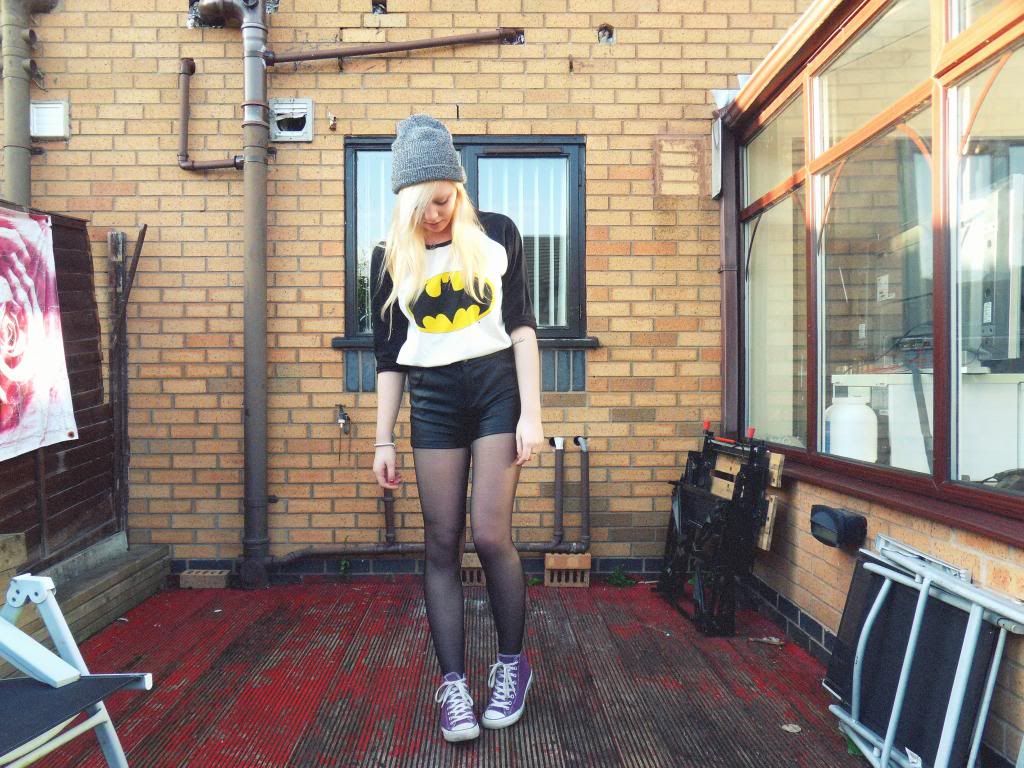 Batman baseball style top: PRIMARK | Grey wool beanie hat: TOPMAN | High waisted leather shorts: TOPSHOP | Shoes: CONVERSE
I don't really shop in Primark, and this is for a number of reasons:
1.
Up until I started reading a lot of blogs, I was a clothes snob; I was sticking to Topshop.
2.
I'd never been near one until starting uni in Manchester last year, and now I'm back home I'm far away from one again.
3.
All the people! Once I am in public I am one of the most impatient people you could meet. As soon as I step in Primark I go from 0 - Frustrated in the space of three seconds. WHY ARE YOU STOPPING IN THE MIDDLE OF A STORE FULL OF PEOPLE? BITCH! (I'm joking. Kind of...)
However, things have changed, as here I am in a Primark item! This is my third item from there actually, I got another piece in the same visit as this one and the first thing I ever bought from them was some pyjama pants (so maybe that doesn't count?). I had a trip to Manchester the weekend before last for a bloggers' meet up, but after realising at the meet up that an hour had passed and I hadn't had any conversations with anyone, I decided to leave and do what I
am
good at - shopping! (I clearly have issues.)
I've realised though that I don't go into Primark unless there's an item(s) which I am
specifically
looking for. On this trip there were two - both spotted on
Lily
- and I just knew I had to have them. I was doubtful in my search as it took me five times the usual time it takes me to find something (the store is far too big me) but I got there in the end! I walked out with two pieces of clothing for less than twenty pounds altogether, reminding me of the reason why so many bloggers love it in there.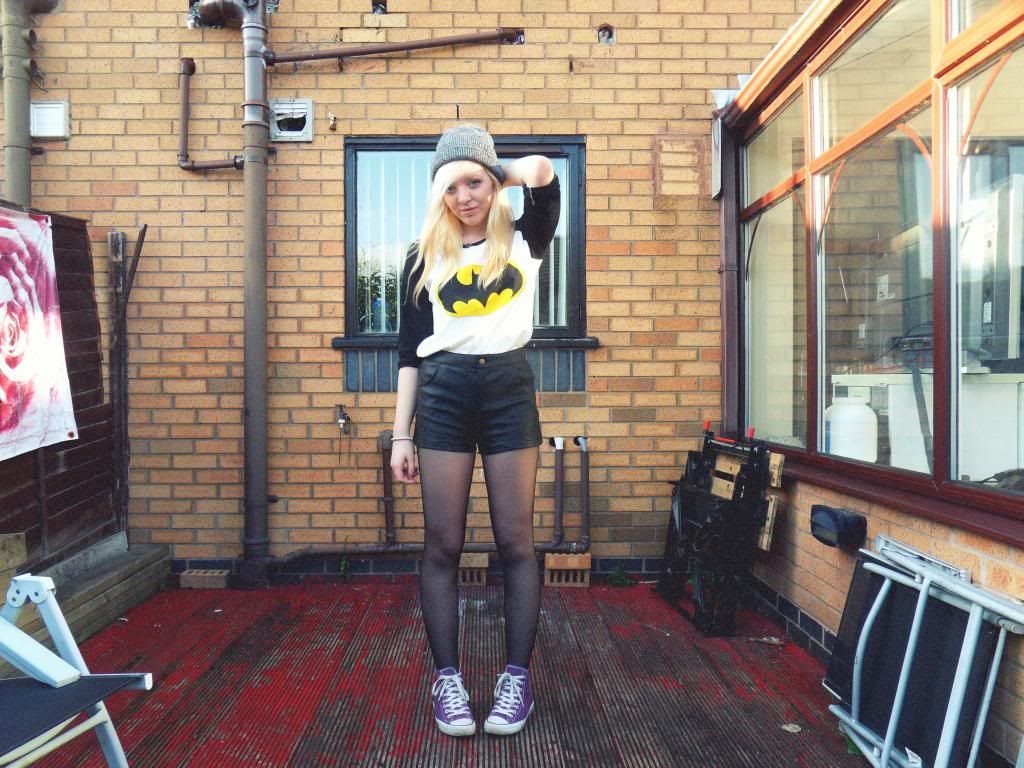 As a fan of Batman, buying this top for a mere six pounds was definitely something to get excited about. I think I bought it in a size 16 - the largest they had - as at the time I had no idea if this meant adult sizes or
age
16? But after trying it on I can see it was intended for women, not girls, but I don't mind at all and I wanted it to have that baggy, loose look anyway.
This is my first time wearing it since buying and I knew it'd look great tucked into these very new faux leather shorts, picked up in the sale section of Topshop. The beanie and the Chucks add to the whole geek chic feel of the look, so I just think that the leather material makes it look slightly more grown up (although not much). Saying that, though, in summer I will be going all out and teaming this with some denim shorts, probably resulting in me looking like a young child, but I'll werk it.
I felt like a superhero for the whole time wearing this, but unfortunately a short while after taking these photos I spilt sauce down it. Not exactly a cool, heroic thing to do, huh?