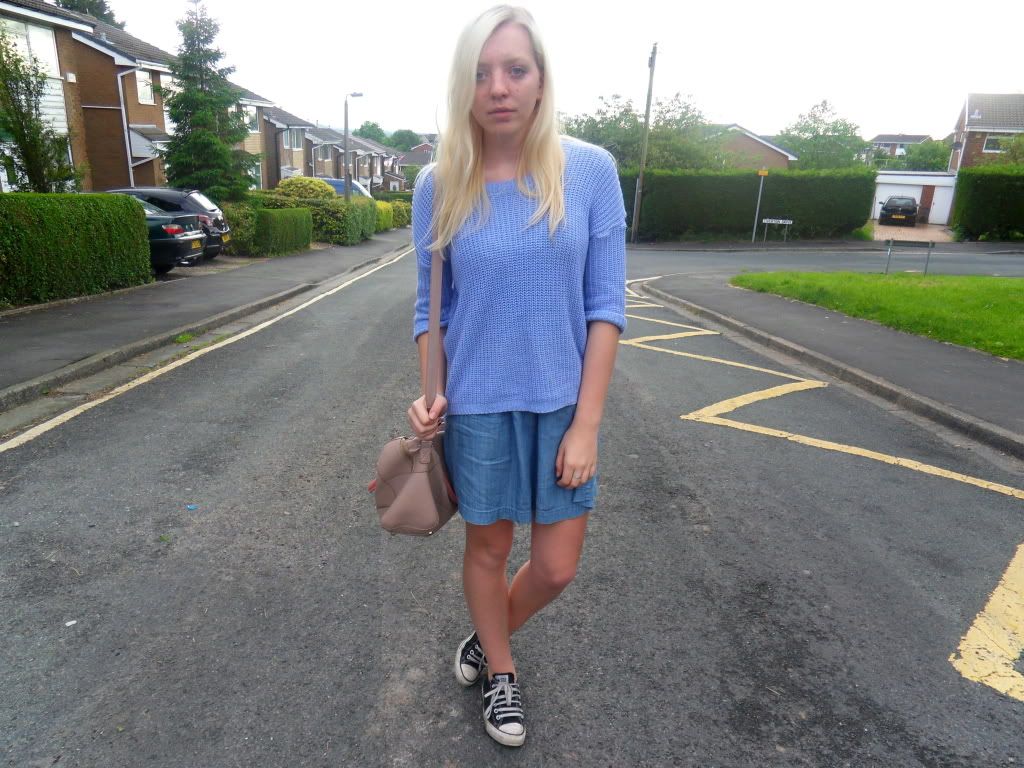 PASTEL BLUE JUMPER: ARK | DENIM DRESS: NEW LOOK | NUDE & PINK BAG: TOPSHOP | SHOES: CONVERSE
The weather is being crazy humid at the moment so what better time to pair a jumper with a dress? It's not a combination which I get to try often due to the lack of predictable weather, but it is one I really like I think it looks simple but très chic, also. I wasn't sure about mixing the two colours together, though, because they are very similar but I actually really like how they look together. The jumper is nice and light so I consider it more of a summer jumper rather than winter one. I haven't tried it with black items because I don't think they'll work together, I much prefer it worn in outfits like this one.
I decided to feature my bag in my outfit photos today mainly because it was a nice addition to my relatively simple outfit. I bought it in London a few months ago, I love the pop of pink on it and it's much bigger than it looks on the outside, which is always a bonus for us ladies! I'm not much of a bag person, probably because I can't afford to be, so I'll keep this one for the next couple of months and then buy a more winter appropriate one (i.e. a black one) so it suits more of my outfits. To say I carry this one round with me every day and it still looks as good as new I think it's doing well! Definitely got my money's worth, and I love love LOVE it when that happens.
I went to see Abraham Lincoln the Vampire Hunter yesterday, have you seen it? I actually thought it was pretty good, and the 3D effects were the best I've seen yet because I usually can't see much of a difference in other ones! I'm also trying to finish reading 'The Girl who Kicked the Hornet's Nest' before I get inevitable sucked back into the world of Christian Grey, but I'm getting a little bit impatient with it now because there are SO many characters to remember, plus their names are Swedish which doesn't help. I did really enjoy the first book/film though so I'll see it through to the end!