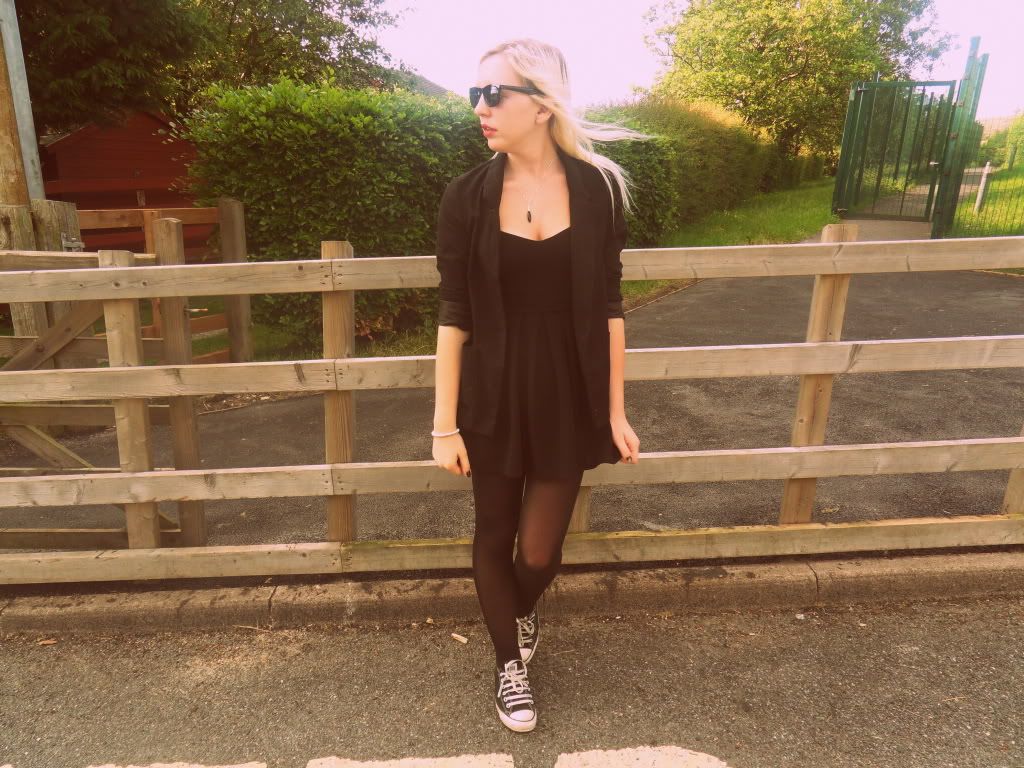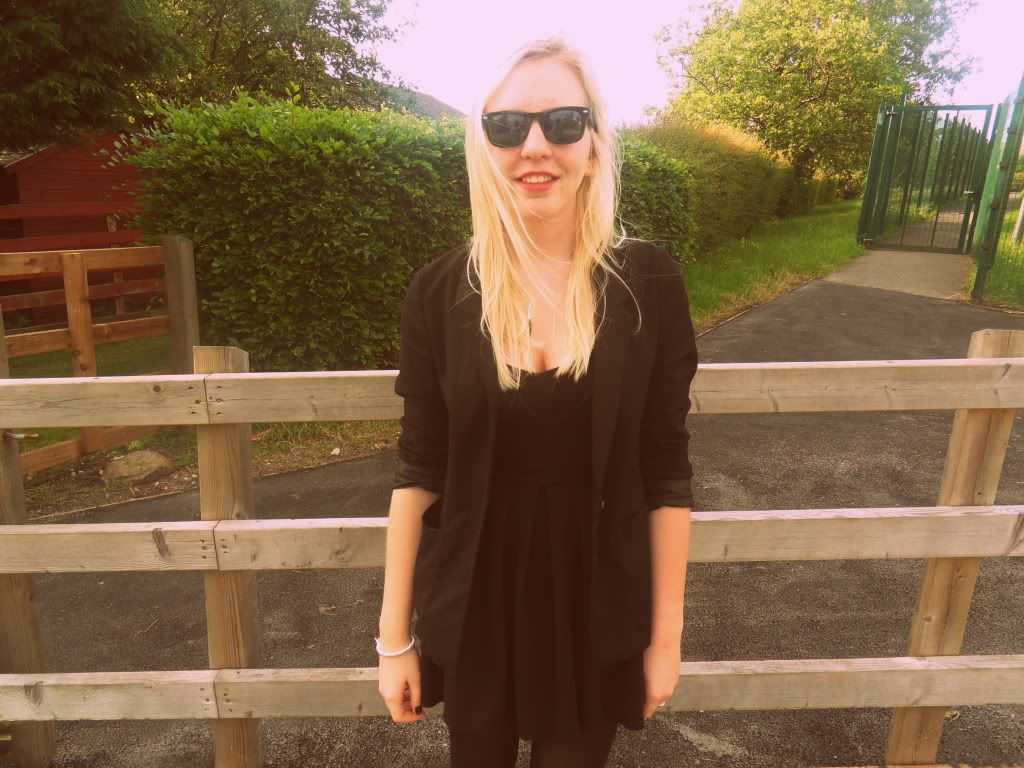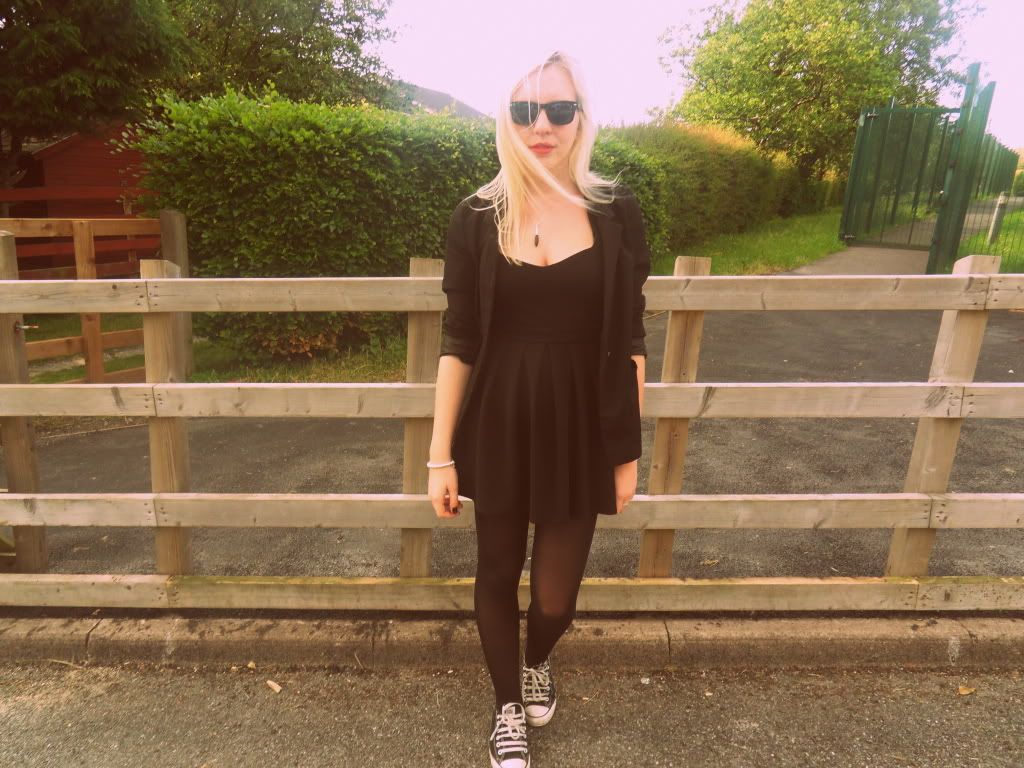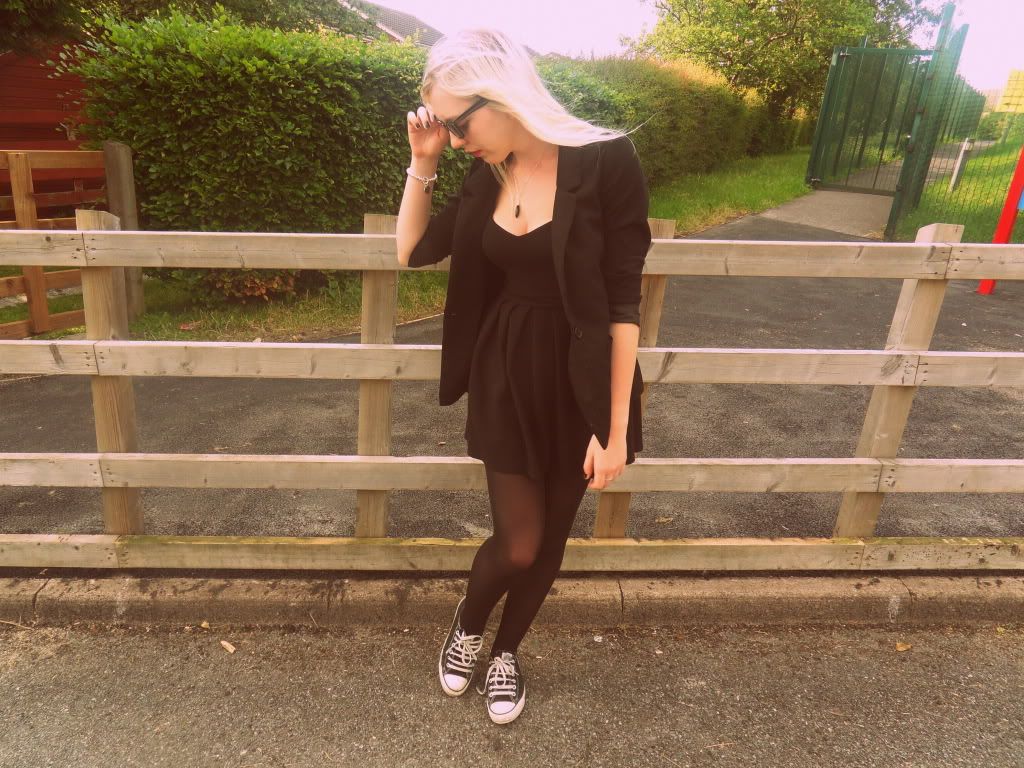 I am not usually one to wear all black. Don't get me wrong I have my fair share of little black dresses in my wardrobe, but I always feel a bit plain if all my outfit is the same colour. I know some women are spotted in all black almost without fail and yet still end up pulling it off and looking insanely chic (Angelina Jolie, Kate Moss, Freja Beha, etc etc.) so I thought I'd have a go at it and I must say it wasn't too bad! I thought it would look a little too formal if I went for equally black shoes, so I just teamed my outfit my a pair of Converse and a classic pair of wayfarer sunglasses to make it a little more fun, a little more me. Forget looking boring, I just look badass (that's what I tell myself, anyway.) I know it's summer here in England (although the weather is begging to differ), but sometimes it makes a nice change to stop doing the pastel thing for just one day.
Black is like that friend who we know we can always trust. It is the most reliable colour which one can have in their wardrobe and, let's face it, it never lets us down. Our little black whatevers are always there for us and make us look incredibly good looking (to quote Zoolander) for any type of occasion. Although everyone knows that you can have too much of a good thing and thus end up looking a little, er, gothic, (i.e. not so much Angelina Jolie now, more in her days when she wore blood around her neck). If you pay attention to details in your black ensemble, like mixing textures and your silhouette, anyone can pull of this look! I just think it's all about a little bit of creativity and a nice amount of confidence. Thankfully this dress has a smaller waist and gives my shape instant definition and breaks my body up into distinct sections making the outfit look more pulled-together. Showing a little bit of skin is a sure way to stop looking boring, too. Don't look like you're hiding it, look like you're flaunting it, I say. What do you think of wearing all black, maybe you stay well away?
I had my first proper day of my summer holidays yesterday and my brother says I'm already great at being a 'dosser' because I spent the first half of it watching Jeremy Kyle and Loose Women. I have no shame! I did get out of the house later on though and went to the, er, movies (that still counts, right?) to see 'Red Lights'. As well as being slightly obsessed with Cillian Murphy, I thought it was a good film and I liked it more than I thought I would, awesome ending too! I'm a bit of a movie fanatic at the moment, I'm debating whether to see Chernobyl Diaries but I'm terrible with scary movies and I'm still relatively scared of the dark at the age of eighteen, so perhaps I'll give that one a miss.