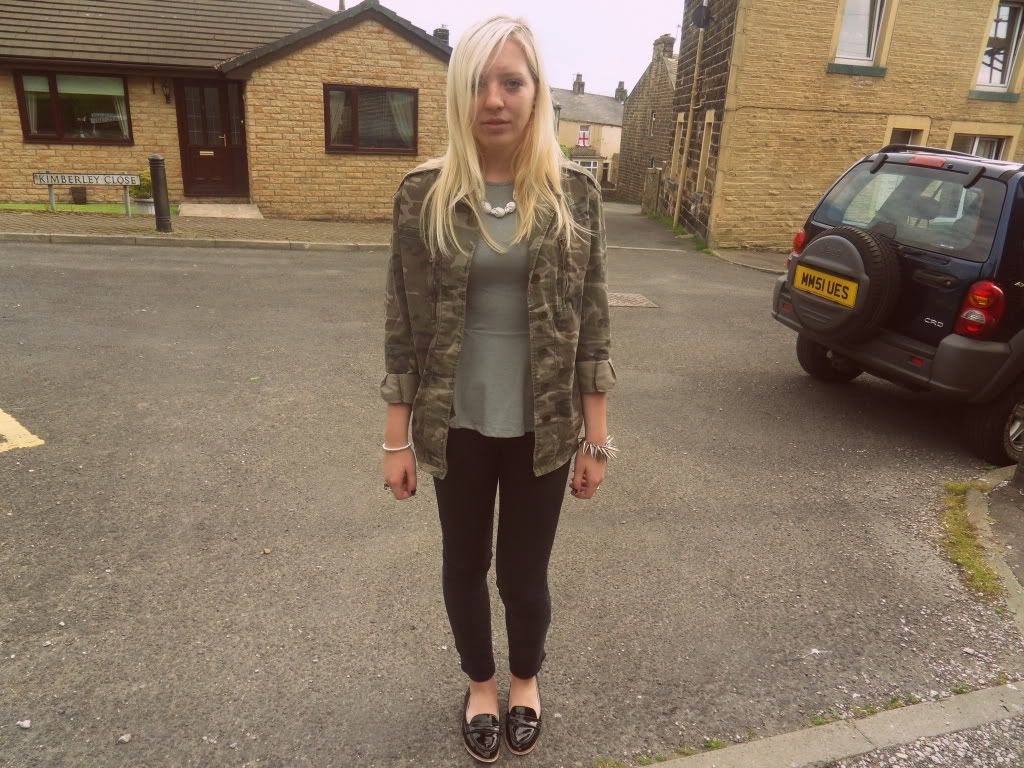 CAMO JACKET
,
GREY PEPLUM TOP
,
BLACK SKINNY JEANS
, SPIKE BRACELET & BLACK PATENT SHOES: TOPSHOP
Oh helloooooo, new jacket. Undoubtedly my favourite new item in my wardrobe, EVAH. One day it's hot, the next
day
week it's cold, so this jacket is the perfect transitional piece. It would look amazing in the winter, obviously, but also thrown over a simple dress during the summer, which is exactly what I'll be doing if the weather starts to look up at some point. I have wanted an army style jacket for a while now, and this seasonal staple definitely will become one of my go-to pieces, I could wear it with literally anything! I've seen a few bloggers wearing these over the past few months, but their jackets were all vintage. I'm not one who does or even attempts to do or even can if I want to do vintage shopping, so when this came in stock on Topshop's website I added to my basket without, er, ANY hesitation, which is not like me at all. I also bought this top (and maybe some shorts, too...) which featured on my
'Wishful Wednesday' post a couple of weeks ago
, on which
Charlotte
commented saying she bought the same top in cream but the sizing was a bit small, so I decided to size up and thankfully it was the right choice! It's still very body hugging, but not tight or uncomfortable. I thought the shoes contrasted with the jacket perfectly. I really want to stud the shoulders but I've never studded before, despite me REALLY wanting to, but I'm not sure how to do it except buy the studs... I'm sure I need to buy a tool to put the holes in the jacket to put the studs through, ermmmm? Maybe you know of any good tutorial posts?
I've been enjoying my summer holidays so far, meaning I've been spending all my time on Twitter, Blogger and reading. I've finished reading 'One Day' and 'Water for Elephants' in the past three days (both really good) and now I'm onto 'Fifty Shades of Grey' - maybe you've heard of it?