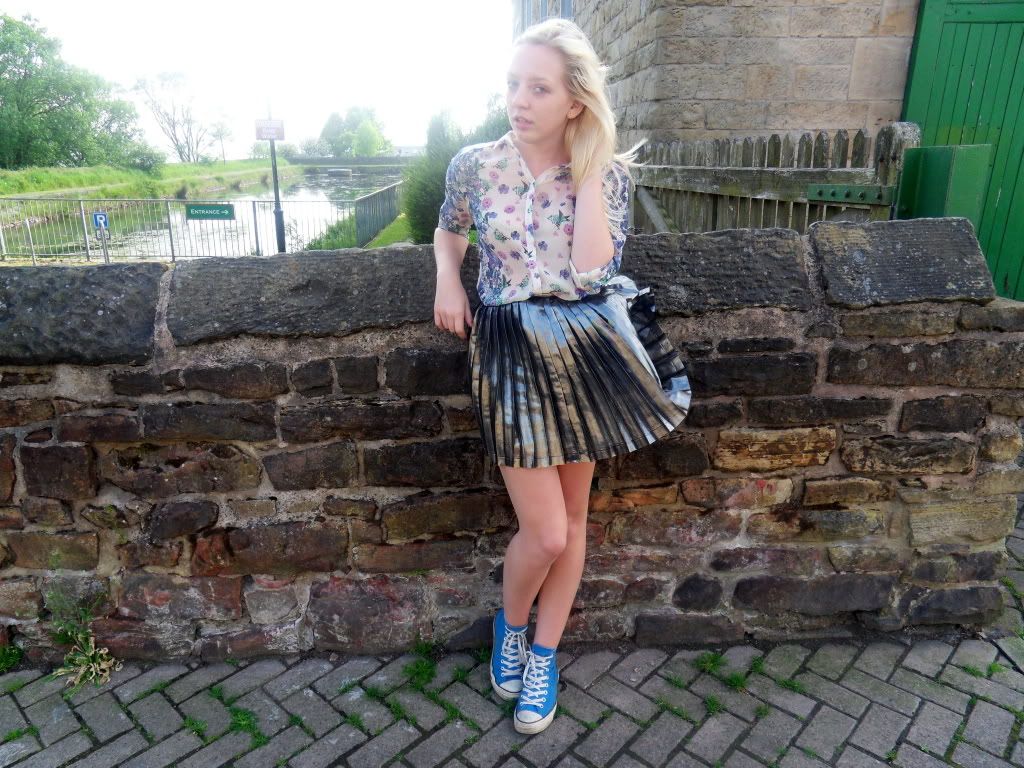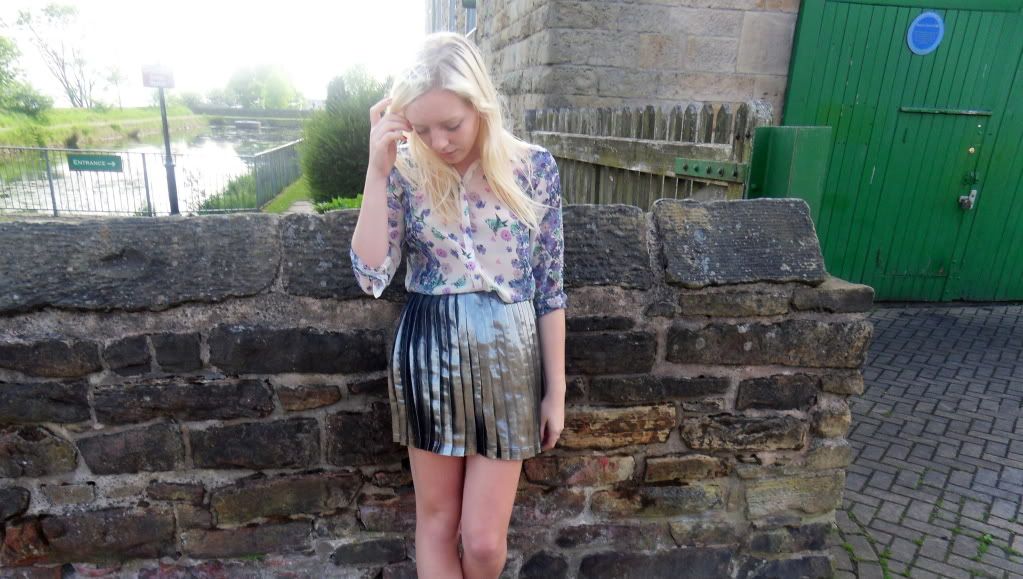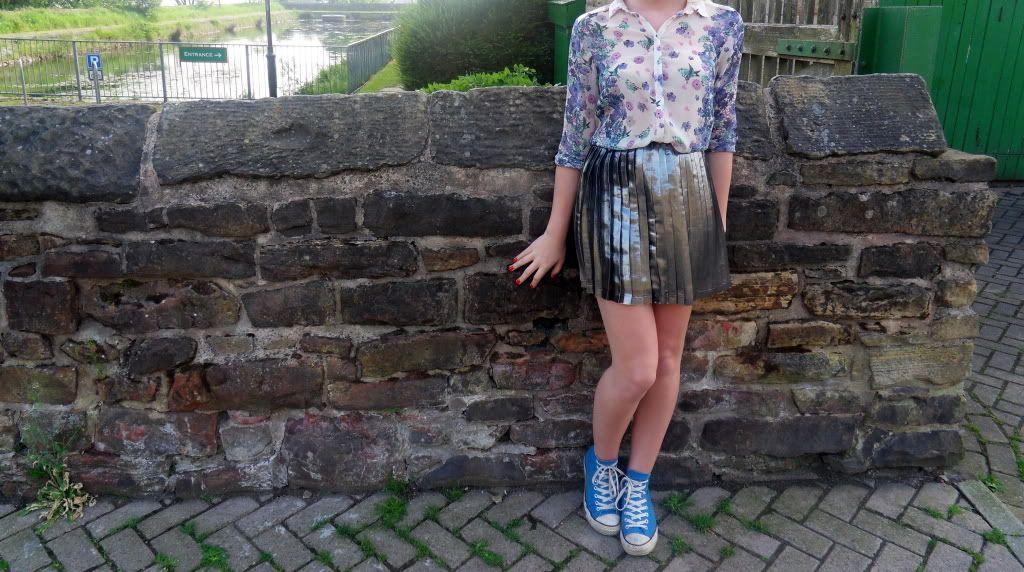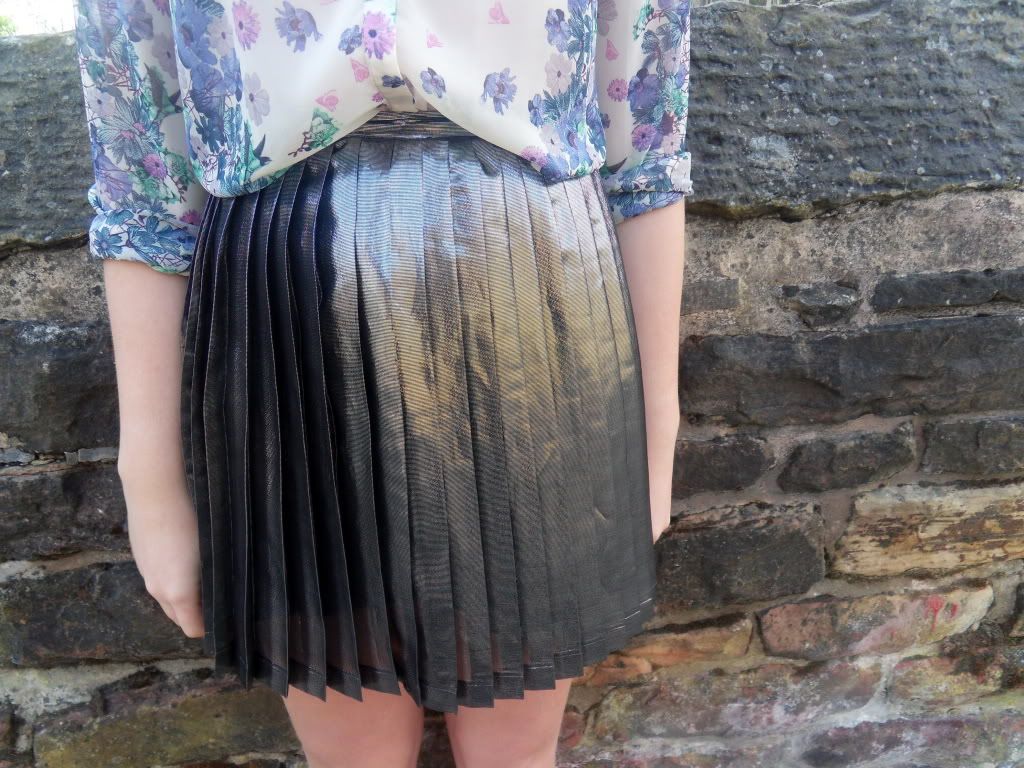 FLORAL SHIRT: RIVER ISLAND | METALLIC PLEATED SKIRT: TOPSHOP | SHOES: CONVERSE
Ah, a new purchase. I walked into Topshop yesterday, and obviously saw lots of things which I loved but can't really afford, (there is an amazing neon dress in there which I am drawn to every time I go in, but it's forty six pounds...). That is me all over, I spend 90% of my time drooling over beautiful clothes but I know I probably won't end up buying any, because I can't. I do love fashion, but it ain't cheap. So yesterday, I decided to have a little look over the 'sale' section, albeit with little hope as I never like anything that's in the sale (bloody typical). I had spotted this skirt a few times in the last few weeks but never had a real urge to buy it, however when I saw it yesterday and had a little think about it (HOW good would it look in the winter with tights and a
green military style shirt
?) I decided to buy, and it had been reduced to fifteen pounds so the price wasn't too much of an issue!
I like the contrast that the shirt and the skirt create when they're together - pretty florals with dark metallics, who'da thunk it? The wind was a slight issue, ahem, but no serious flashes.
'Tis the weekend, but an extra extra long one for me as I have the week off college, once I'm back I will have a couple of exams and that's it! My college isn't doing a prom or anything which I think is a bit rubbish as we've been there for two whole years and yet there are no goodbyes whatsoever, which is a bit rubbish!
It's the Queen's diamond jubilee this Monday (correct me if I'm wrong...?) and seeing bunting all over some streets is pretty lovely, however I won't be doing anything for it, perhaps I'll wear a red, whie & blue outfit to do my part. Will you be doing anything on the day? Have a nice weekend!