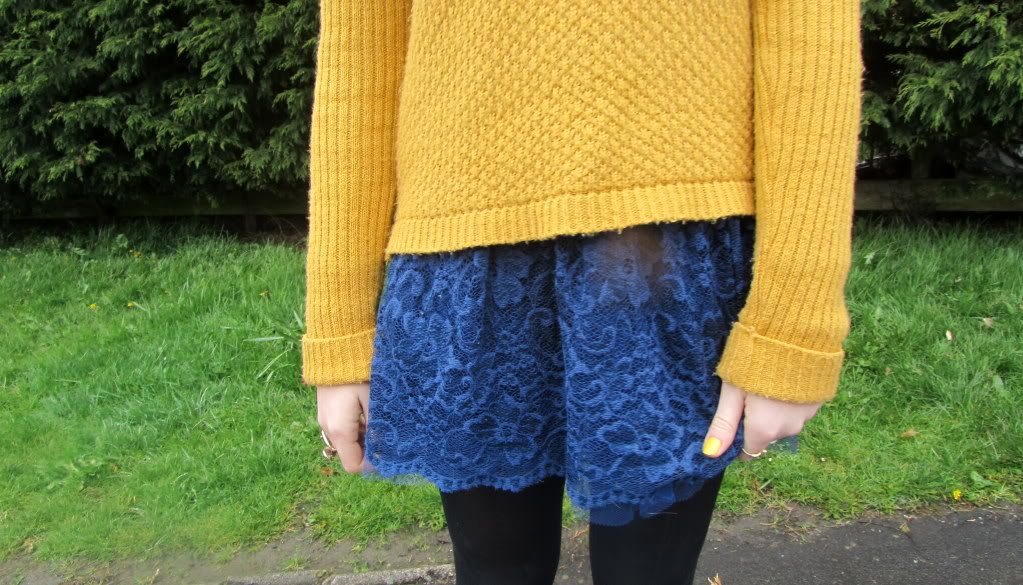 YELLOW JUMPER & BLACK FEATHER EARRINGS: NEW LOOK | BLUE LACE DRESS: ASOS | MOUSTACHE & CROSS RINGS: TOPSHOP |
SHOES: CONVERSE via OFFICE
A combination which you wouldn't expect to go together, but really really does, is navy blue and yellow. I remember seeing it on someone's outfit post aaages ago and thought 'wow!' straight away, mainly because I'd never even thought of pairing these two together. This is the first time which I've actually tried it after discovering I had both of the colours in my wardrobe (hardly Narnia, but a great discovery all the same).
I have yellow nails (which is perhaps slightly controversial) but they're not as bright as I wanted them, I am after some properly neon nail varnish at the moment but no success yet.
I was so happy this morning to get an email from Topshop saying there was a mid-season sale on their website, and since I've saved up a bit specifically for shopping I let out a happy squeal and had a browse. 'OH MY GOD has that seriously been reduced from £38 to £3?!'
click
'Out of stock... Oh.' repeat x10. Every single thing which I liked was out of stock, and I saw the perfect bomber jacket which had been reduced to £10(!) which I am especially gutted about! I'm pretty sure they must have put everything in the sale which they had less than three of. Woe. is. me.
I knew £3 was too good to be true for Topshop.